Mon Dec 17, 2012, 01:43 PM
onehandle (51,122 posts)
Senate Filibuster Reform Closing In On Majority
Source:
Huffington Post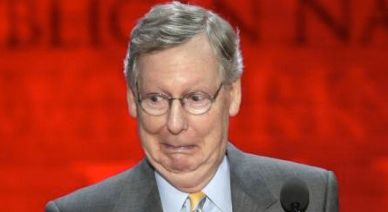 WASHINGTON -- Advocates of what's come to be called the "talking filibuster" are closing in on the majority needed to reform the rules, according to a whip count compiled by The Huffington Post, based on interviews with Democratic senators and with reform advocates who have spoken with senators. Cross-checking the list with prior voting records and public statements indicates that Democrats could lock up as many as 52 votes by this week, when they are expected to introduce a rules reform package to be voted on in the new year.
An extraordinarily broad coalition of progressive and labor organizations is upping the pressure to include the provision in a package of rules reforms. The coalition of 48 liberal groups, Fix The Senate Now, sent a letter to Senate Majority Leader Harry Reid (D-Nev.) and his colleagues in leadership on Monday morning. A copy was provided exclusively to HuffPost and it calls for a variety of reforms, including the talking filibuster being pushed by Sen. Jeff Merkley (D-Ore.). Another far-reaching reform the group asks for is to put the onus on the minority to find 41 votes to block legislation, rather than forcing the majority to find 60.
Reid has vowed to press forward at the beginning of the next Congress, and the coming week is crucial for reform. The entire caucus is expected to meet to come to a consensus around what specific reforms to propose, and the leadership is scheduled to meet to strategize on the way forward.
Read more:
http://www.huffingtonpost.com/2012/12/17/senate-filibuster-reform_n_2313233.html
12 replies, 3000 views
Replies to this discussion thread
| | | | |
| --- | --- | --- | --- |
| 12 replies | Author | Time | Post |
| Senate Filibuster Reform Closing In On Majority (Original post) | onehandle | Dec 2012 | OP |
| | unblock | Dec 2012 | #1 |
| | earthside | Dec 2012 | #2 |
| | FailureToCommunicate | Dec 2012 | #3 |
| | blackspade | Dec 2012 | #4 |
| | Chakab | Dec 2012 | #11 |
| | Purveyor | Dec 2012 | #5 |
| | karynnj | Dec 2012 | #6 |
| | Stonepounder | Dec 2012 | #8 |
| | brooklynite | Dec 2012 | #7 |
| | sarchasm | Dec 2012 | #9 |
| | Snotcicles | Dec 2012 | #10 |
| | 99th_Monkey | Dec 2012 | #12 |
---
Response to onehandle (Original post)
Mon Dec 17, 2012, 01:50 PM
unblock (33,202 posts)
1. ROFL! that pic is priceless!
---
Response to onehandle (Original post)
Mon Dec 17, 2012, 01:51 PM
earthside (6,710 posts)
2. If there isn't filibuster reform ...
... any kind of gun safety/control legislation will not even get a hearing in the U.S. Senate, let alone in the Repuglican controlled House.

Indeed, if there isn't filibuster reform the entire Congress might just as well stay home come January because the Repuglicans in the Senate give every indication of sticking to their obstructionist ways.
---
Response to onehandle (Original post)
Mon Dec 17, 2012, 01:56 PM
FailureToCommunicate (8,513 posts)
3. Everyone should contact their Senators on this one...even if you have
---
Response to onehandle (Original post)
Mon Dec 17, 2012, 01:58 PM
blackspade (10,056 posts)
4. I can hear turtle man screaming now!
---
Response to blackspade (Reply #4)
Mon Dec 17, 2012, 06:27 PM
Chakab (1,727 posts)
11. He's probably trashed his terrarium in a fit of rage.
[img]
[/img]
---
Response to onehandle (Original post)
Mon Dec 17, 2012, 02:16 PM
Purveyor (29,659 posts)
5. Nailing down at least 50 votes, however, doesn't guarantee success. Advocates worry that Reid may...
Nailing down at least 50 votes, however, doesn't guarantee success. Advocates worry that Reid may use the prospect of victory on the most ambitious reform to persuade Minority Leader Mitch McConnell (R-Ky.) to cave and agree to a milder set of reforms. Those would likely include provisions that would speed up the pace of action in the Senate without altering the fundamental nature of minority rights. Under the current rules, the minority can filibuster the same piece of legislation multiple times throughout the process, requiring Reid to pull together 60 votes each time, and then wait a prescribed 30 hours before the next vote. Even if the majority has 60 votes, these multiple filibusters can chew up a full week of Senate time on just one bill. Reid has proposed disallowing the filibuster on a motion to proceed to debate, and also barring barring filibusters on efforts to set up a conference committee to deal with legislation that has already passed the Senate. Reid also wants to streamline the nomination process, and cut out some of the time it takes to move judges through by limiting debate once a filibuster has been defeated. Republicans and some Democrats, meanwhile, want rules written that would open up the amendment process. If Republicans agree to some of the changes pushed by Reid, he may be inclined to shelve Merkley's proposal for the talking filibuster, even though it appears to have enough votes to pass.
---
Response to onehandle (Original post)
Mon Dec 17, 2012, 02:22 PM
karynnj (55,496 posts)
6. I really like the idea of forcing the minority to get 41
Although this sounds the same as the status quo, it isn't. Under the current rule, for all intents and purposes a not voting and a no have the same value. This means that on things that are likely to be unpopular, it is the minority that has to go on record. Another impact - easily seen by looking at 2009 - is that it is up to the minority to get all their people present to vote to filibuster. In 2009, you may remember the very ill Kennedy and Byrd coming in to vote for various bills of great importance to them.

In 2013, they will have 45 Senators - and Kirk, who hasn't voted since last January, may be back.
They could only lose 4 due to absences or disagreements.

Even if they change the number, they should make this change too. It could be argued that if people are so adamantly against something the majority wants they would show up and being willing to be on record casting that vote.
---
Response to karynnj (Reply #6)
Mon Dec 17, 2012, 02:54 PM
Stonepounder (2,301 posts)
8. I agree
The idea that the minority has to go on record as voting against something like 'tax cuts for the middle class' or 'the violence against women act' would make it much more difficult to get 40 votes. Right now they can just say, 'oh, we are going to filibuster that bill' and all of the onus is on the majority to try and round up 60 votes. With this simple change, the minority has to get 41 of their Senators to actually vote against a popular bill. That would make life much more interesting for them 'back home' when their constituents start calling to ask why they voted the way they did.
---
Response to onehandle (Original post)
Mon Dec 17, 2012, 02:25 PM
brooklynite (39,538 posts)
7. Spoke to Chuck Schumer last week...he said they needed four more votes.
nb...the "40 to block" proposal (eg. 40 "NO" votes must show up every time a Cloture motion is made) apparently comes from Claire McCaskill
---
Response to onehandle (Original post)
Mon Dec 17, 2012, 03:13 PM
sarchasm (183 posts)
9. 'Ol turdle head looks a bit verklempt!
---
Response to onehandle (Original post)
Mon Dec 17, 2012, 03:42 PM
Snotcicles (8,101 posts)
10. If he had any less chin, it would be sticking out of the back of his neck. nt
---
Response to onehandle (Original post)
Tue Dec 18, 2012, 04:52 AM
99th_Monkey (19,326 posts)
12. This could prove to be the single most powerfully strategic move DC Dems could make in Jan
This sword cuts both ways, in the best of ways, for Democrats and for the country's democracy.

The Talking Filibuster is the best of both world for Dems, and here's why:
a) it will allow scads of bills and crucial appointments to be expedited during Obama's second term, including at least one to SCOTUS hopefully..
b) it does away with the myth that the Senate is powerless unless held by a 60+ majority.
c) it will drastically reduce undue obstructionism by GOP Senators, because 1) they are too lazy to stand up there 24/7 and talk, AND 2) the GOP is ideologically bankrupt and they are transparently shilling for the 1% against interests of everyone else, and they have to go on record as doing such, in their own words, to try to obstruct needed reforms in the glare of public attention.

I think Dem filibusters would be much more effective and useful than GOP ones, because I think Dems are on the right side of history and are more in sych with how American political thinking is trending, based on a multitude of economic issues, such as jobs, preserving Social Security and Medicare, etc.

I've been often disappointed by Harry Reid, especially during the Bush years, but I'd be totally willing to change my opinion of the man overnight if he would just straight out of the shut, get 'er done on this one when the US Senate reconvenes in Jan.