Wed Dec 12, 2012, 09:43 PM
alp227 (29,832 posts)
Study Shows a Pattern of Risky Loans by F.H.A.
Source:
NYT
A new and extensive analysis of 2.4 million loans insured by the Federal Housing Administration in recent years shows a pattern of risky lending that could generate $20 billion in losses and harm thousands of the nationís most vulnerable borrowers. By ignoring risks in loans it insured in 2009 and 2010, the study concludes, the F.H.A. is imperiling both borrowers and taxpayers who stand behind the agency.
The analysis emerged less than a month after the F.H.A.ís auditor submitted a troubling report on the financial soundness of its insurance fund. In mid-November, the auditor estimated that the fund, which backs $1.1 trillion in mortgages, has a value of negative $13.5 billion. In other words, if it were to stop insuring loans today, the F.H.A. fund could not cover the losses anticipated on loans it has already insured.
The new study of the potential risks in recent F.H.A.-insured loans is illuminating because it provides a level of detail, including where government-backed loans are, that is usually missing from agency analyses. In addition, the reportís loss estimates are somewhat surprising given that the loans it examined were made after the mortgage crisis became evident.
The loan analysis was conducted by Edward Pinto, a resident fellow at the American Enterprise Institute, a conservative organization. But its findings were based entirely on foreclosure estimates made by the F.H.A.ís auditor as well as detailed individual loan data like ZIP codes and borrower credit scores.
Read more:
http://www.nytimes.com/2012/12/13/business/study-shows-a-pattern-of-risky-loans-by-fha.html
4 replies, 1421 views
Replies to this discussion thread
| | | | |
| --- | --- | --- | --- |
| 4 replies | Author | Time | Post |
| Study Shows a Pattern of Risky Loans by F.H.A. (Original post) | alp227 | Dec 2012 | OP |
| | JohnnyRingo | Dec 2012 | #1 |
| | JDPriestly | Dec 2012 | #2 |
| | JohnnyRingo | Dec 2012 | #4 |
| | azurnoir | Dec 2012 | #3 |
---
Response to alp227 (Original post)
Wed Dec 12, 2012, 11:16 PM
JohnnyRingo (11,593 posts)
1. I got into a lot of arguments on this with wing nuts.
When the housing bubble burst, followed by layoffs and foreclosure, the Fox groupies were quick to point out the nearest Democrat in charge of making high risk govt loans.
Barney Frank took quit a beating over this from the right because they solely blamed him for handing out loans to people who didn't have jobs. They (of course) used racism in describing how he would throw money around like it was candy at a 4th of July parade in Harlem.
Because I'm not brain dead I recalled seeing GW Bush standing before a wallpaper imprinted with an FHA or HUD logo where he declared himself "The Homeownership President", and did some remedial research.
What I found was the "American Dream Downpayment Initiative" (ADDI) of 2003, which required federal lenders to grant low interest loans to first time homeowners. Personally, I thought it was a noble law in that it renovated and occupied many abandoned homes in inner city neighborhoods that would have rotted away into slums had it not been for the glut of federal cash, but the problem lies in the details.
The law required that people live in and remain in the homes for (I think) eight years. When the economy crashed and those new homeowners found themselves unemployed, they suddenly became those "high risk" loan recipients. Being unable to get out from under their govt loan and forced to live in a house that was no longer worth half as much as they owed, they joined the suburban residents of McMansions who were also facing foreclosure. Since the benefactors of ADDI were predominately black, the right came down hard on them (and Barney Frank) for "borrowing money without the means to pay it back".
Up at least until 2008, HUD had no choice but to lend the money, and the FHA had no choice but to insure those loans given to people caught in the middle of a recession they didn't start because of "The Homeownership President".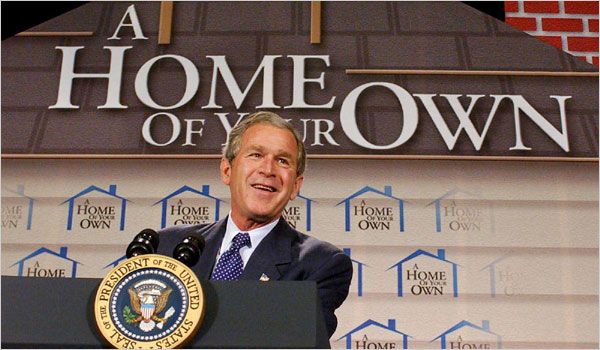 ---
Response to JohnnyRingo (Reply #1)
Thu Dec 13, 2012, 12:36 AM
JDPriestly (57,936 posts)
2. I personally saw a pattern of fraud in loosening the standards
for qualifying for loans. Co-signing by strangers or relatives was part of the pattern.

In addition, the adjustable interest rates were used to get low-income people to qualify for loans that they would never be able to afford when the interest rates rose as they inevitably would. 0% interest for even a year on a house loan is completely unrealistic. People should have been qualified based on an average interest rate of at least 7-8%. We would have had less of a housing bubble because it would not have been so easy to move the houses.

Further, the banks gave loans for houses that had gone up in "value" at least according to the rigged valuations by 50 or more percentage points in a few years. This was the second pattern that I observed during those years.

It should have been obvious to the banks that the houses were increasing in value at a rate far higher than were wages.

Wages and housing values have to rise in tandem. If housing prices go up and wages stay down, you will have a lot of foreclosures. Seemed obvious to me way back as the bubble began.

Bankers are responsible for alerting the government about these things. Interest rates should not be reduced to nothing (which is what they are now). Extremely low interest rates discourage saving and encourage borrowing. The Fed is still indulging in the folly of that practice. Interest rates are dismally low encouraging lots of credit card excess and no saving. Instead of lowering interest rates to encourage spending, they should tax the rich who hoard their money and, with the additional revenue, pay generous unemployment benefits and reward employers with tax incentives not just for new hires but for employing workers as opposed to investing in technology made in other countries.

The housing bubble and the ensuing bust were the creation and responsibility of the bankers and their Fed. That is the truth of it. The government followed their guidance.

Bush was under the influence of the bankers and the Fed, but then so was Bill Clinton.

Years before this bubble, we bought a house with no money down on a VA loan. The interest rates were extremely high, and our income and work records were closely scrutinized to make sure we qualified. In addition, we were told that we could not buy a house over a certain valuation. You could have given a lot of loans to low-income people, had good rules about debt to income ratios and limits on the amounts of the loans been followed. That would have discouraged sellers from asking the moon for their houses, and qualifying for a house you couldn't afford would have been a rare event.

Truth is, the industry from the banks, the mortgage companies right down to the lowest rung of realtor, developer and appraiser were making lots of money by qualifying people who obviously would not be able to pay off their loans once interest rates rose. They all repeated the mantra "Prices will never fall. This is a market that will never stop. You can't lose if you buy a house no matter how much you pay. After all, the interest rate is 0%. You might as well be renting. You can't lose." I heard that over and over. And that is the fault of the people who are supposed to understand money and markets -- the bankers, Wall Street and the Fed.

The housing boom and bust was essentially caused by the attitude on the part of the wealthy that they could take the profits and shift the losses. And that is precisely what they have done.

Right now, they are trying to shift the losses to retirees and the poor. The folks who caused the losses are sitting in their towers in the major cities of the world running banks and other financial businesses including certain insurance companies. Don't anyone blame the little fools who fell for the lies of the folks who were supposed to know better.

Some bankers may have been honest. Some mortgage brokers may have been ignorant. The Fed was stupid. They and the rest at the top of the money pyramid are to blame. They alone.

Sorry for being so emotional about this. I dealt with some of the victims of this scam. Their lives were made into living Hells thanks to the negligence of the financial sector. This is personal to me.

And it angers me that the true analysis (and I know, for once, that I am right on this), the true history is told so rarely and known by so few.

Just recently, while waiting in line a long time, I met a man who was shocked to hear me tell him my ideas on this. He had never heard my point of view. Fox News and CNBC pretty much bought the information markets and spread their noxious, deceitful views slandering millions of innocent, stupid maybe, but innocent, gullible fools who bought houses or entered into loans in and economy that was far beyond their comprehension.

The Obama administration has done nothing to educate people about what really happened. The Fed, the bankers and the mortgage companies, of course, will never admit the truth. They would all have to quit if not go to prison for criminal negligence.

It isn't just elderly people and the poor who will suffer from this. It is kids who want an education, our rank and file servicemen and women and people who pay their debts. People who overborrowed have already paid. The only people who won't pay are those in the upper percentages income-wise.
---
Response to JDPriestly (Reply #2)
Thu Dec 13, 2012, 03:05 AM
JohnnyRingo (11,593 posts)
4. Well researched and stated.
You make a great point that if house prices rise faster than income, the prices will eventually fall... hard. Seems obvious now, and you're likely right that banks had a lot of stock in handing out perpetual loans on the same property.
As I understand it though, there were five times as many private mortgages that fell into foreclosure than federal loans during the first year of the Great recession. Perhaps that's because deregulation and cheap interest rates drove the market and created a national army of 15,000 realtors scouring neighborhoods searching for prospects, so the low cost loans offered by the govt were a small slice of the overstuffed pie.
The "American Dream Downpayment Initiative" as signed in December 2003 allowed for up to two hundred million dollars a year through 2008, but never received more than twenty five million. The private sector banks easily topped that for "well qualified borrowers" and were left holding the bag along with the insurance giant AIG.
http://portal.hud.gov/hudportal/HUD?src=/program_offices/comm_planning/affordablehousing/programs/home/addi
---
Response to alp227 (Original post)
Thu Dec 13, 2012, 01:06 AM
azurnoir (45,850 posts)
3. interesting that it targets loans in 2009 and 2010 after Obama was elected
when the riskiest loans were made during the Bush years but the real target here is HAMP which allowed many homeowners to not keep their homes but with affordable payments