Thu Nov 29, 2012, 11:45 AM
Purveyor (29,658 posts)
Pending Home Sales Rise, Beating Expectations
Source:
Reuters
WASHINGTON | Thu Nov 29, 2012 10:10am EST
(Reuters) - Contracts to buy previously owned U.S. homes rose more than expected in October, a sign the housing market recovery advanced into the fourth quarter despite a mammoth storm and concerns over looming tax hikes.
The National Association of Realtors said on Thursday its Pending Home Sales Index, based on contracts signed in October, gained 5.2 percent to 104.8.
Economists polled by Reuters had expected signed contracts, which usually become sales after a month or two, to rise 0.8 percent last month.
The housing market is steadily healing after collapsing in 2006, supported by modest job gains, increased job security and record low mortgage rates. The broader economy has been constrained by concerns the government's plans to slash the budget deficit next year could trigger a recession. This has hit business confidence, although consumer sentiment has nevertheless improved since the summer.
Read more:
http://www.reuters.com/article/2012/11/29/us-usa-economy-homes-idUSBRE8AS0RT20121129
3 replies, 1479 views
Replies to this discussion thread
| | | | |
| --- | --- | --- | --- |
| 3 replies | Author | Time | Post |
| Pending Home Sales Rise, Beating Expectations (Original post) | Purveyor | Nov 2012 | OP |
| | AnotherMcIntosh | Nov 2012 | #1 |
| | byeya | Nov 2012 | #2 |
| | jtuck004 | Nov 2012 | #3 |
---
---
Response to Purveyor (Original post)
Thu Nov 29, 2012, 12:45 PM
byeya (2,842 posts)
2. There have been 4 false alarms regarding a housing recovery but I think
now we are seeing a positive rise from the bottom.
The ultra low mortgage rates are part of the equation, I think, as well as the drop in unemployment.
---
Response to Purveyor (Original post)
Thu Nov 29, 2012, 03:40 PM
jtuck004 (15,882 posts)
3. Just fyi, it's no sale until they close, and that doesn't track as well since abt 2007
Here.
Given their own disclosures about these reports, one might want to eye this with a little skepticism. Unless, of course, one works for the marketing division of the National Association of Realtors. (Bernie Madoff sent out nice reports too.).
But people have all this loose money to invest in a home, the rest of their economic life must be doing well. Surely the people who want to make the fees from selling houses make sure you have less debt so you can pay the bills...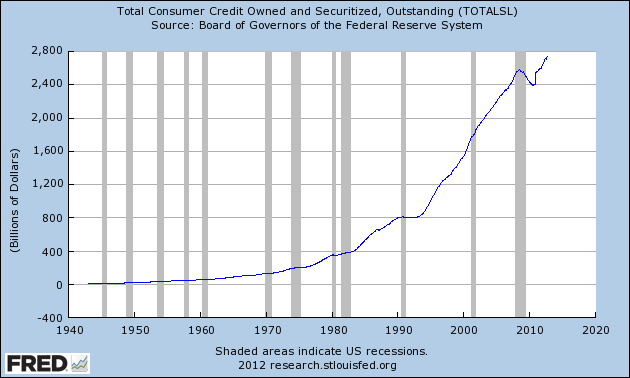 Oops.
Here
.
Of course, if your income is up, you can pay for all that debt. For example Mi$$ RobMe's declared net income for 2011 was $338,461.54. A week. Perhaps it depends on where you are in this chart...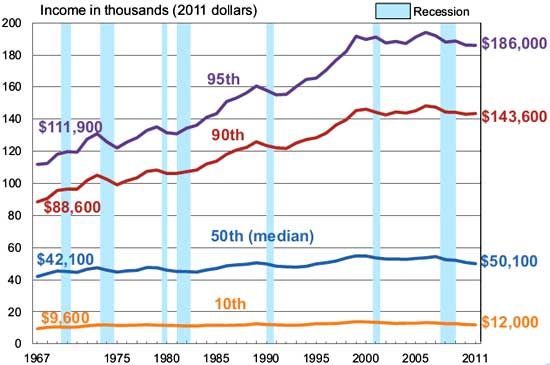 About 700,000 people will be removed from their homes this year, of about 1.3ish million foreclosures. Perhaps the above is good news for some, especially if you profit from housing sales. For everyone else, I'm not so sure...
But I do have hope - our stimulus programs are working. In 2012 the Bernanke began buying$40 Billion a month in mortgage-backed assets from really rich people, to make sure they don't have a loss. And lest we forget everyone else, in 2011 the agriculture secretary says we need to get more people on food stamps.
And by dog, in 2012, we did IT!! A record 47 million people getting food stamps, which includes a little over 10 million households with people who work but cannot make enough to eat... getting food stamps which don't provide enough to eat.
But JP Morgan, who administers the program, is making more than ever from it.
Housing starts, indeed...