Mon Nov 19, 2012, 11:10 AM
Purveyor (29,457 posts)
Homebuilder Confidence Rises to Six-Year High as U.S. Sales Jump
Source:
Bloomberg
Confidence among U.S. homebuilders unexpectedly climbed in November to a six-year high, propelled by the biggest jump in sales in a decade, adding to signs the real-estate market is improving.
The National Association of Home Builders/Wells Fargo index of builder confidence increased to 46, the highest level since May 2006, from 41 in October, figures from the Washington-based group showed today. The median forecast in a Bloomberg survey of 49 economists called for no change. Readings below 50 mean more respondents said conditions were poor.
Companies like Toll Brothers Inc. (TOL) are benefiting as more affordable properties and record-low mortgage rates bring buyers into the market. Faster hiring, fewer foreclosures and easier credit would ensure a sustained rebound in the industry that was at the center of the 2008 financial crisis.
"Builders are reporting increasing demand for new homes as inventories of foreclosed and distressed properties begin to shrink in markets across the country," Barry Rutenberg, chairman of the National Association of Home Builders and a builder from Gainesville, Florida, said in a statement. "In view of the tightening supply and other improving conditions, many potential buyers who were on the fence are now motivated to move forward with a purchase in order to take advantage of today's favorable prices and interest rates."
Read more: Link to source
http://www.bloomberg.com/news/2012-11-19/homebuilder-confidence-rises-to-six-year-high-as-u-s-sales-jump.html
11 replies, 2308 views
Replies to this discussion thread
| | | | |
| --- | --- | --- | --- |
| 11 replies | Author | Time | Post |
| Homebuilder Confidence Rises to Six-Year High as U.S. Sales Jump (Original post) | Purveyor | Nov 2012 | OP |
| | SweepPicker | Nov 2012 | #1 |
| | RitchieRich | Nov 2012 | #2 |
| | AldoLeopold | Nov 2012 | #3 |
| | jtuck004 | Nov 2012 | #4 |
| | AldoLeopold | Nov 2012 | #5 |
| | jtuck004 | Nov 2012 | #7 |
| | AldoLeopold | Nov 2012 | #9 |
| | jtuck004 | Nov 2012 | #10 |
| | NewEngland4Obama | Nov 2012 | #6 |
| | jtuck004 | Nov 2012 | #8 |
| | panAmerican | Nov 2012 | #11 |
---
Response to Purveyor (Original post)
Mon Nov 19, 2012, 11:19 AM
SweepPicker (190 posts)
1. I do hope so!!
As a licensed drywall and painting contractor here in Md, we could certainly use a few new homes being built.
---
Response to Purveyor (Original post)
Mon Nov 19, 2012, 11:40 AM
RitchieRich (292 posts)
2. Shared this with my co-workers
I work as a designer / estimator for a small construction company by Annapolis, Maryland. We've been staying afloat but are half the size we were in '06.

I REALLY hope my girl and I can get it together and buy in the next year or it will go right back to where we will never be able to afford to live where we grew up.
---
Response to Purveyor (Original post)
Mon Nov 19, 2012, 11:41 AM
AldoLeopold (600 posts)
3. Former Title Company worker here
And I've had two job offers in the past couple of weeks (one to open up and run a local office of a national title company here in AR and the other to write title/abstracts from a former employer) so that's an interesting thing perhaps related to this.

Only problem is, I'm just finishing up my degree in Environmental Science and left title on purpose to pursue a second bachelor's degree. I feel like Michael Corleone in Godfather III. They keep pulling me back in!
---
Response to AldoLeopold (Reply #3)
Mon Nov 19, 2012, 01:22 PM
jtuck004 (15,882 posts)
4. Most of the construction now and going forward is multi-family housing, where we balkanize millions
of formerly mid-wage families and their progeny from their own homes into apartments and other little non-owned and sometimes mean little enclaves,. The US is trying to prop up the market with the $40 billion invested in the wealthiest people's mortgage-backed assets every month (which pay much higher interest rates than nearly anyone can get at the bank, btw), as well as zero interest loans for the big banks (which depress rates for retirement accounts and deprive a lot of seniors from the income they were told they would have in their retirement. By very serious people, I might add).
The home builders are just happy to have work, regardless of what they are building, houses or coffins on stilts. They are more concerned that people maintain the air-driven tools well, and don't get weighed down with the whole moral argument thing.
I suspect there will be hundreds of short-lived opportunities from what people used to know in the old world (prior to 2008) but I would think your better bet for sustainable and greater return on investment will come from the problems you can solve in environmental science. Especially if you know a little Chinese or Spanish.
Just another Internet opinion, eh
Who knows, real money into people's pockets in all the depressed markets may appear at any time and change all this.
---
Response to jtuck004 (Reply #4)
Mon Nov 19, 2012, 01:31 PM
AldoLeopold (600 posts)
5. Sticking with the ES
For sure. And as it so happens I'm slogging through Mandarin right now with Rosetta stone. Just enough to get by, but my understanding is that they're more interested in learning English than the other way around. Plus, and I've just heard this through the grapevine, they consider it insulting when you try to speak their language - in general. Might be a stereotype though.

Either way, I'm not enjoying Mandarin. Not even a little. My voice goes up an octave when I try the pronunciations and I can't seem to make it stop. The syllabic ups and downs are killing me.
---
Response to AldoLeopold (Reply #5)
Mon Nov 19, 2012, 02:16 PM
jtuck004 (15,882 posts)
7. You learn about a people's culture by learning their language, and thus about them.

It's part of liking or respecting others, and I have never met anyone operating normally that doesn't want to be liked or at least respected. I try other languages when I can, and I have never had that experience, but I am pretty humble in the face of hundreds of years of history that I don't know. Yet. It might do us good to encourage the study of other languages in our culture. (Maybe teach a word or phrase on all evening news channels like I saw on some Japanese programming...)

That said, fumble-fingered efforts or people making the effort only to take advantage of others or even just sell them something may find that they are more transparent than they think. Also, people from more authoritarian cultures may in fact find it uncomfortable to see someone actually taking the initiative and pursuing learning that has not been authorized (kinda like some of our public school classes), but I digress.

I would think at the professional level of environmental engineer you would have to craft solutions that involve people's behavior, for which I would think a study of their language and history might put your answers a notch above the rest.

祝你好運


---
Response to jtuck004 (Reply #7)
Mon Nov 19, 2012, 04:25 PM
AldoLeopold (600 posts)
9. I'm not an engineer
I'm an environmental scientist. BIG difference.

I've studied Chinese history quite thoroughly out of interest. My first bachelor's was in history, after all. I like "The Walled Kingdom" by Rodzinski.

That being said, the 40+ scientific journals I've researched concerning smelting operations and airborne deposition of heavy metals, funded mainly by the state and only allowed by the state, are fairly clear about what they (the state) want - more smelting, less bitching.

I recall an article I researched for a class project showing Cd levels some 200 times higher than WHO permissible limits in leafy vegetables and potatoes around a small subsistence farming township somewhere in central china - I couldn't get a precise bead on it because Google Earth had it blacked out. Anyway, these were chronic and even acute levels of toxicity and the Chinese scientists, in concluding their journal, advised that the inhabitants simply "eat fewer/less leafy vegetables and potatoes."

This is why many people throughout China are protesting outside of smelting and chemical facilities and have even caused some forced shutdowns of construction for new facilities. They're not stupid. They know they're being slowly poisoned to death.

I still hate learning Mandarin. I've studied German in college and, believe it or not, Latin in High School, and have never found the process exciting or interesting. To me, its just drudgery. Give me a universal translator any old day.




---
Response to AldoLeopold (Reply #9)
Mon Nov 19, 2012, 05:08 PM
jtuck004 (15,882 posts)
10. Sometimes the class is in the design. I took adult ESL students to a meat market bar in a college

town and taught them to introduce themselves to people they were attracted to, none of whom spoke their language.

They found the process interesting, and useful, I think. John Dewey thought a more useful way to evaluate whether a student is learning is not with tests, but through observation. You are watching to see if they use what they are supposed have learned when they don't have to.

In my observations, they seemed to be very motivated to use what we discussed in class outside the classroom. The research tells us that younger students pick up language faster, but these students seemed to outperform some of the more conventional classes.

Didn't last long at that job either...



---
Response to AldoLeopold (Reply #3)
Mon Nov 19, 2012, 01:40 PM
NewEngland4Obama (414 posts)
6. The article was talking about single family homes which seem to be booming again. look at history
there will be another housing booms and bust. it will always run in cycles..
---
Response to NewEngland4Obama (Reply #6)
Mon Nov 19, 2012, 02:30 PM
jtuck004 (15,882 posts)
8. Look at history. Good Idea!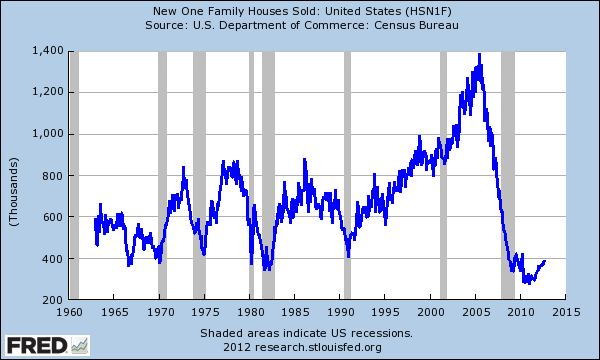 We have almost cycled back to 1990. Except that our population is no 314 million-ish, so about 66 million more people. Many, apparently, not buying houses. Maybe they are moving into apartments...
Booming, indeed.
---
Response to Purveyor (Original post)
Mon Nov 19, 2012, 11:56 PM
panAmerican (1,206 posts)
11. I've noticed an uptick in NJ as well
There was a lull in some areas where groundbreaking had already occured, but in the last year or so, I've seen new construction being completed.