Wed Mar 29, 2023, 06:34 PM
peppertree (19,401 posts)
Fernandez, Biden hold talks amid Argentina's economic strain
Source:
Washington Post
President Alberto Fernández of Argentina used a White House meeting Wednesday to spotlight the economic strain his country faces as he looks for President Joe Biden to back Argentina's effort to renegotiate with the International Monetary Fund on terms of $44 billion debt.
The United States has veto power in the IMF, so any sign of support from Biden to revise requirements to the debt agreement would be seen as a positive for Argentina while talks continue.
In comments to reporters at the start of their meeting, Fernández noted that Argentina's economy has endured the "worst drought" in the country in more than 90 years.
He also noted the Russia's war in Ukraine has caused rippling effects on his country's economy and others.
Read more:
https://www.washingtonpost.com/politics/2023/03/29/biden-argentina-alberto-fernandez-imf-debt-economy/b08be8cc-ce6e-11ed-8907-156f0390d081_story.html
---


Argentine President Alberto Fernández and U.S. President Joe Biden at the Oval Office this afternoon.

Biden lauded Fernández's stand on democracy, human rights, and against Russia's invasion of Ukraine - which has hit Argentina's already-stressed balance of payments hard.

Fernández thanked Biden for his donation of millions of Covid vaccine doses during the depths of the pandemic in 2021, and for Biden's support in Argentina's efforts to refinance a nearly $200 billion foreign debt inherited from the right-wing Mauricio Macri administration.

"I think we have an enormous opportunity to increase our economic interchange, our economic integration on everything from clean energy to critical minerals to technology to security," Biden said.
9 replies, 1032 views
Replies to this discussion thread
| | | | |
| --- | --- | --- | --- |
| 9 replies | Author | Time | Post |
| Fernandez, Biden hold talks amid Argentina's economic strain (Original post) | peppertree | Mar 29 | OP |
| | oldsoftie | Mar 29 | #1 |
| | peppertree | Mar 29 | #2 |
| | oldsoftie | Mar 29 | #4 |
| | peppertree | Mar 29 | #5 |
| | oldsoftie | Mar 31 | #7 |
| | peppertree | Mar 31 | #8 |
| | oldsoftie | Apr 3 | #9 |
| | Judi Lynn | Mar 29 | #3 |
| | peppertree | Mar 29 | #6 |
---
Response to peppertree (Original post)
Wed Mar 29, 2023, 07:53 PM
oldsoftie (10,958 posts)
1. Maybe Biden can make him understand AR is better off being aligned with the US
than joining up with the f'ing "BRICS" countries.
---
Response to oldsoftie (Reply #1)
Wed Mar 29, 2023, 09:00 PM
peppertree (19,401 posts)
2. True. But being so cash-strapped means having to be on good terms with China, AS WELL as the U.S.
The reason? Chinese currency swaps - which have helped keep Argentina solvent ever since Macri's debt bubble popped in April 2018.

Argentina runs a nearly $10 billion trade deficit with China. It may not sound like much compared to ours ($383 billion) - but the Argentines would never be able to come up with that much hard currency year in, year out.

And that's where the Chinese currency swaps come in - plus financing for two hydroelectric plants and a new nuclear power plant, which they could never fully finance otherwise.

Indeed, Macri himself (Fernández's "pro-U.S." predecessor, and Trump's pal) himself revived the Chinese currency swaps just before the 2018 crisis, and took on nearly $20 billion by the time he left office in 2019.

He had called them "little colored papers" when they were first subscribed to in 2014 - during the scam vulture fund lawsuits, you may recall.

Had it not been for the vulture fund crisis - and Macri's election (and later debt crisis) as a result - they wouldn't be so dependent on Chinese financing now.
---
Response to peppertree (Reply #2)
Wed Mar 29, 2023, 09:28 PM
oldsoftie (10,958 posts)
4. Just another example of how China is trying to usurp our influence.
And using our money to do it. Along with money from a willing EU.
We simply MUSt find a way to force companies to get major mfg OT of china so we stop sending trillions to them
---
Response to oldsoftie (Reply #4)
Wed Mar 29, 2023, 11:10 PM
peppertree (19,401 posts)
5. And a lot of it has to do with our bloated CEOcracy
With notable exceptions, a lot of them will not invest anywhere where they can't be assured of astronomical profits.

In effect, making U.S. foreign policy themselves - and more often than not, leaving the Africa and South American fields wide open for China to score a goal or two.

(since this thread was about Argentina, I though a soccer metaphor might be appropriate)

That said, Biden's reportedly more interested in Argentina - and the region - than his predecessors were. Especially Cheeto!

You know Trump: for him, the world was divided into either a) countries rich enough to keep him, Ivanka and Kushner in curry; or b) s-hole countries.


---
Response to peppertree (Reply #5)
Fri Mar 31, 2023, 10:10 PM
oldsoftie (10,958 posts)
7. Yes. And the reason I'd like to see legislation.
Legislation of SOME sort to force major MFG out of China. There HAS to be a way to at least get critical stuff out. Make your toys and shoes there, fine, but not our medicines, grid equipment, aircraft parts, etc. at least I'm seeing actual bipartisanship regarding TikTok.
---
Response to oldsoftie (Reply #7)
Fri Mar 31, 2023, 11:30 PM
peppertree (19,401 posts)
8. And at the very least, let's stop giving them tax write-offs for offshoring jobs
Our corporate tax code, as you know, is chock-full of them - which practically make chumps out of anyone choosing to manufacture in the U.S.

We have GE's Jack Welch to thank for a lot of that.

But then - that's what happens when a country lets its CEOs essentially write legislation and the tax code.

They'll wave the flag all day long - but then ship jobs out faster than you can say sweatshop.

Argentina, interestingly, has had the same problem: its well-paid, highly unionized (by regional standards) industrial work force has been partly displaced by cheap imports since 1980.

Biden's CHIPS Act was a major step in the right direction; it'll take a few years to see how much it actually changes the 'race to the bottom' dynamic (hopefully it can!).
---
Response to peppertree (Reply #8)
Mon Apr 3, 2023, 08:20 PM
oldsoftie (10,958 posts)
9. I was happy to see the CHIPs act; but I worry it comes with a ton of "strings"
Some needed, some I dont agree with. Right now its more important to get that mfg OUT of china. I'll be curious to see who jumps on the offer first. Some may already have.
---
Response to peppertree (Original post)
Wed Mar 29, 2023, 09:23 PM
Judi Lynn (157,023 posts)
3. Alberto Fernandez asks Joe Biden for IMF support in White House meeting
TODAY 17:28
Argentina's president hosted by United States leader at the West Wing in Washington; Alberto Fernández asks for US support with the International Monetary Fund and condemns war in Ukraine.
ROSARIO AYERDI
Editora de Política de Diario Perfil. Mail:
[email protected]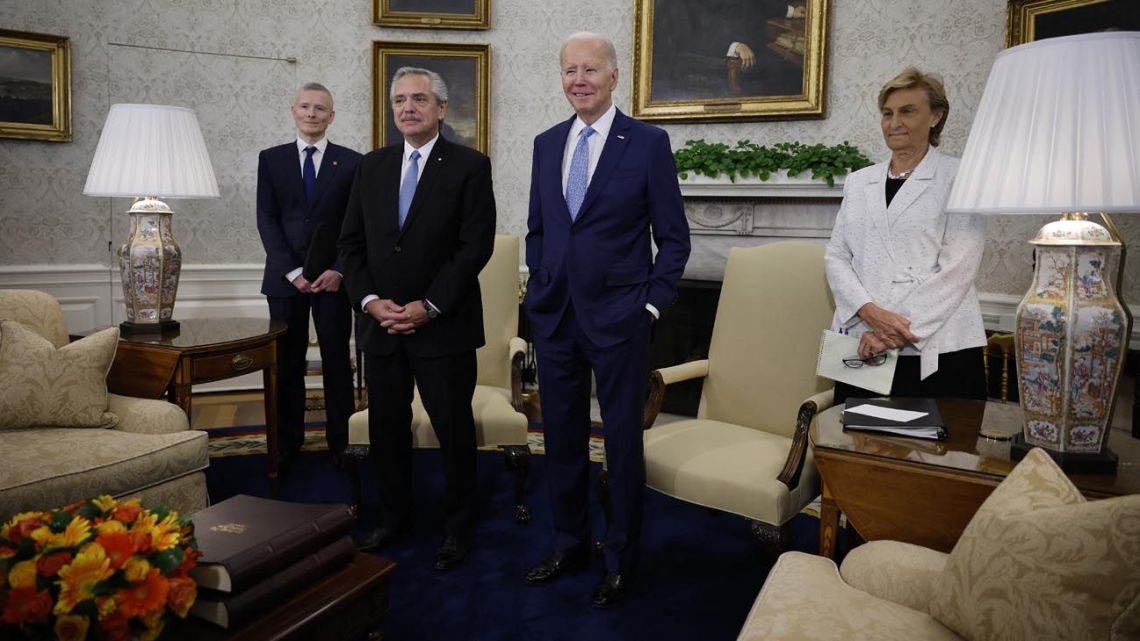 PRESIDENT ALBERTO FERNÁNDEZ MEETS WITH US PRESIDENT JOE BIDEN AT THE WHITE HOUSE ON MARCH 29, 2023. | AFP
President Alberto Fernández was received this Wednesday afternoon at the White House in Washington by his US counterpart, Joe Biden, for a meeting that also included talks attended by Economy Minister Sergio Massa and Security Ministry Aníbal Fernández.
At 2.40pm, Alberto Fernández arrived at the White House, where he signed the visitors' book. Minutes later, he was received by Joe Biden in the West Wing. During the joint press statement, Fernández once again condemned the war in Ukraine unleashed by Russia and asked that the United States continue supporting Argentina before international lending agencies such as the International Monetary Fund.
Following behind the president, and on foot, entered the official entourage headed by Foreign Minister Santiago Cafiero. Also in attendance were Economy Minister Sergio Massa, Security Minister Aníbal Fernández, Secretary General to the Presidency, Julio Vitobello, Presidential Spokesperson Gabriela Cerruti and Argentina's Ambassador to the United States, Jorge Argüello.
Inside the Oval Room, during the joint remarks, Argentina's head of state declared: "We see the serious problem created by Russia's invasion of Ukraine. We join the United Nations in condemning this invasion," said Fernández. Minutes earlier, Biden had thanked him for Argentina's position on the crisis.
More:
https://www.batimes.com.ar/news/argentina/alberto-fernandez-asks-joe-biden-for-imf-support-in-white-house-meeting.phtml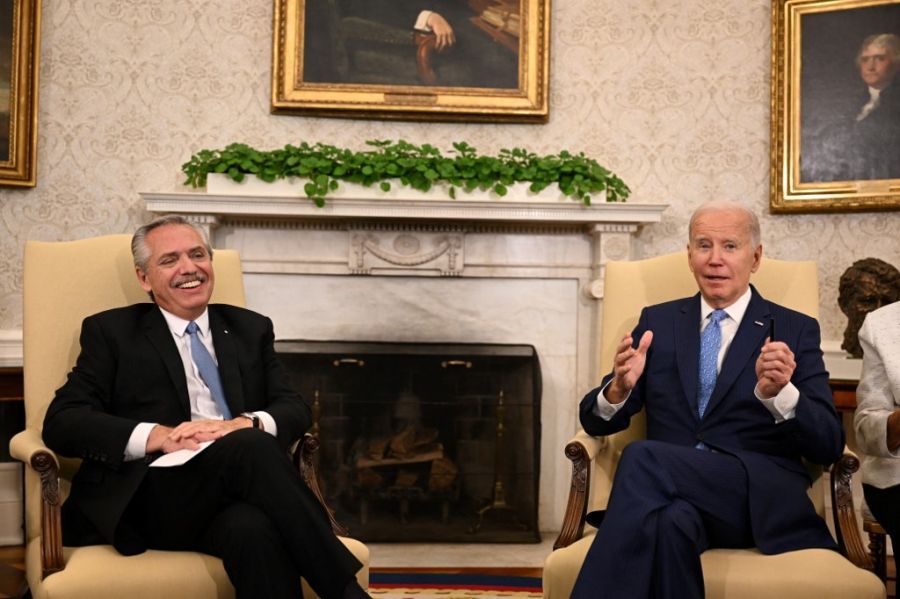 Two very special Presidents.

~ ~ ~

What a shame U.S. Republicans, with heavy Kissinger pushing, fully supported the Argentine fascist military coup and dictator in the Dirty War and torture and murder of 30,000 political dissidents, and so much subsequent chaos. Argentina would have been so much farther ahead by now without the years of pure hell.
Thank you, peppertree.
---
Response to Judi Lynn (Reply #3)
Wed Mar 29, 2023, 11:22 PM
peppertree (19,401 posts)
6. You bet, Judi. This was quite possibly the most important day in Fernandez's 3+ years in office.
Biden reportedly told Fernández that they both had something in common (besides their worldviews and religion):
"I know that you inherited a disastrous economic administration,
just like me
" - in a clear reference to their predecessors Mauricio Macri and Donald Trump.
Indeed, you'll recall, it was Trump who forced the IMF to led Macri $45 billion in hopes of (somehow) salvaging his failed, 2019 re-election bid - a loan Argentina now has to pay back, and just can't.
Unless
Argentina's oil, gas, and lithium exports rise dramatically - plus several years of good harvests (this year was a drought disaster for Argentina, as you know).
Biden understands all that and more. He's not obtuse like some of his predecessors.
Thanks as always for taking the trouble to delve, Judi. Have a great weekend!