Wed Oct 5, 2022, 10:19 AM
Omaha Steve (91,121 posts)
Yankees star Judge hits 62nd homer to break Maris' AL record
Source:
AP
By STEPHEN HAWKINS
ARLINGTON, Texas (AP) — Aaron Judge took a smooth, mighty swing, then broke into a big smile as he trotted around the bases. Heading home, his teammates backed away, letting him touch the plate alone.
At last, the New York Yankees slugger had the American League home run record all to himself.
Judge hit his 62nd home run of the season Tuesday night, breaking Roger Maris' AL record and setting what some fans consider baseball's "clean" standard.
"It's a big relief," Judge said. "Everybody can finally sit down in their seats and watch the ballgame. It's been a fun ride so far, getting a chance to do this. ... Getting a chance to have your name next to someone as great as Roger Maris and Babe Ruth and those guys is incredible."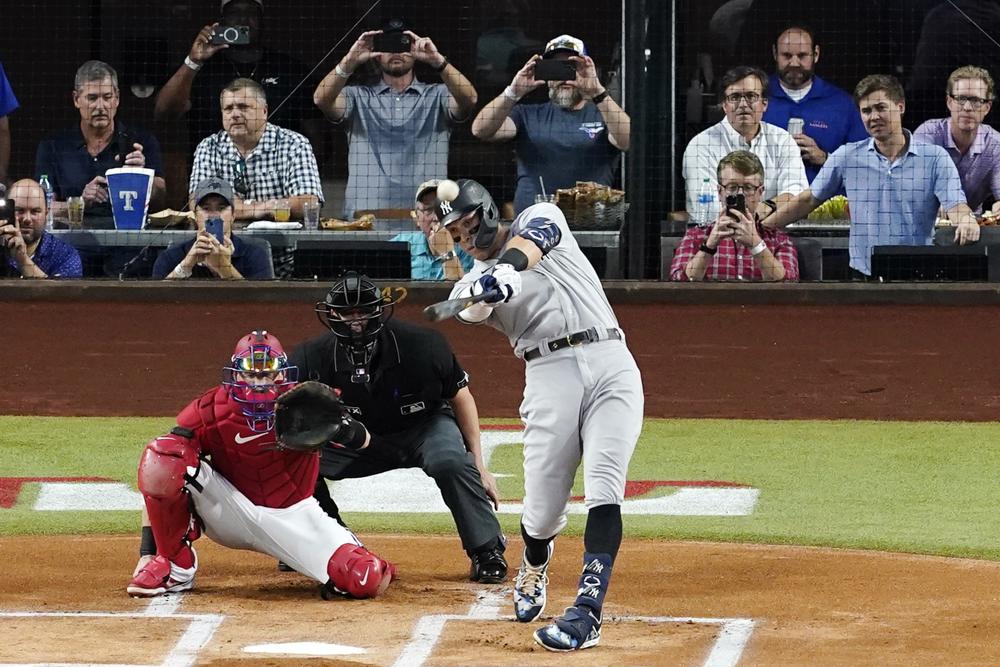 New York Yankees' Aaron Judge connects for a solo home run, his 62nd of the season, off as Texas Rangers catcher Sam Huff and umpire Randy Rosenberg look on in the first inning of the second baseball game of a doubleheader in Arlington, Texas, Tuesday, Oct. 4, 2022. With the home run, Judge set the AL record for home runs in a season, passing Roger Maris. (AP Photo/Tony Gutierrez)
Read more:
https://apnews.com/article/aaron-judge-62-yankees-02ddf46f7149dccda2649eae93800edf
6 replies, 1212 views
Replies to this discussion thread
| | | | |
| --- | --- | --- | --- |
| 6 replies | Author | Time | Post |
| Yankees star Judge hits 62nd homer to break Maris' AL record (Original post) | Omaha Steve | Oct 5 | OP |
| | KPN | Oct 5 | #1 |
| | El Supremo | Oct 5 | #3 |
| | KPN | Oct 5 | #5 |
| | Me. | Oct 5 | #2 |
| | Yavin4 | Oct 5 | #4 |
| | LiberalFighter | Oct 5 | #6 |
---
Response to Omaha Steve (Original post)
Wed Oct 5, 2022, 10:59 AM
KPN (14,356 posts)
1. Quite the accomplishment. Hopefully, there will be no
tarnishments and this record will always be clean as it presently appears to be.

I'm waiting for someone to hit 61 home runs in 151 games to break Babe Ruth's record of 60 in that number of games in 1927. Ruth also hit more than any other whole team in baseball that year. He must have been something to see back then — 95 years ago!
---
Response to KPN (Reply #1)
Wed Oct 5, 2022, 12:32 PM
El Supremo (20,265 posts)
3. Ruth's was in game 154, the last game of the season.
---
Response to El Supremo (Reply #3)
Wed Oct 5, 2022, 02:52 PM
KPN (14,356 posts)
5. You are right. I had looked it up at another website. Went back to it
and turns out Ruth played in 151 games that year, but the season was 154 games and he hit 60 in game 154.

No doubt Aaron Judge is a monster. Seems like he may have hit his 60 in fewer actual games played? Maybe he'll surpass his own record in time.
---
Response to Omaha Steve (Original post)
Wed Oct 5, 2022, 11:00 AM
Me. (34,816 posts)
2. Loved When Fans Were Going Crazy Last Night
---
Response to Omaha Steve (Original post)
Wed Oct 5, 2022, 12:43 PM
Yavin4 (33,664 posts)
4. If Bonds is still the HR King, then put him in the Hall of Fame
Either his records count or they don't. You cannot have it both ways.
---
Response to Omaha Steve (Original post)
Wed Oct 5, 2022, 05:56 PM
LiberalFighter (44,814 posts)
6. The feat needs to be examined to see if it compares with past.