Fri Sep 30, 2022, 01:29 PM
Omaha Steve (91,014 posts)
S. Korea, US and Japan hold anti-N. Korean submarine drills
Source:
AP
By HYUNG-JIN KIM
SEOUL, South Korea (AP) — South Korea, U.S. and Japanese warships launched their first trilateral anti-submarine drills in five years on Friday, after North Korea renewed missile tests this week in an apparent response to bilateral training by South Korean and U.S. forces.
The North's recent five missiles launches, the first such tests in a month, also came before and after U.S. Vice President Kamala Harris visited South Korea on Thursday and reaffirmed the "ironclad" U.S. commitment to the security of its Asian allies.
The one-day three-nation training off the Korean Peninsula's east coast is meant to cope with a North Korean push to advance its ability to fire missile from submarines, according to a South Korean navy statement.
North Korea has been building bigger submarines including a nuclear-powered one and testing sophisticated missiles that can be fired from them in recent years. That's an alarming development for its rivals because it's harder to detect underwater-launched missiles in advance.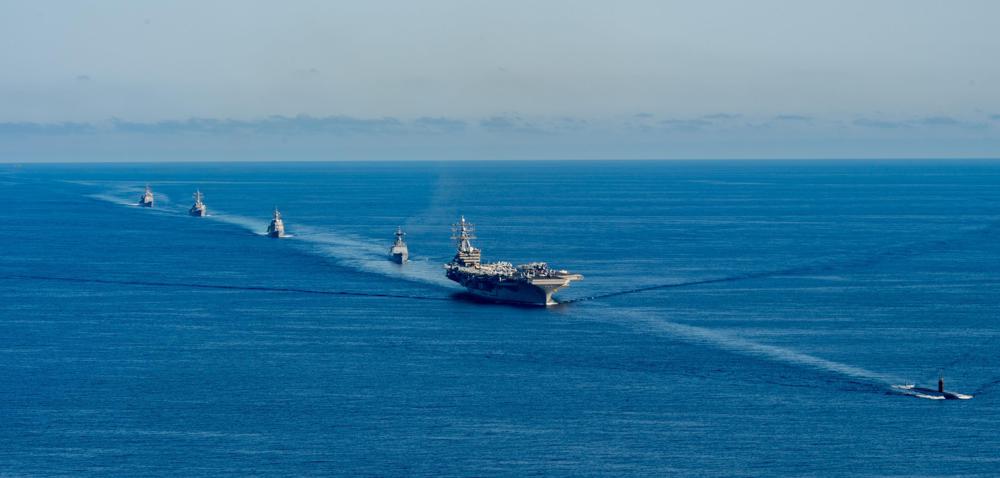 In this photo provided by the South Korea Defense Ministry, the USS Ronald Reagan aircraft carrier, second from right, participates in a joint anti-submarine drill among South Korea, the United States and Japan in waters off South Korea's eastern coast in South Korea, Friday, Sept. 30, 2022. South Korea, U.S. and Japanese warships launched their first trilateral anti-submarine drills in five years on Friday, after North Korea renewed missile tests this week in an apparent response to bilateral training by South Korean and U.S. forces. (South Korea Defense Ministry via AP)
Read more:
https://apnews.com/article/japan-asia-kamala-harris-south-korea-north-e234d66c491dc466f3d31efb1903a68a
0 replies, 534 views