Fri Sep 30, 2022, 04:49 AM
Omaha Steve (91,014 posts)
Russian strike kills 25 as Kremlin to annex Ukraine regions
Source:
AP
By JON GAMBRELL and HANNA ARHIROVA
KYIV, Ukraine (AP) — Russia pounded Ukrainian cities with missiles, rockets and suicide drones, with one strike reported to have killed 25 people, as it moved Friday to fold more seized Ukrainian territory into Russia itself and under the protection of its nuclear umbrella, opening an internationally condemned dangerous new phase of the seven-month war.
But even as it prepared to celebrate the incorporation into Russia of four occupied Ukrainian regions, in defiance of international law and with the prospect of further sanctions, the Kremlin was facing another stinging battlefield loss. Russian and Western analysts reported the imminent Ukrainian encirclement of the city of Lyman, that — if retaken — could open the path for Ukraine to push deep into one of the very regions that Russia is annexing.
Salvos of Russian strikes reported in five Ukrainian cities together amounted to the heaviest barrage that Russia has unleashed for weeks. It follows analysts' warnings that Russian President Vladimir Putin is likely to dip more heavily into his dwindling stocks of precision weapons and step up attacks as part of a strategy to escalate the war to an extent that would shatter Western support for Ukraine.
In the Ukrainian city of Zaporizhzhia, anti-aircraft missiles that Russia has repurposed as ground-attack weapons rained down on people who were waiting in cars to cross into Russian-occupied territory in order to bring family members back across the front lines, said the deputy head of Ukraine's presidential office, Kyrylo Tymoshenko.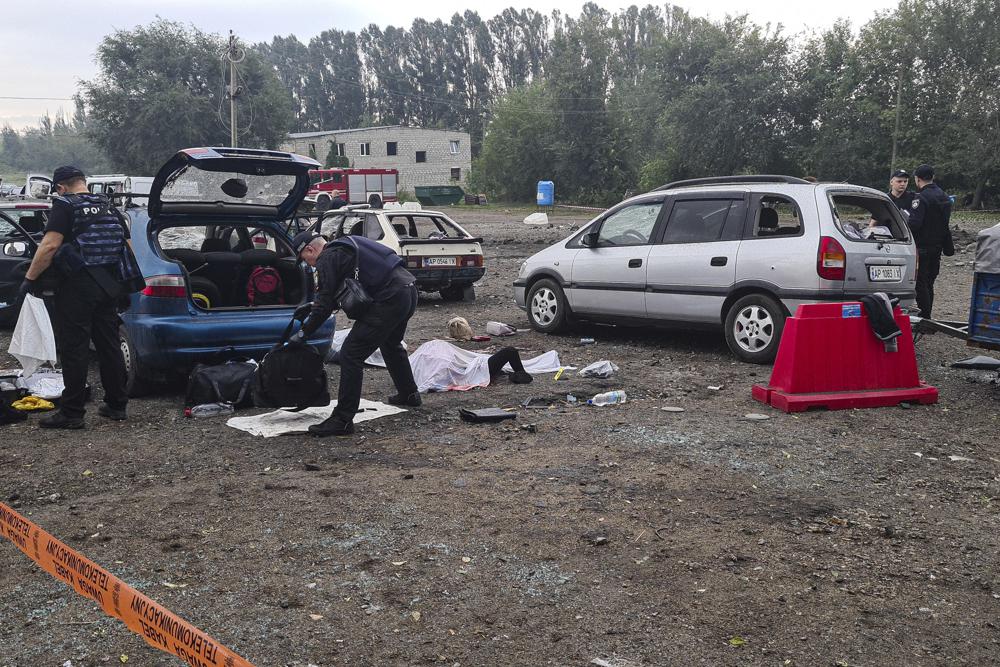 Police officers check the bags of killed civilians after a Russian rocket attack in Zaporizhzhia, Ukraine, Friday, Sept. 30, 2022. A Russian strike on the Ukrainian city of Zaporizhzhia killed at least 23 people and wounded dozens, an official said Friday, just hours before Moscow planned to annex more of Ukraine in an escalation of the seven-month war. (AP Photo/Viacheslav Tverdokhlib)
Read more:
https://apnews.com/article/russia-ukraine-moscow-referendums-dad270d8dccf8873ba7fe7758c387933?utm_source=homepage&utm_medium=TopNews&utm_campaign=position_01
5 replies, 985 views
Replies to this discussion thread
| | | | |
| --- | --- | --- | --- |
| 5 replies | Author | Time | Post |
| Russian strike kills 25 as Kremlin to annex Ukraine regions (Original post) | Omaha Steve | Sep 30 | OP |
| | Roy Rolling | Sep 30 | #1 |
| | Lovie777 | Sep 30 | #2 |
| | ananda | Sep 30 | #4 |
| | myohmy2 | Sep 30 | #3 |
| | PortTack | Sep 30 | #5 |
---
Response to Omaha Steve (Original post)
Fri Sep 30, 2022, 04:57 AM
Roy Rolling (6,098 posts)
1. Madman
Putin: Welcome to Russia, Ukrainian comrades, where I bomb my own people.
---
Response to Omaha Steve (Original post)
Fri Sep 30, 2022, 06:02 AM
Lovie777 (6,423 posts)
2. He can annex all he wants but it don't mean a damn thing....
Ukraine is taking it's territories back.

Putin should be more concerned about his own country.


---
Response to Lovie777 (Reply #2)
Fri Sep 30, 2022, 07:41 AM
ananda (26,796 posts)
4. Exactly. Ukraine will win this war.
---
Response to Omaha Steve (Original post)
Fri Sep 30, 2022, 06:44 AM
myohmy2 (2,863 posts)
3. trump's...
...good friend putin seems to be getting more testy these days...
...trump should call him up, invite him over for a picnic, play some games, have a beer or two, talk over old-times and get putin to relax...
...the stress of defeat is weighing heavily on both putin and trump these days...
...they need to chill before they do more crazy shit...
...bring the wives and kids...
---
Response to Omaha Steve (Original post)
Fri Sep 30, 2022, 10:16 AM
PortTack (28,126 posts)
5. The media outlets need to stop saying Russia is annexing Ukrainian lands into russia!
NO..they are not. Just because Poopin says it doesn't make it so. NO countries with the exception of N Korea and a couple of others recognize this. The four regions are STILL in Ukraine!