Fri Nov 9, 2012, 05:05 AM
dipsydoodle (42,239 posts)
Argentines march in mass protest at government policies
Source:
BBC News
Thousands of people have taken to the streets of Argentina's capital, Buenos Aires, in protest at the government of Cristina Fernandez de Kirchner.
Opposition activists used social networks to mobilise the march, which they said was one of the biggest anti-government protests in a decade.
Those gathered said they were angry at rising inflation, high levels of crime and high-profile corruption cases.
President Fernandez was re-elected by a landslide to a second term in 2011.
Her approval ratings have since dropped and protests against some of her policies have mounted.
Official figures say inflation is at 12%, but analysts say it is probably much higher.
Read more:
http://www.bbc.co.uk/news/world-latin-america-20263760
5 replies, 2017 views
Replies to this discussion thread
| | | | |
| --- | --- | --- | --- |
| 5 replies | Author | Time | Post |
| Argentines march in mass protest at government policies (Original post) | dipsydoodle | Nov 2012 | OP |
| | newfie11 | Nov 2012 | #1 |
| | bariloche | Nov 2012 | #2 |
| | newfie11 | Nov 2012 | #5 |
| | Bosonic | Nov 2012 | #3 |
| | friendly_iconoclast | Nov 2012 | #4 |
---
Response to dipsydoodle (Original post)
Fri Nov 9, 2012, 08:09 AM
newfie11 (8,159 posts)
1. Wonder if the CIA is down there
I thought she was very popular.
---
Response to newfie11 (Reply #1)
Fri Nov 9, 2012, 12:46 PM
bariloche (25 posts)
2. corruption is a way of life there....
I have personal experience with the Argentines. I went there to retire 4 years ago. I had a small cabin built while i was still working here. I went there because I'm single and lost most of my 401K to the debacle that was G.W. Bush and the stock market crash. Long story short....EVERYONE I met in Argentina was corrupt....they kind of laugh about it finding it amusing....I kept hearing "asi es la Argentina"...... translated means "that is Argentina". The level of corruption left me running back home...now I'm broke but at least here...they stole thousands of dollars worth of goods from my shipping container....that was their customs people and now I'm still waiting for my money from the sale of my cabin. The Agentine central bank has it. It's been 6 months....I imagine some banker of theirs has decided he needs a little "raise" and will keep it. I have no recourse. I'm a single, retired woman a long way away. The kindest people I knew there were from Chile. We are and will always be friends....

I will never have a good feeling about that country. Christina Kirchner was popular at one time but remember that corruption starts at the top there.....the smell exudes from her on down.....forgive me DU'ers....but I am left with a nasty taste in my mouth about that country.
---
Response to bariloche (Reply #2)
Fri Nov 9, 2012, 07:37 PM
newfie11 (8,159 posts)
5. Omg how awful
I hope you finally get your money. I had thought about moving to Ecuador if the election went differently. You experience makes me glad I didn't have to.
---
Response to dipsydoodle (Original post)
Fri Nov 9, 2012, 12:54 PM
Bosonic (3,746 posts)
3. Argentina protests: up to 1.5 million rally against Fernández de Kirchner
Rowdy demonstrations against corruption mark escalation of opposition to President Cristina Fernández de Kirchner
The broad avenues of Buenos Aires were crowded on Thursday night by Argentina's biggest and noisiest anti-government demonstration in a decade, as hundreds of thousands of protesters marched or banged pots to express their frustration at President Cristina Fernández de Kirchner.
After a smaller rally in September, the cacophonous but peaceful protest – estimated at between 250,000 to 700,000 people – marks an escalation of opposition to the Argentinian leader, particularly among a middle class that is upset at inflation, corruption, media controls and suggestions that Fernández de Kirchner may be planning to amend the constitution so she can serve a third term.
Congregating around the landmark obelisk in the centre of the capital, protesters carried handmade signs demanding "Stop corruption" and "No Re-election" while they chanted: "This is for Cristina who is watching us on TV." Tens of thousands of others joined a cacerolazo (casserole) demonstration outside the presidential palace, beating kitchen utensils so loudly their clamour cannot have been ignored by those inside.
With simultaneous protests in cities around Argentina, the turnout nationwide was estimated by the local daily La Nación at between 1 and 1.5 million.
http://www.guardian.co.uk/world/2012/nov/09/argentiana-protests-rally-fernandez-kirchner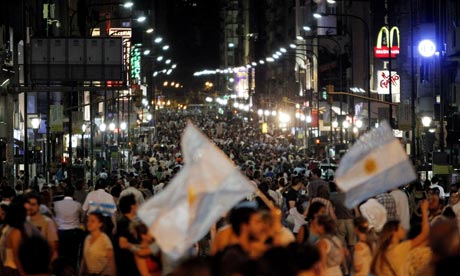 ---
Response to dipsydoodle (Original post)
Fri Nov 9, 2012, 03:28 PM
friendly_iconoclast (14,144 posts)
4. "Waving the bloody shirt" about the Malvinas wasn't the saving throw she thought it would be.