Mon Jun 27, 2022, 05:22 PM
Omaha Steve (87,607 posts)
US makes more wildfire recovery aid available for New Mexico
Source:
AP
By SUSAN MONTOYA BRYAN
ALBUQUERQUE, N.M. (AP) — U.S. President Joe Biden on Monday authorized an increase in funding for debris removal and other emergency measures being taken as a result of a historic wildfire season in New Mexico that stemmed partly from missteps by federal forest managers in starting a prescribed burn.
The additional funding comes through an amended disaster declaration signed by the president that calls for direct federal assistance to be increased to 100% of the total eligible costs for 90 days following the declaration.
The wildfire still smoldering in the Rocky Mountain foothills of northern New Mexico grew to become the largest in the U.S. this spring after it was sparked in April by two planned government burns meant to reduce wildfire danger.
The U.S. Forest Service acknowledged in a recent report that managers underestimated how dry things have become in the Southwest over the last two decades and that modeling and training needs to improve to account for the extreme conditions.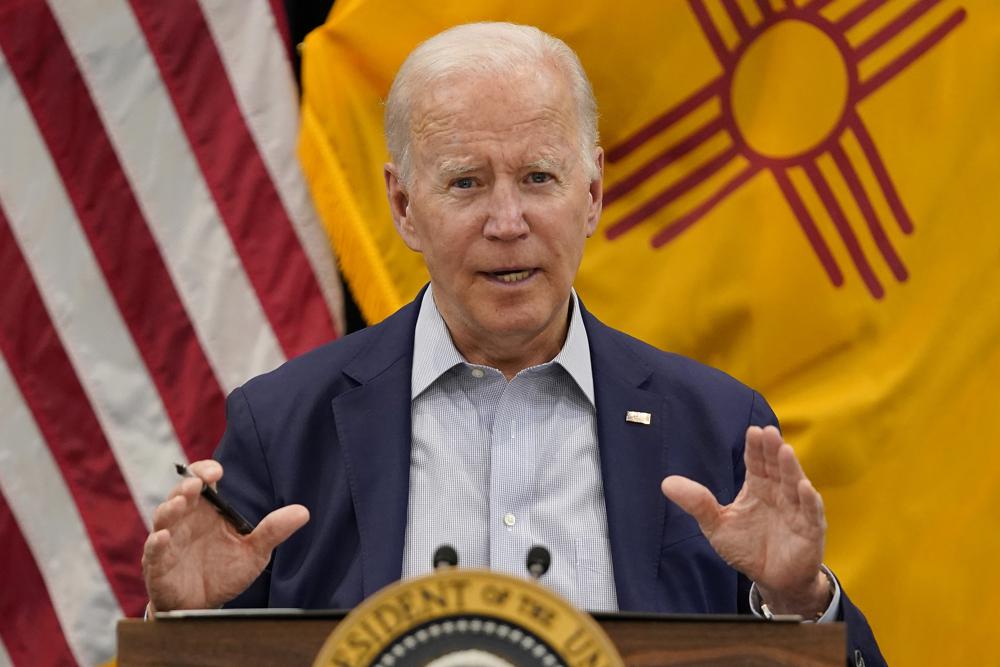 President Joe Biden speaks during a briefing on the New Mexico wildfires at the New Mexico State Emergency Operations Center, Saturday, June 11, 2022, in Santa Fe, N.M. (AP Photo/Evan Vucci)
Read more:
https://apnews.com/article/wildfires-biden-politics-fires-new-mexico-f177596ca2f17ddc595f13bf8ab0a2e9
1 replies, 491 views
Replies to this discussion thread
| | | | |
| --- | --- | --- | --- |
| 1 replies | Author | Time | Post |
| US makes more wildfire recovery aid available for New Mexico (Original post) | Omaha Steve | Jun 27 | OP |
| | keopeli | Jun 27 | #1 |
---
Response to Omaha Steve (Original post)
Mon Jun 27, 2022, 06:26 PM
keopeli (2,971 posts)
1. The damage here is vast and horrible. Many homes torched. Many many acres of wildland (state and fed
federal) burned to nothing.

One of the prescribed burns that started this was conducted in January. The smoldering embers had not been extinguished yet when the weather turned super hot and dry which caused the unseen danger to flare up. That inferno combined with a second caused by a controlled burn that got out of hand quickly and the two evils ripped across our Northern territory, which was largely pristine wilderness. It is not out yet, though mostly contained. It will take much time and money to recover from these tragedies.

Biden raising the salaries of Federal Firefighters was a great move. Our desperate need today will be dwarfed by what is to come in the remainder of this decade.

I have 4 friends whose homes burned down. A camp for kids in the mountains has been (and remains) in jeopardy. We do not yet know its fate.

Miraculously, the heat wave we had caused our summer monsoons to appear early. The past week it has rained daily - and it's been a good, solid rain. This has taken us off the DEFCON 5 list. Now, we wait to see what we can recover...and what will come next.