Wed Dec 1, 2021, 06:38 PM
Omaha Steve (82,957 posts)
WTA announces immediate suspension of tournaments in China amid concern for Peng Shuai
Source:
CNN
By Ben Morse,
(CNN)The Women's Tennis Association (WTA) chairman and CEO Steve Simon has announced an immediate suspension of all WTA tournaments in China, including Hong Kong.
In a statement released Wednesday, Simon said the decision was based on the lack of transparency by Chinese officials following tennis player Peng Shuai's allegation of sexual assault against a top Chinese government official.
"In good conscience, I don't see how I can ask our athletes to compete there when Peng Shuai is not allowed to communicate freely and has seemingly been pressured to contradict her allegation of sexual assault," Simon said.
"Given the current state of affairs, I am also greatly concerned about the risks that all of our players and staff could face if we were to hold events in China in 2022."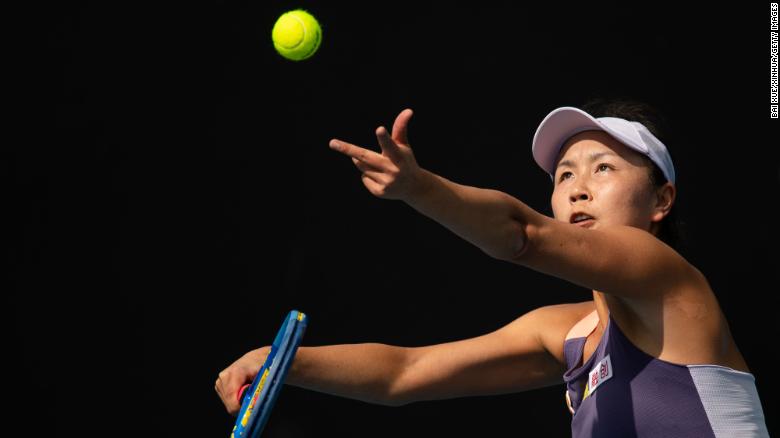 Peng Shuai serves to Hibino Nao during their women's singles first-round match at the Australian Open in 2020.
Read more:
https://www.cnn.com/2021/12/01/tennis/wta-suspend-tournaments-china-peng-shuai-spt-intl/index.html
6 replies, 1092 views
Replies to this discussion thread
| | | | |
| --- | --- | --- | --- |
| 6 replies | Author | Time | Post |
| WTA announces immediate suspension of tournaments in China amid concern for Peng Shuai (Original post) | Omaha Steve | Dec 1 | OP |
| | Bernardo de La Paz | Dec 1 | #1 |
| | catsudon | Dec 1 | #2 |
| | Ford_Prefect | Dec 1 | #3 |
| | Martin68 | Dec 1 | #4 |
| | oldsoftie | Dec 2 | #5 |
| | Raftergirl | Dec 2 | #6 |
---
Response to Omaha Steve (Original post)
Wed Dec 1, 2021, 06:43 PM
Bernardo de La Paz (39,883 posts)
1. Combine fascism with criminal misogyny and this is what you get. . . . nt
---
Response to Omaha Steve (Original post)
Wed Dec 1, 2021, 08:34 PM
catsudon (609 posts)
2. who knew
WTA have more balls than NBA
---
Response to catsudon (Reply #2)
Wed Dec 1, 2021, 09:20 PM
Ford_Prefect (5,456 posts)
3. The NBA is a boys' club Masquerading as Corporate management. WTA is Women tennis players and the
larger world of women fans and products marketed to them. The obvious loss of credibility would be devastating to WTA and its network of events and sponsors. Along with that you have people involved like chairman and CEO Steve Simon who does seem to grasp that there is more at stake here than money alone.

I strongly suspect the WTA event contracts are specific about respecting players and event staff. Chinese officials would appear to be violating the terms of the WTA contract, along with silencing Peng Shuai.
---
Response to Omaha Steve (Original post)
Wed Dec 1, 2021, 10:37 PM
Martin68 (17,401 posts)
4. No Olympic competitor should participate in Olympic games held by the genocidal, misogynistic,
xenophobic, authoritarian Chinese regime.
---
Response to Omaha Steve (Original post)
Thu Dec 2, 2021, 08:53 AM
oldsoftie (7,558 posts)
5. Meanwhile the NBA, Disney & others continue to bend over for China.
Cowards.
All about the money for these groups
---
Response to Omaha Steve (Original post)
Thu Dec 2, 2021, 02:25 PM
Raftergirl (717 posts)
6. This is excellent news.
Kudos to Simon and the WTA Players Council. And I hope Guadalajara gets to keep the WTA Championships!

Would be nice if the ATP follows suit, but highly unlikely they will, imo.