Sun Nov 28, 2021, 09:36 AM
Omaha Steve (82,969 posts)
WTA remains "concerned' about Peng's ability to speak freely
Source:
AP
By STEPHEN WADE
Steve Simon, the head of the WTA, says he remains "deeply concerned" about the whereabouts of Chinese tennis player Peng Shuai and her ability to "communicate freely, openly and directly" after allegations that a powerful politician forced her to have sex.
Peng, a three-time Olympian and former top-ranked doubles player, has dropped out of public view after accusing former vice-premier Zhang Gaoli of sexual abuse in a Nov. 2 posting on the Chinese internet, which was quickly taken down by Chinese authorities.
"Steve Simon has reached out to Peng Shuai via various communication channels," the WTA said in a statement on Saturday.
"He has sent her two emails, to which it was clear her responses were influenced by others. He remains deeply concerned that Peng is not free from censorship or coercion and decided not to re-engage via email until he was satisfied her responses were her own, and not those of her censors. The WTA remains concerned about her ability to communicate freely, openly, and directly."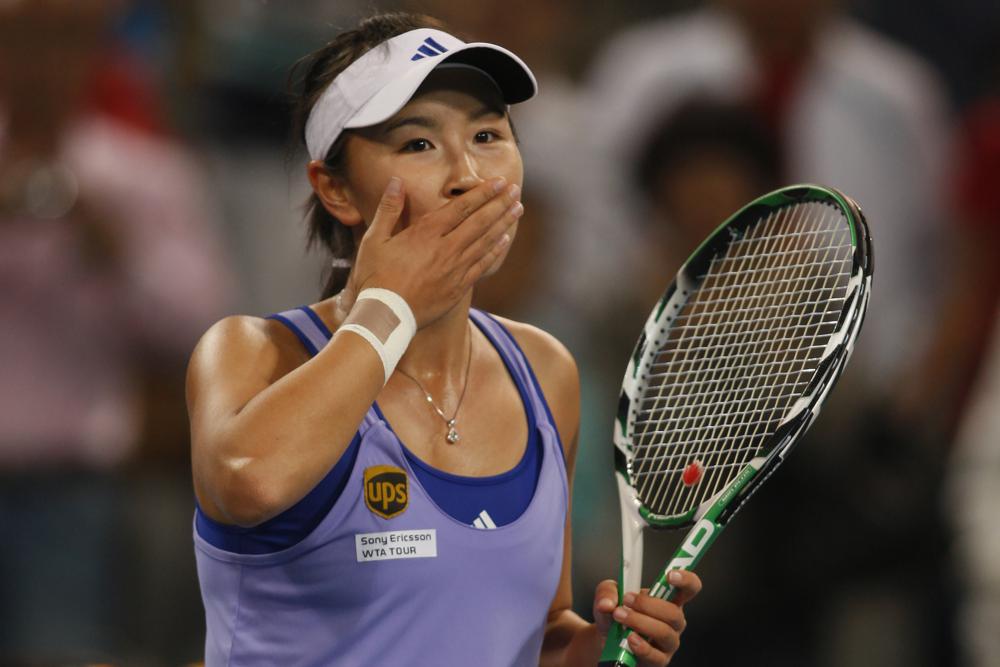 Chinese tennis player Peng Shuai reacts during a tennis match in Beijing, China on Oct. 6, 2009. When Peng disappeared from public view this month after accusing a senior Chinese politician of sexual assault, it caused an international uproar. But back in China, Peng is just one of several people, activists and accusers alike, who have been hustled out of view, charged with crimes or trolled and silenced online for speaking out about the harassment, violence and discrimination women face every day. (AP Photo/Ng Han Guan)
Read more:
https://apnews.com/article/sports-tennis-2020-tokyo-olympics-sexual-abuse-censorship-e639ad6e6431a1b9a9c4ec4bbe22e22a
4 replies, 966 views
Replies to this discussion thread
| | | | |
| --- | --- | --- | --- |
| 4 replies | Author | Time | Post |
| WTA remains "concerned' about Peng's ability to speak freely (Original post) | Omaha Steve | Nov 28 | OP |
| | Ford_Prefect | Nov 28 | #1 |
| | Tommymac | Nov 28 | #2 |
| | PoliticAverse | Nov 28 | #3 |
| | pecosbob | Nov 28 | #4 |
---
Response to Omaha Steve (Original post)
Sun Nov 28, 2021, 10:31 AM
Ford_Prefect (5,465 posts)
1. Seems to me the resolution of this will be Peng leaving China.
She clearly cannot stay there and remain under house arrest. The government will never allow prosecution of Zhang Gaoli or admit that sexual abuse of women happens, especially under government authority.

Implacable force meets immovable object.
---
Response to Omaha Steve (Original post)
Sun Nov 28, 2021, 01:46 PM
Tommymac (5,786 posts)
2. And if We Dems don't get the Voting Right's act passed, the same thing will happen here.
This is why it is so important to stop the Authoritarians in their tracks.
Totalitarian power amplifies the control of the 1% and puts eveyone else at their beck and call, makes them slaves.
Can you imagine a world without a Democratic Super Power keeping things real for the working class?
Unregulated Capitalism works better for the few in an Authoritarian State - China is the bell weather.
We need to regulate Capitalism which works better for ALL in a Democracy.
That is what this game is all about...and why we Dems need to win in 2022 and beyond.
---
Response to Omaha Steve (Original post)
Sun Nov 28, 2021, 02:16 PM
PoliticAverse (24,981 posts)
3. Basically nobody in China can "speak freely". n/t
---
Response to Omaha Steve (Original post)
Sun Nov 28, 2021, 02:39 PM
pecosbob (6,385 posts)
4. Respect to the WTA for not letting go of this.