Sat Oct 16, 2021, 07:59 AM
Omaha Steve (82,286 posts)
New crew docks at China's first permanent space station
Source:
AP
BEIJING (AP) — Chinese astronauts began Saturday their six-month mission on China's first permanent space station, after successfully docking aboard their spacecraft.
The astronauts, two men and a woman, were seen floating around the module before speaking via a live-streamed video.
The new crew includes Wang Yaping, 41, who is the first Chinese woman to board the Tiangong space station, and is expected to become China's first female spacewalker.
"We'll co-operate with each other, carefully conduct maneuvers, and try to accomplish all tasks successfully in this round of exploration of the universe," said Wang in the video.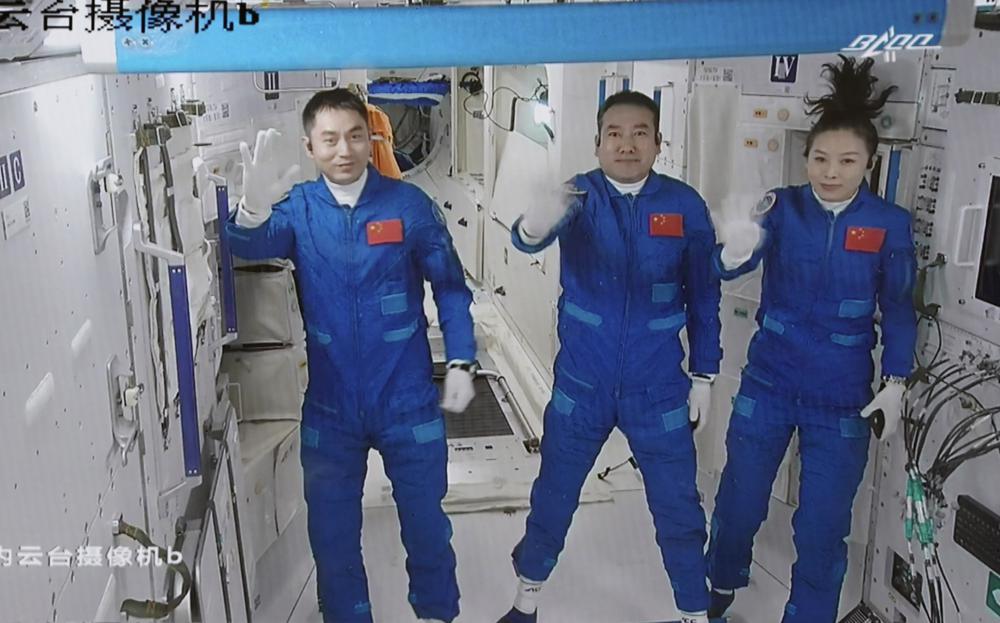 In this photo released by Xinhua News Agency, screen image captured at Beijing Aerospace Control Center in Beijing, China, Saturday, Oct. 16, 2021 shows three Chinese astronauts, from left, Ye Guangfu, Zhai Zhigang and Wang Yaping waving after entering the space station core module Tianhe. China's Shenzhou-13 spacecraft carrying three Chinese astronauts on Saturday docked at its space station, kicking off a record-setting six-month stay as the country moves toward completing the new orbiting outpost. Chinese characters, left, read "Platform Camera B." (Tian Dingyu/Xinhua via AP)
Read more:
https://apnews.com/article/space-launches-space-exploration-science-technology-business-cdfb0f2aaada83e6c34203de46e06924
12 replies, 1726 views
Replies to this discussion thread
| | | | |
| --- | --- | --- | --- |
| 12 replies | Author | Time | Post |
| New crew docks at China's first permanent space station (Original post) | Omaha Steve | Oct 16 | OP |
| | Crowman2009 | Oct 16 | #1 |
| | GregariousGroundhog | Oct 16 | #5 |
| | Alexander Of Assyria | Oct 16 | #8 |
| | Kid Berwyn | Oct 16 | #2 |
| | hunter | Oct 16 | #3 |
| | Kid Berwyn | Oct 16 | #4 |
| | hunter | Oct 16 | #6 |
| | Kid Berwyn | Oct 17 | #11 |
| | HUAJIAO | Oct 17 | #12 |
| | Alexander Of Assyria | Oct 16 | #9 |
| | Alexander Of Assyria | Oct 16 | #7 |
| | The Fifty Stateman | Oct 16 | #10 |
---
Response to Omaha Steve (Original post)
Sat Oct 16, 2021, 09:08 AM
Crowman2009 (1,533 posts)
1. The Shenzhou looks similar to Soyuz but it looks more spacious on the inside.
---
Response to Crowman2009 (Reply #1)
Sat Oct 16, 2021, 11:16 AM
GregariousGroundhog (7,005 posts)
5. The Shenzhou is essentially a scaled up Soyuz
Russia helped China develop the Shenzhou spacecraft by providing technology, training, and example hardware in the mid 1990s. So when China developed Shenzhou, they fully understood how Soyuz, it's life support systems, its docking systems, and its spacesuits were built and how they were operated.

As you noticed, Shenzhou is essentially a scaled up Soyuz spacecraft. Shenzou's orbital module and reentry modules have eight and six cubic meters of space respectively, whereas Soyuz's have five and three and a half.
---
Response to GregariousGroundhog (Reply #5)
Sat Oct 16, 2021, 12:44 PM
Alexander Of Assyria (673 posts)
8. There are only so many ways you can design a controlled explosion cylinder and capsule.
---
Response to Omaha Steve (Original post)
Sat Oct 16, 2021, 09:34 AM
Kid Berwyn (7,617 posts)
2. "Thanks, NASA!"
"All that technology, in one handy free download."
---
Response to Kid Berwyn (Reply #2)
Sat Oct 16, 2021, 10:29 AM
hunter (34,333 posts)
3. Huh?
That's the way science works.
And don't even look at where the technology for the U.S.A. space program originally came from...
https://en.wikipedia.org/wiki/V-2_rocket
Now that China has itself become a center of technological innovation they are beginning to understand the value of formal intellectual property rights, including the fine line that exists between the promotion of technological progress and the stifling of it.
---
Response to hunter (Reply #3)
Sat Oct 16, 2021, 10:59 AM
Kid Berwyn (7,617 posts)
4. JFK lost his big brother to von Braun.
Yet, they got humanity to the moon.
The story:
The President's big brother was the one being groomed for a life in politics by The Old Man, Joseph P. Kennedy, Sr. The younger Joe had served as a delegate from Massachusetts at the 1940 Democratic convention. A brave, athletic and conscientious young man, he volunteered for service in the US Navy before World War II.
After completing his tour as pilot of a US Navy B-24 Liberator on anti-submarine warfare patrol from 1943-44 over the North Atlantic, flying out of an airbase in England, Joseph P. Kennedy, Jr. volunteered for a top-secret mission, Project APHRODITE. The objective was to knock out the NAZI V-1 buzz bombs that were killing civilians in London and other English towns.
The Navy, in cooperation (and in competition) with the Army Air Corps, worked to develop a secret weapon — a remotely piloted flying bomb. They would convert four-engine bombers into flying bombs that would be flown by remote control into the V-1 sites along the coast of France.
Joe and other pilots were needed to get the experimental versions of the 4-engine B-24 and B-17 bombers airborne. The planes had been converted from being a 10-man bomber, capable of carrying sixteen 500 pound bombs, into one giant flying bomb with a crew of two — the pilot and the bombardier-engineer.
For the time, it was state-of-the-art science, engineering, and warfare. Joe Kennedy's plane was among a few Liberators and Flying Fortresses modified for a very early version of remote control. The ship, basically, was history's first guided missile. The entire fuselage was filled with Torpex and gelignite, IIRC, and was to be armed by a rather elaborate, and untested, electronic arming panel.
Like something out of Buck Rogers, the Navy equipped the airplane with a primitive 2-channel remote-control pilot. One radio signal could make the plane dive and climb and another signal could make it turn left and right. A prototype video camera would also send information to the Mother Ship, where the remote pilot sat before a tiny TV monitor.
The scientists and engineers in the Mother Ship would take over and signal on two radio frequencies: One to turn the stick RIGHT or LEFT; or push the stick FORWARD or pull the stick BACK. Primitive today, they were the first remote-controlled weapon of mass destruction. The Mother Ship would follow two miles or so back and then fly it over the English Channel and guide it down into the rocket launch sites.
The technology was so primitive, human pilots were needed to get the flying bombs aloft. Once aloft, they were to turn on the radio-guidance controls and arm the flying bomb. Then, somewhere over the English countryside, they were to bail out. Sounds simple, but it was anything but.
The pilot and bombardier were to bail out at an altitude of about one thousand feet. Bailing out from the modified aircraft was extremely dangerous work. One B-17 pilot was killed and another lost an arm in the process. By the time it was Joe's turn in the first APHRODITE B-24, there was reason for concern about a plan that looked like a suicide mission.
For the Kennedys and the future of American politics, the tragedy was that the Navy ship used a rather primitive arming panel. The regular engineer/co-pilot refused to fly and instead the Navy sent aloft the engineer who designed and installed the system.
Over the English countryside, the ship exploded, killing the two flyers and changing American political history. Joe's younger brother John Fitzgerald Kennedy then became the heir to the family's political ambitions.
John F. Kennedy made an outstanding President, living up to his brother's promise of greatness. JFK, it should be remembered, saved the world from nuclear annihilation during the Cuban Missile Crisis.
While he never lived to see the dream realized, JFK also stretched mankind's imagination and reach to the moon. Ironically, he even used the NAZI rocket scientist who developed the V-1 to do so. The same von Braun who the allied air command sent his lost brother, Joseph, to destroy.
One of Hitler's superweapons, the V-2 was developed by Werner von Braun and his team at Peenemünde. History's first ballistic missiles were used to rain death, destruction and terror upon London. The allies were worried that if the Nazis continued developing their super-weapons, the V-2's descendants would be delivering bombs — possibly atomic — to New York City.
# # #
Two outstanding books on the subject of Joseph P. Kennedy Jr. and his service in World War II:
"Aphrodite: Desperate Mission"
by Jack Olsen
and
"The Lost Prince: Young Joe, the Forgotten Kennedy"
by Hank Searls.
Regarding China:
US charges Chinese hackers with 'massive theft' from NASA, Navy and tech sector

The hacking campaign underscores a continuing threat from China, US officials say.
Erin Carson
CNET, Dec. 20, 2018 8:28 a.m. PT
The US Justice Department has charged two Chinese nationals with cybercrimes, citing the threat they pose to national security
These Chinese nationals, who the Department of Justice believes are working in association with the country's government as part of a hacking group called APT10, are accused of stealing information from at least 45 US tech companies and government agencies, including NASA, the Navy and the US Department of Energy.
"It is unacceptable that we continue to uncover cybercrime committed by China," Deputy Attorney General Rod Rosenstein said Thursday in a press conference.
Groups such as APT-10 use malware to access to computer networks and steal data over an extended period of time, he said.
In this case, the group stole hundreds of gigabytes of intellectual property and confidential business information, along with personally identifiable information on 100,000 members of the US Navy, officials said. The companies affected work in areas including biotech, health care, oil and gas exploration, and telecommunications and consumer electronics.
Continues…
https://www.cnet.com/tech/services-and-software/us-charges-chinese-hackers-with-massive-theft-from-nasa-navy-and-tech-sector/
So, yes, it is important to know the history.
---
Response to Kid Berwyn (Reply #4)
Sat Oct 16, 2021, 11:58 AM
hunter (34,333 posts)
6. The U.S.A. runs the largest intelligence gathering machine in the world...
... and yes, that includes the theft of high technology "secrets."

Personally, I don't want to work in any industry that keeps certain sorts of secrets.

In my reckless youth I turned down a few potentially lucrative job offers because I didn't like their non-disclosure agreements.

That turned out for the best. I decided to teach science which is how I met my wife.

My grandfather was an aerospace engineer. He never said a word about the work he did during World War II or the Cold War. Somehow during that time he acquired a knack for metals that were then considered exotic. I'm certain many of those secrets originated in Germany and the Soviet Union. ( Heck, in those days the U.S.A. was buying most of it's titanium from the Soviet Union through shell companies run by the CIA. )

Later my grandfather was an engineer for the Apollo Project. He'd always talk about that work and he was immensely proud of it. Bits of his metal took men to the moon and back.




---
Response to hunter (Reply #6)
Sun Oct 17, 2021, 08:18 AM
Kid Berwyn (7,617 posts)
11. Integrity.
Thank you for sharing the important background. Please know I truly and completely appreciate the service of your grandfather. I owe my freedom to him and all who answered the call on the home front and on the battlefield.

I also very much appreciate your analysis of the great game of nations and our military-industrial complex. Thank you for expressing the importance of sharing scientific information for the common good and devoting your education and skills toward building a better world.

As a 10-year old, my best friend's dad worked at Whirlpool Corporation, where their work included packaging foods for Gemini and Apollo. Over the decades since, I have enjoyed the good fortune of meeting several engineers who worked on the Apollo Program. They all told me it was the best job they ever had or that it was the best work they ever did.

President Kennedy wanted NASA to have civilian leadership. I believe he hoped the peaceful exploration of space would unite humanity in the effort to explore and colonize the New Frontier. Had he lived, our world today might more closely resemble 2001 than 1984.
---
Response to Kid Berwyn (Reply #4)
Sun Oct 17, 2021, 10:59 AM
HUAJIAO (1,491 posts)
12. Thanks for the info on Joe Kennedy.. new to me.
---
Response to hunter (Reply #3)
Sat Oct 16, 2021, 12:46 PM
Alexander Of Assyria (673 posts)
9. Germans? America stole the technology but kept the hypocrisy.
---
Response to Omaha Steve (Original post)
Sat Oct 16, 2021, 12:43 PM
Alexander Of Assyria (673 posts)
7. Fantastic accomplishment, not unlike NASA accomplishments.
---