Thu Oct 14, 2021, 06:12 PM
Omaha Steve (82,286 posts)
Robert Durst sentenced to life for murder of best friend
Source:
AP
By BRIAN MELLEY
LOS ANGELES (AP) — New York real estate heir Robert Durst was sentenced Thursday to life in prison without chance of parole for the murder of his best friend more that two decades ago.
Durst, 78, was convicted in Los Angeles Superior Court last month of first-degree murder for shooting Susan Berman point-blank in the back of the head at her home in December 2000.
The sentencing came after Berman's family members addressed the court describing her as a warm person who's been deeply missed.
"It has been a daily, soul consuming and crushing experience," Sareb Kaufman said of her murder. Kaufman's father was Susan Berman's boyfriend and he considered himself her son.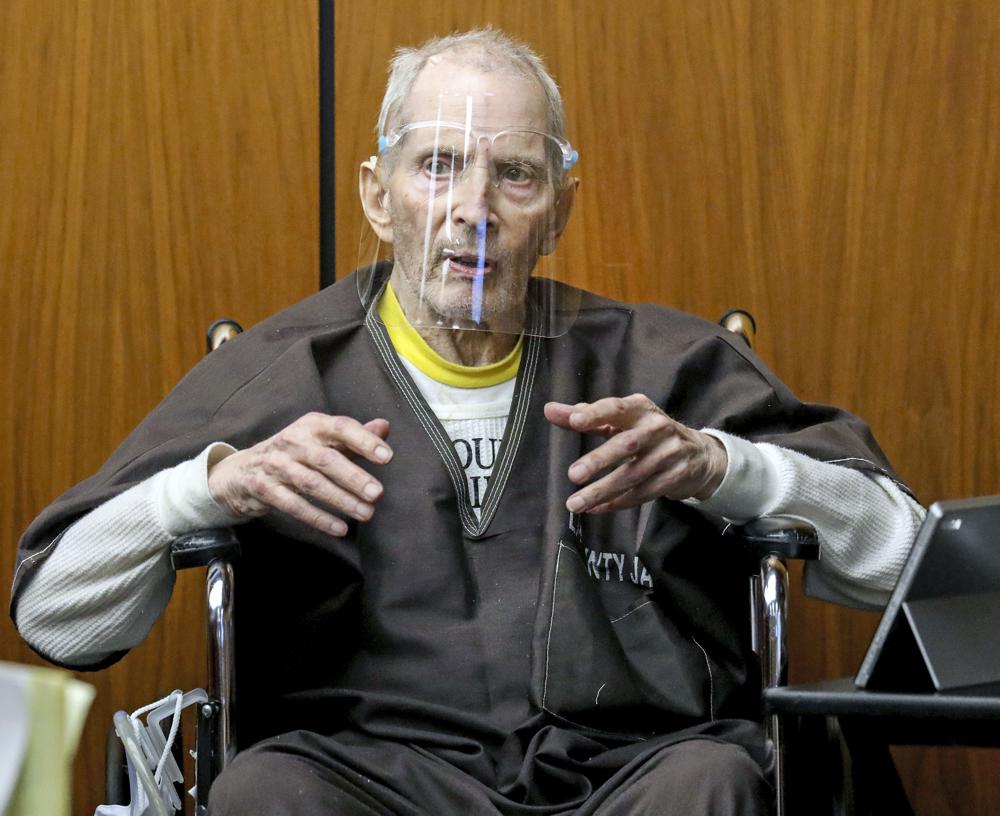 FILE - In this Monday, Aug. 9, 2021, file photo, New York real estate scion Robert Durst, 78, answers questions from defense attorney Dick DeGuerin, while testifying in his murder trial at the Inglewood Courthouse in Inglewood, Calif. The sentencing of Durst will be comparatively brief compared to his murder trial that stretched over the better part of two years. The New York real estate heir faces a mandatory term of life in prison without parole Thursday, Oct. 14 for the first-degree murder of his best friend, Susan Berman. (Gary Coronado/Los Angeles Times via AP, Pool, File)
Read more:
https://apnews.com/article/coronavirus-pandemic-robert-durst-new-york-los-angeles-sentencing-acfbf0782219f3199a1d62c0d4db72cc
5 replies, 1143 views
Replies to this discussion thread
| | | | |
| --- | --- | --- | --- |
| 5 replies | Author | Time | Post |
| Robert Durst sentenced to life for murder of best friend (Original post) | Omaha Steve | Oct 14 | OP |
| | marble falls | Oct 14 | #1 |
| | twin_ghost | Oct 14 | #2 |
| | C Moon | Oct 14 | #3 |
| | SoCalDavidS | Oct 15 | #4 |
| | JustABozoOnThisBus | Oct 15 | #5 |
---
Response to Omaha Steve (Original post)
Thu Oct 14, 2021, 06:15 PM
marble falls (45,462 posts)
1. Robert Durst got all the justice his wealthy family could afford. About time he went inside for ...
---
Response to Omaha Steve (Original post)
Thu Oct 14, 2021, 06:52 PM
twin_ghost (424 posts)
2. I'd hate to find out what he does to his enemies!
---
Response to Omaha Steve (Original post)
Thu Oct 14, 2021, 07:48 PM
C Moon (10,008 posts)
3. Creepy dude. Looks like he may have offed his wife. Police were going to talk to Susan B about it...
then she was found shot dead. In 1982 wife's sister claimed he killed his wife (her sister). He had beat his wife on several occasions.
Sounded like a Columbo episode.
The Los Angeles Times Sat Dec 9 2000:
---
Response to Omaha Steve (Original post)
Fri Oct 15, 2021, 02:18 AM
SoCalDavidS (5,721 posts)
4. The Way He Looks, That Can't Be More Than A Year Or Two
He must be miserable in jail. He'll probably spend the rest of his days spending money for lawyers and working on an appeal that will go nowhere.
---
Response to SoCalDavidS (Reply #4)
Fri Oct 15, 2021, 04:16 AM
JustABozoOnThisBus (21,525 posts)
5. They could have let him serve his sentence at one of his homes, in which case ...
... he'd ride home in an ambulance, then pop up out of that wheelchair and go to his pool or tennis court. I'm not buying his "poor helpless me" image.