Sun Oct 10, 2021, 07:05 AM
Omaha Steve (81,694 posts)
Controversial father of Pakistan nuclear bomb dies at age 85
Source:
AP
By KATHY GANNON
ISLAMABAD (AP) ó Abdul Qadeer Khan, a controversial figure known as the father of Pakistanís nuclear bomb, died Sunday after a lengthy illness, the countryís interior minister said. He was 85.
Khan launched Pakistan on the path to becoming a nuclear weapons power in the early 1970s. Interior Minister Sheikh Rasheed Ahmad said he died in a hospital Islamabad. He didnít elaborate.
Khan was mired in controversy that began even before he returned to Pakistan from the Netherlands in the 1970s, where he had worked at a nuclear research facility.
He was later accused of stealing the centrifuge uranium enrichment technology from the Netherlands facility that he would later use to develop Pakistanís first nuclear weapon, according to research done by the Carnegie Endowment for International Peace.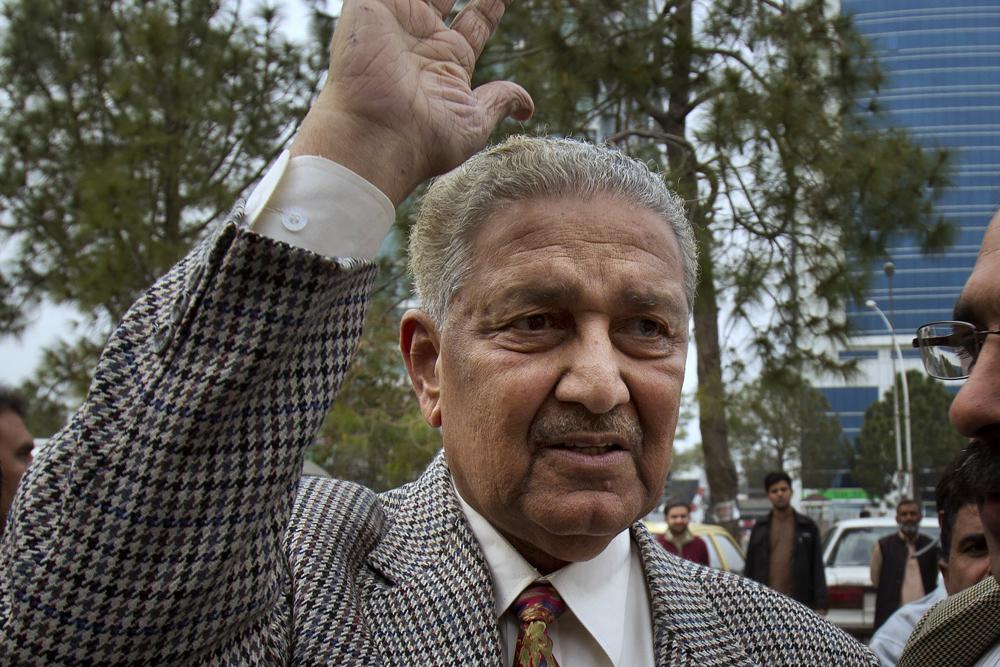 FILE - In this Feb. 26, 2013, file photo, Pakistan's nuclear scientist Abdul Qadeer Khan waves to supporters in Islamabad, Pakistan. Known as the father of Pakistan's nuclear bomb, Khan, died Sunday, Oct. 10, 2021 following a lengthy illness. He was 85. (AP Photo/B.K. Bangash, File)
Read more:
https://apnews.com/article/science-technology-islamabad-abdul-qadeer-khan-nuclear-weapons-faf412a0859e61fd3540fbbfc5f90fbe
3 replies, 946 views
Replies to this discussion thread
| | | | |
| --- | --- | --- | --- |
| 3 replies | Author | Time | Post |
| Controversial father of Pakistan nuclear bomb dies at age 85 (Original post) | Omaha Steve | Oct 10 | OP |
| | IthinkThereforeIAM | Oct 10 | #1 |
| | Loubee | Oct 10 | #2 |
| | tonekat | Oct 12 | #3 |
---
Response to Omaha Steve (Original post)
Sun Oct 10, 2021, 10:58 AM
IthinkThereforeIAM (2,913 posts)
1. This article more or less whitewashes things, especially where Dick Cheney is concerned...
... use your favorite search engine and search, "Cheney Khan Nuclear". Lots of links, so many I couldn't decide which to share here.

PS: On my first cup of coffee, so...
---
Response to Omaha Steve (Original post)
Sun Oct 10, 2021, 11:59 AM
Loubee (161 posts)
2. I hope he suffered.
---
Response to Omaha Steve (Original post)
Tue Oct 12, 2021, 10:08 PM
tonekat (1,320 posts)
3. Yesterday there was an NPR show
that had an expert on Khan. He said he was incredibly corrupt to the point of arranging raffles in his office and awarding himself the prize.
Also his house arrest was more of a suggestion than a rule.

I want to hear it again, I think he said that if Pakistan didn't have the Bomb, it probably would not exist.

Good riddance.