Mon Aug 2, 2021, 06:54 AM
Omaha Steve (81,246 posts)
Citing Taliban violence, US expands Afghan refugee program
Source:
AP
By MATTHEW LEE
WASHINGTON (AP) — The Biden administration on Monday expanded its efforts to evacuate at-risk Afghan citizens from Afghanistan as Taliban violence increases ahead there of the U.S. military pullout at the end of the month.
The State Department said it is widening the scope of Afghans eligible for refugee status in United States to include current and former employees of U.S.-based news organizations, U.S.-based aid and development agencies and other relief groups that receive U.S. funding. Current and former employees of the U.S. government and the NATO military operation who don't meet the criteria for a dedicated program for such workers are also covered.
The State Department said the move will mean that "many thousands" of Afghans and their immediate families will now have the opportunity to be permanently resettled in the U.S. as refugees. It did not offer a more specific number of those who might be eligible for the program.
"The U.S. objective remains a peaceful, secure Afghanistan," it said in a statement. "However, in light of increased levels of Taliban violence, the U.S. government is working to provide certain Afghans, including those who worked with the United States, the opportunity for refugee resettlement to the United States."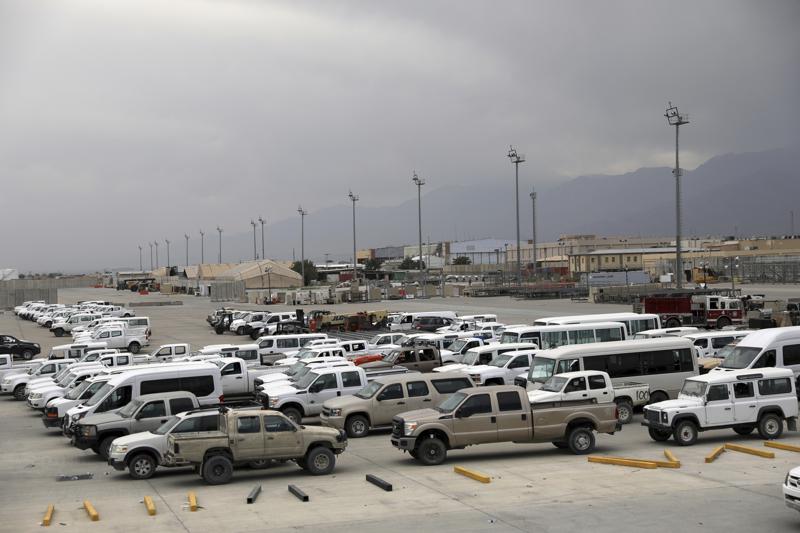 FILE - In this July 5, 2021 file photo, vehicles are parked at Bagram Airfield after the American military left the base, in Parwan province north of Kabul, Afghanistan. The US and NATO have promised to pay $4 billion a year until 2024 to finance Afghanistan's military and security forces, which are struggling to contain an advancing Taliban. Already since 2001, the U.S. has spent nearly $89 billion to build, equip and train the forces, including nearly $10 billion for vehicles and aircraft. (AP Photo/Rahmat Gul, File)
Read more:
https://apnews.com/article/immigration-taliban-3259f18671b663b99abb72da8fc5991e
2 replies, 840 views
Replies to this discussion thread
| | | | |
| --- | --- | --- | --- |
| 2 replies | Author | Time | Post |
| Citing Taliban violence, US expands Afghan refugee program (Original post) | Omaha Steve | Aug 2 | OP |
| | bahboo | Aug 2 | #1 |
| | Slammer | Aug 2 | #2 |
---
Response to Omaha Steve (Original post)
Mon Aug 2, 2021, 12:13 PM
bahboo (13,212 posts)
1. we owe these people....get 'em out....
---
Response to bahboo (Reply #1)
Mon Aug 2, 2021, 04:50 PM
Slammer (88 posts)
2. promises
We promised for years to get the interpreters and their families out. The number quoted on the Rachel Maddow Show for those is 71,000 and some of them have been waiting for years.

As of last Friday, the grand total of those 71,000 who have been evacuated was 200. And the "plans" to get them out of the country are closer to fantasy than plans considering they're only to be evacuated on commercial flights out of Kabul, most of the interpreters and their families were abandoned by US forces behind Taliban lines, and even if they could get to Kabul, there's not enough commercial flights out of that airport to reasonably think we could evacuate the 71,000 before our forces completely gone.

Now I agree that we are indebted on some level to this newest group that the administration is saying they want to help out. But the administration hasn't dedicated the resources to actually help the people get out that we've promised to get out.

I wouldn't put a single person in this new group ahead of any of the interpreters and their families who we've already promised to evacuate.

But then if I were in charge of anything, we'd have put massive amounts of resources into getting the interpreters out already so that we could dedicate whatever scraps we have left in-country to getting this latest group out.