Mon Jul 26, 2021, 04:23 PM
Omaha Steve (81,246 posts)
Russian PM visits Pacific islands claimed by Japan
Source:
AP
By DARIA LITVINOVA
MOSCOW (AP) — Russia's prime minister on Monday visited Pacific islands claimed by Japan, a move that brought a protest from Tokyo, and said the government is considering setting up a special economic zone there.
Prime Minister Mikhail Mishustin is touring Russia's Far East and Siberia this week, and the Kuril Islands were his first stop on Monday.
Mishustin visited a hospital and a fish plant on Iturup, one of the four southernmost Kuril islands. He told plant workers that the Russian government is considering creating a special economic zone on the islands, in which business and investors would be free of most taxes and customs duties.
The measure Russian officials is currently pondering "could be a good solution for investors, including the ones in the West, for Japan also, which, if interested, can create jobs here," Mishustin said. He added that "this special regime will allow the intensification of economic activity" on the islands.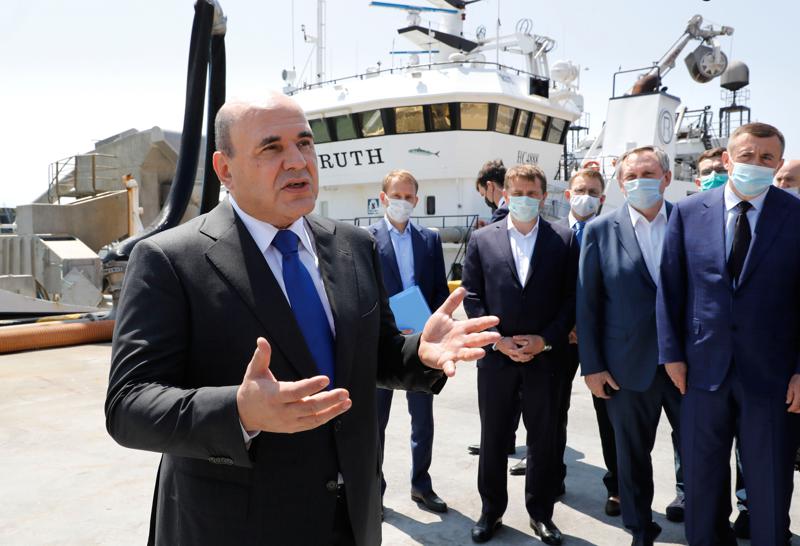 Russian Prime Minister Mikhail Mishustin visits the Gidrostroi's fish processing plant, on the disputed Pacific islands claimed by Japan, known by the Russians as the Kuril Islands and the Japanese as the Northern Territories, Monday, July 26, 2021. The Soviet Union took the islands in the final days of World War II, and the dispute has kept the countries from signing a peace treaty ending their hostilities. (Dmitry Astakhov, Sputnik, Kremlin Pool Photo via AP)
Read more:
https://apnews.com/article/europe-business-russia-japan-b2e9d24bdbe53c484aa3d6d949b64640
3 replies, 1092 views
Replies to this discussion thread
| | | | |
| --- | --- | --- | --- |
| 3 replies | Author | Time | Post |
| Russian PM visits Pacific islands claimed by Japan (Original post) | Omaha Steve | Jul 26 | OP |
| | DFW | Jul 26 | #1 |
| | soryang | Jul 26 | #2 |
| | roamer65 | Jul 27 | #3 |
---
Response to Omaha Steve (Original post)
Mon Jul 26, 2021, 05:00 PM
DFW (44,046 posts)
1. Typical Putin
Not only does he revive a long-term thorn in Japan's side, but he "allows" them to invest in a region his idol, Stalin, grabbed from Japan when they were powerless to do anything about it. This is the equivalent of "generously" allowing the Ukraine to invest in the "Russian" territory of Crimea.

He might as well have sent a dump truck full of manure and dumped it on the grounds of the Japanese embassy. That's about how clear this message was.
---
Response to Omaha Steve (Original post)
Mon Jul 26, 2021, 10:56 PM
soryang (2,925 posts)
2. There was a formal treaty ending the hostilities
It was called the Treaty of San Francisco. Japan will just have to live with it. The "rules based order" remember?
---
Response to Omaha Steve (Original post)
Tue Jul 27, 2021, 12:35 AM
roamer65 (28,790 posts)
3. Right during the Tokyo Olympics and its flag and name stripped from their team.