Wed Jun 9, 2021, 07:40 PM
Omaha Steve (80,193 posts)
Closed cold case murder tied to ousted Tennessee governor
Source:
AP
By KIMBERLEE KRUESI
CHATTANOOGA, Tenn. (AP) — A former Tennessee governor's administration helped fund a contract murder of a key federal witness decades ago while embroiled in the state's largest political scandal, law enforcement officials announced Wednesday.
The new details revealed for the first time Wednesday have elements that ring of a movie: a trusted ally of union boss Jimmy Hoffa gunned down after testifying about a corrupt governor selling prison pardons and a gunman who donned a wig and blackface to throw authorities off the scent.
Investigators in Hamilton County, which encompasses Chattanooga, have been chipping away at the 42-year-old cold case of Samuel Pettyjohn since they renewed their investigation in 2015. No new charges will be filed because all of the major players involved are now dead, but authorities say closing the case provides closure to one aspect of a complicated piece of Tennessee history.
Pettyjohn, a Chattanooga businessman and close friend of Hoffa, was fatally shot in 1979 in downtown Chattanooga after testifying before a federal grand jury during the early phases of Tennessee's notorious "cash-for-clemency" scandal.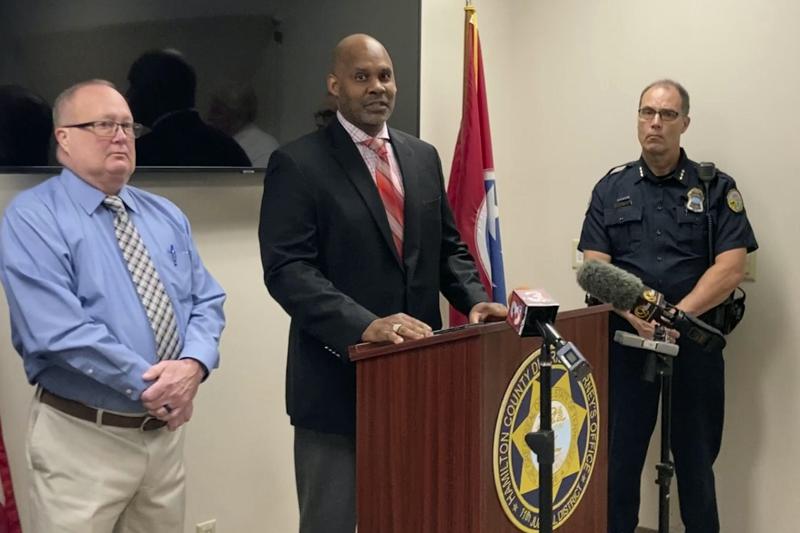 Saadiq Pettyjohn, center, son of Samuel Pettyjohn, speaks at a news conference, Wednesday, June 9, 2021, in Chattanooga, Tenn. Law enforcement officials announced the closing a 42-year-old cold case of Samuel Pettyjohn, a Chattanooga businessman who was shot and killed in 1979 in a contract killing that former Gov. Ray Blanton's administration helped pay for. (AP Photo/Kimberlee Kruesi)
Read more:
https://apnews.com/article/tennessee-business-e7d6d7d1dadfd8dc55a3f52824d12f30
5 replies, 3166 views
Replies to this discussion thread
| | | | |
| --- | --- | --- | --- |
| 5 replies | Author | Time | Post |
| Closed cold case murder tied to ousted Tennessee governor (Original post) | Omaha Steve | Jun 9 | OP |
| | jpak | Jun 9 | #1 |
| | mpcamb | Jun 9 | #2 |
| | underpants | Jun 9 | #3 |
| | SharonAnn | Jun 9 | #4 |
| | SouthBayDem | Jun 10 | #5 |
---
Response to Omaha Steve (Original post)
Wed Jun 9, 2021, 07:43 PM
jpak (40,358 posts)
1. JHC
---
Response to Omaha Steve (Original post)
Wed Jun 9, 2021, 07:51 PM
mpcamb (2,459 posts)
2. Just when we thought Jimmy Noffa was dead, buried and gone...
Of course Gov. Blanton's been dead for 25 years!

Still, pretty horrifying.
---
Response to Omaha Steve (Original post)
Wed Jun 9, 2021, 07:53 PM
underpants (162,810 posts)
3. The estimated total murder price was between $25,000 and $50,000.
That's a whole lot of money in 1979.
---
Response to Omaha Steve (Original post)
Wed Jun 9, 2021, 09:40 PM
SharonAnn (12,987 posts)
4. I remember reading about the Gov Blanton case in 1983-84 in the book called "Marie"? Then the movie.
I think Sissy Spacek played Marie, a real person, in the movie. Fred Thompson was Marie's real lawyer. Anyway, I was young and had never heard of such a criminal enterprise conducted by the governor of a state. I was shocked! Then, in 2001 I moved to TN and have lived here ever since. I still get shocked.

---
Response to Omaha Steve (Original post)
Thu Jun 10, 2021, 02:27 AM
SouthBayDem (30,929 posts)
5. only by paragraph 6 does the article name the governor
The scandal ultimately led to the ousting of Democratic Gov. Ray Blanton, who was never indicted in the investigation — but three of his aides were. However, questions have lingered about the extent to which the governor's administration actively worked to thwart the investigation. Officials say at least five witnesses in the case were murdered or killed themselves.
Odd way to structure a news article when "who" is one of the 5 W's of journalism.