Thu Jun 3, 2021, 08:14 PM
Omaha Steve (81,264 posts)
Biden targets $2.8B for conservation, outdoor recreation
Source:
AP
By MATTHEW DALY
WASHINGTON (AP) — The Biden administration on Thursday proposed funding for dozens of conservation and recreation projects across the country as it allocates $2.8 billion in grants and programs authorized by a landmark conservation law enacted last year.
Congress approved the Great American Outdoors Act by wide, bipartisan majorities with a mandate to support rural economies, boost outdoor recreation and improve access to public lands. The law authorizes $900 million per year — double previous spending — for the Land and Water Conservation Fund and $1.9 billion per year on improvements at national parks, forests, wildlife refuges and rangelands.
Projected spending in the next fiscal year includes $19.4 million to rehabilitate the popular Ahwahnee Hotel at Yosemite National Park in California, and $91.3 million at Yellowstone National Park in Wyoming to replace the Yellowstone River Bridge and upgrade the wastewater treatment system at the park's famed Old Faithful geyser.
On the other side of the country, the National Park Service is set to spend $27.4 million to repair historic structures at the Minute Man National Historical Park in Concord, Massachusetts, and $32.8 million to improve the Blue Ridge Parkway in Virginia. Minute Man is among those that will be featured in upcoming commemorations of the 250th anniversary of the United States.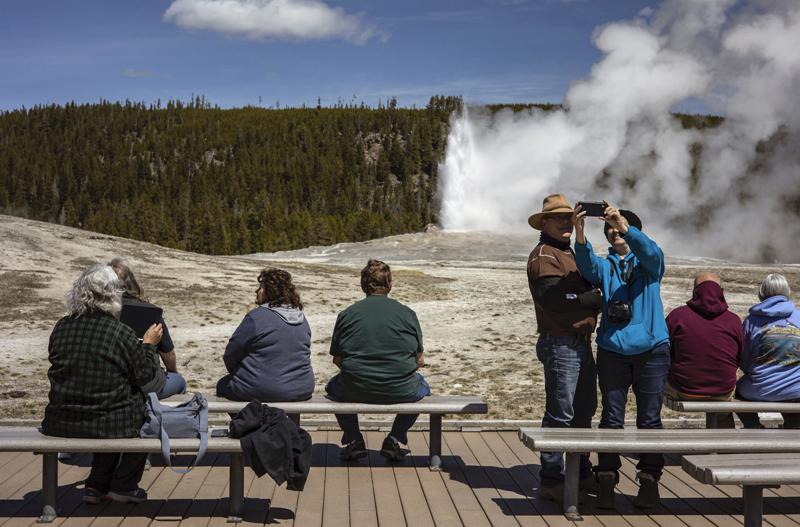 Tourists watch Old Faithful erupt in Yellowstone National Park on Thursday, April 29, 2021, in Wyoming . During Yellowstone's off-season, visitors can take advantage of the quieter and less crowded conditions. (Kayla Renie/Jackson Hole News & Guide via AP)
Read more:
https://apnews.com/article/outdoor-recreation-business-lifestyle-travel-environment-and-nature-554446b9d0610732bfc7839860ed9f18
4 replies, 1101 views
Replies to this discussion thread
| | | | |
| --- | --- | --- | --- |
| 4 replies | Author | Time | Post |
| Biden targets $2.8B for conservation, outdoor recreation (Original post) | Omaha Steve | Jun 2021 | OP |
| | Lulu KC | Jun 2021 | #1 |
| | Botany | Jun 2021 | #2 |
| | Budi | Jun 2021 | #3 |
| | Mysterian | Jun 2021 | #4 |
---
Response to Omaha Steve (Original post)
Thu Jun 3, 2021, 08:22 PM
Lulu KC (2,117 posts)
1. Grooving on Joe!
He gives us a little bit of happy news every couple of days.
---
Response to Omaha Steve (Original post)
Thu Jun 3, 2021, 09:01 PM
Botany (61,114 posts)
2. Loves me som Joe B.
The man is doing a great job.
---
Response to Omaha Steve (Original post)
Thu Jun 3, 2021, 09:20 PM
Budi (9,947 posts)
3. "the Great American Outdoors Act" Just 5 months in & America is ridin with Biden
They were not kidding around when Joe & Kamala declared "For The People"

Bless the Democrats for Nov 2020!

Thank you all.
---
Response to Omaha Steve (Original post)
Fri Jun 4, 2021, 11:47 AM
Mysterian (2,613 posts)
4. People need unspoiled outdoor spaces for their mental health
Thank you, President Biden.