Sun May 16, 2021, 11:00 AM
Omaha Steve (80,174 posts)
Myanmar junta attacks western town that resisted coup
Source:
AP
By GRANT PECK
BANGKOK (AP) — The U.S. and British embassies in Myanmar expressed concern about reports of fierce government attacks on a town in western Chin state, where the ruling junta declared martial law because of armed resistance to military rule.
The fighting began around 6 a.m. Saturday when government troops reinforced by helicopters began shelling the western part of the town of Mindat, destroying several homes, said a spokesman of the Chinland Defence Force. It is a locally formed militia group opposed to the February coup that ousted the elected government of Aung San Suu Kyi.
Helicopters also took part in the attack, according to the spokesman, who spoke on condition of anonymity for security reasons.
"Mindat town is now under siege and is bracing for an all-out assault by the junta troops from air and by land," said a statement by the Chin Human Rights Organization.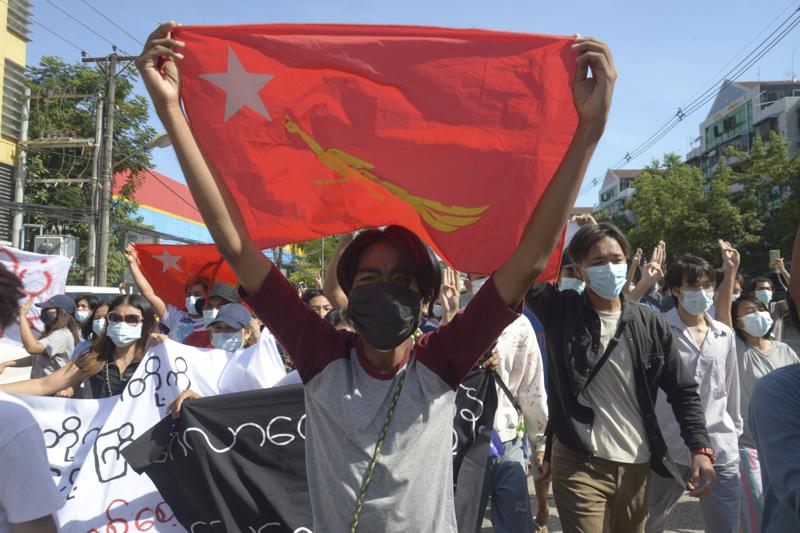 Anti-coup protesters display a party flag of the National League for Democracy (NLD) during a demonstration in Yangon, Myanmar, Friday, May 14, 2021. (AP Photo)
Read more:
https://apnews.com/article/asia-pacific-myanmar-67989dd93e89e0308afd3dfaa6077b53
1 replies, 761 views
Replies to this discussion thread
| | | | |
| --- | --- | --- | --- |
| 1 replies | Author | Time | Post |
| Myanmar junta attacks western town that resisted coup (Original post) | Omaha Steve | May 16 | OP |
| | Eugene | May 16 | #1 |
---
Response to Omaha Steve (Original post)
Sun May 16, 2021, 04:10 PM
Eugene (51,632 posts)
1. Myanmar military take rebel town of Mindat, Chinland
Source:
BBC
Myanmar military take rebel town of Mindat, Chinland
16 May 2021
Myanmar's military has entered a small town in western Chin state which took up arms against them three weeks ago.
Activists from the volunteer Chinland Defence Force say they have retreated from Mindat to spare the town further bombardment.
Mindat is one of several towns where opponents of the military have armed themselves.
Nearly 800 people have died in mainly unarmed protests at February's coup which ousted the elected government.
BBC South East Asia correspondent Jonathan Head says the army now appears to control Mindat.
-snip-
Read more:
https://www.bbc.com/news/world-asia-57134964