Mon Mar 8, 2021, 04:47 PM
Omaha Steve (79,319 posts)
US journalist arrested while covering protest goes on trial
Source:
AP
By RYAN J. FOLEY
IOWA CITY, Iowa (AP) ó An Iowa journalist faces trial Monday on charges stemming from her coverage of a protest against racial injustice, a case that prosecutors have pursued despite international condemnation from free press advocates who say she was just doing her job.
The case of Des Moines Register reporter Andrea Sahouri, who was pepper sprayed and arrested while reporting on a clash between protesters and police, will highlight an aggressive response by Iowa authorities against those who organized and attended protests that erupted last summer and occasionally turned violent.
Sahouri and her former boyfriend are charged with failure to disperse and interference with official acts, misdemeanors that could bring fines and up to 30 days in jail. They face a two-day trial at Drake University in what the U.S. Press Freedom Tracker says could be the first for a working journalist nationwide since 2018.
Sahouriís newspaper, the Iowa Freedom of Information Council and Amnesty International are among press advocates that have demanded Polk County drop the charges, which they call an abuse of power that violates the Constitutionís First Amendment.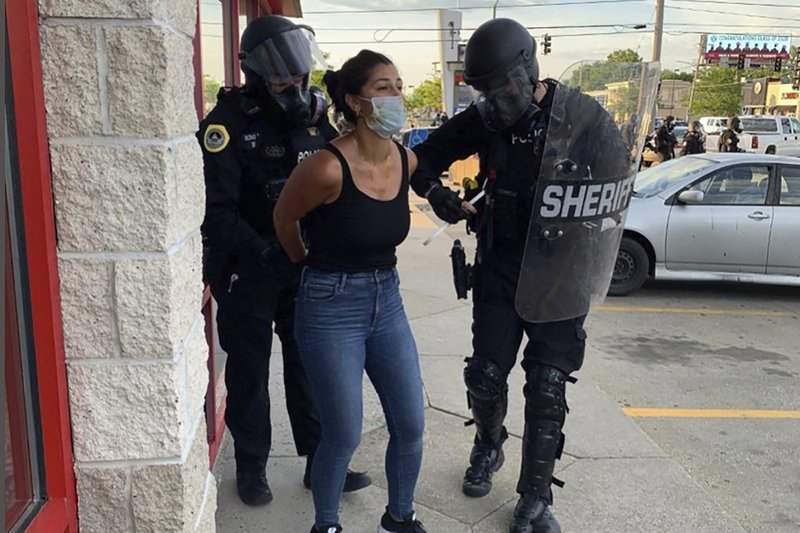 Police officers are shown arresting Des Moines Register reporter Andrea Sahouri after a Black Lives Matter protest she was covering on May 31, 2020, in Des Moines, Iowa, was dispersed by tear gas. Sahouri is set to stand trial on Monday, March 8, 2021, on misdemeanor charges, a case that prosecutors have pursued despite international condemnation from advocates for press freedom. (Photo courtesy Katie Akin via AP)
Read more:
https://apnews.com/article/andrea-sahouri-trial-7dbc1b7ebc37c3a88f0192251b7d5395
3 replies, 1172 views
Replies to this discussion thread
| | | | |
| --- | --- | --- | --- |
| 3 replies | Author | Time | Post |
| US journalist arrested while covering protest goes on trial (Original post) | Omaha Steve | Mar 8 | OP |
| | Miguelito Loveless | Mar 8 | #1 |
| | Walleye | Mar 8 | #2 |
| | turbinetree | Mar 8 | #3 |
---
Response to Omaha Steve (Original post)
Mon Mar 8, 2021, 04:51 PM
Miguelito Loveless (3,263 posts)
1. After this is disposed of as unconstitutional
I hope they sue the parties responsible for arresting/assaulting them, charging them, and trying them for every dollar they can get.
---
Response to Omaha Steve (Original post)
Mon Mar 8, 2021, 04:55 PM
Walleye (5,630 posts)
2. Surprise, surprise. She's Black. And a journalist.Both are crimes in Iowa.
---
Response to Omaha Steve (Original post)
Mon Mar 8, 2021, 05:16 PM
turbinetree (19,660 posts)
3. Maybe Iowa could find better time asking there senator who voted NO to give Iowans any relief
on the bill that will be passed this week...............but nope can't have that free press when you try your hardest to be a fascists' loving state, can't drop the charges, nope, and charge the taxpayers and then have there governor romping around shaking hands with another extremists and not even defending the press:
https://americanindependent.com/iowa-republicans-democrats-kim-reynolds-voting-legislation-suppression-elections/
And when this case does goes to the US Supreme Court don't know what the 5 federalist society ones are going to do, after they all joined in to gut the voters rights Act of 1965, we will see what they think of the first amendment and the press, we have already seen what they have done with religion and COVID19 .............