Sat Mar 6, 2021, 03:01 PM
Omaha Steve (79,319 posts)
Kansas places Miles on administrative leave after LSU report
Source:
AP
By BRETT MARTEL
Kansas placed coach Les Miles on administrative leave Friday night, hours after a report released by LSU revealed school officials there considered firing him in 2013 because of his behavior with female student workers.
"Even though the allegations against him occurred at LSU, we take these matters very seriously at KU," Kansas athletic director Jeff Long said in a statement. "Now that we have access to this information, we will take the coming days to fully review the material and to see if any additional information is available. I do not want to speculate on a timeline for our review because it is imperative we do our due diligence."
Miles is entering his third year as Kansas coach, and coming off a winless 2020 season. He was coach at LSU for 11-plus years before being fired four games into the 2016 season.
The 67-year-old Miles has denied allegations he made sexual advances toward students and has said he merely sought to serve as a mentor for students who expressed an interest in pursuing careers in sports.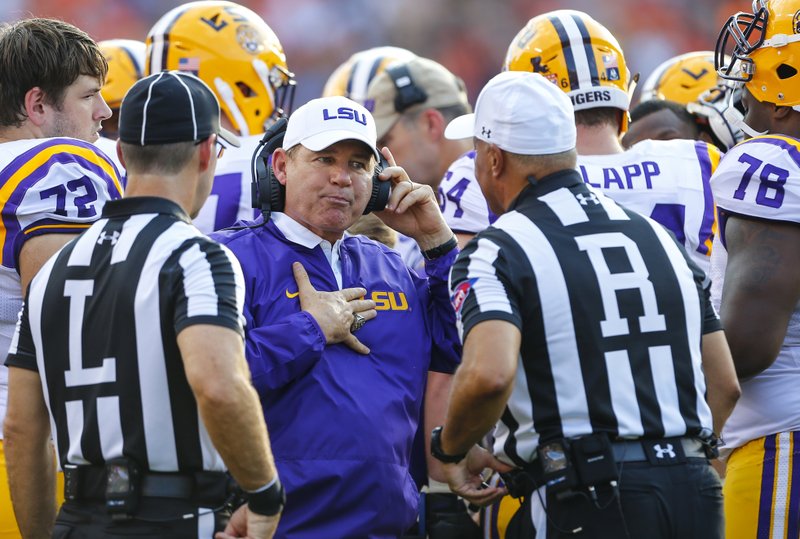 FILE - Then-LSU head coach Les Miles talks with referees during the first half of an NCAA college football game against Auburn in Auburn, Ala., in this Saturday, Sept. 24, 2016, file photo. Then-Athletic Director Joe Alleva's recommendation to former LSU President F. King Alexander is detailed in a newly released report into how the university handled sexual misconduct complaints. The exhaustive report released Friday, March 5, 201, by the Husch Blackwell law firm, offers a scathing view of the resources and attention LSU has dedicated to such complaints and has resulted in the suspensions of two senior officials in the athletic department. (AP Photo/Butch Dill)
Read more:
https://apnews.com/article/college-football-sexual-misconduct-football-les-miles-louisiana-state-tigers-football-6661873f41cf207964a1c6e72aaed459
6 replies, 1744 views
Replies to this discussion thread
| | | | |
| --- | --- | --- | --- |
| 6 replies | Author | Time | Post |
| Kansas places Miles on administrative leave after LSU report (Original post) | Omaha Steve | Mar 6 | OP |
| | CurtEastPoint | Mar 6 | #1 |
| | spooky3 | Mar 6 | #3 |
| | padah513 | Mar 6 | #2 |
| | multigraincracker | Mar 6 | #4 |
| | oldsoftie | Mar 6 | #5 |
| | UserNotFound | Mar 7 | #6 |
---
Response to Omaha Steve (Original post)
Sat Mar 6, 2021, 03:21 PM
CurtEastPoint (13,888 posts)
1. Why do these creeps always look like the dog's lunch and/or back end. Gross.
---
Response to CurtEastPoint (Reply #1)
Sat Mar 6, 2021, 03:40 PM
spooky3 (27,065 posts)
3. Because if they were attractive people, they would not
Have to have power over someone to get friendship or romantic favors.
---
Response to Omaha Steve (Original post)
Sat Mar 6, 2021, 03:37 PM
padah513 (1,554 posts)
2. Dude's a predator
LSU should have fired him years ago, KU shouldn't have hired him, and the NCAA should blacklist him now. Not a fan of blacklisting, but these young women are kids 18, 19, 20 years old.
---
Response to Omaha Steve (Original post)
Sat Mar 6, 2021, 03:50 PM
multigraincracker (22,830 posts)
4. Men thinking with their little head and not
their big head. This is not that complicated.
---
Response to Omaha Steve (Original post)
Sat Mar 6, 2021, 04:16 PM
oldsoftie (5,861 posts)
5. Power & fame go to their head. "everyone wants me' or some such BS.
---
Response to Omaha Steve (Original post)
Sun Mar 7, 2021, 01:25 PM
UserNotFound (84 posts)
6. Probably not relevant here,
but I've always said that you can't spell "slut" without LSU...