Wed Mar 3, 2021, 09:14 PM
Omaha Steve (79,376 posts)
Water crisis continues in Mississippi, weeks after cold snap
Source:
AP
By JEFF MARTIN, LEAH WILLINGHAM and EMILY WAGSTER PETTUS
JACKSON, Miss. (AP) — Mississippi's largest city is still struggling with water problems more than two weeks after winter storms and freezing weather ravaged the system in Jackson, knocking out water for drinking and making it impossible for many to even flush their toilets.
Residents in the city of 160,000 are still being warned to boil any water that does come out of the faucets.
"I pray it comes back on," Jackson resident Nita Smith said. "I'm not sure how much more of this we can take."
Smith has had no water at home for nearly three weeks.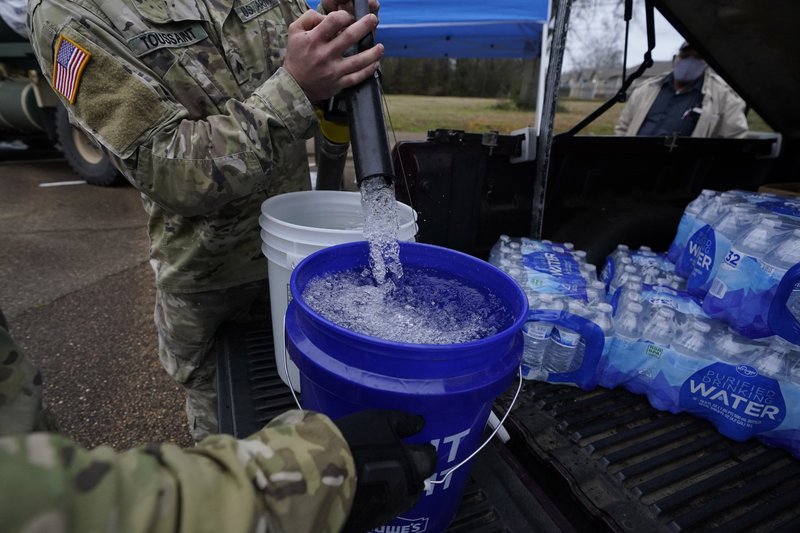 Mississippi Army National Guard Sgt. Chase Toussaint with the Maneuver Area Training Equipment Site of Camp Shelby, right, fills 5-gallon buckets with non-potable water, Monday, March 1, 2021, at a Jackson, Miss., water distribution site on the New Mt. Zion Missionary Baptist Church parking lot. Water for flushing toilets was being distributed at seven sites in Mississippi's capital city — more than 10 days after winter storms wreaked havoc on the city's water system because the system is still struggling to maintain consistent water pressure, authorities said. (AP Photo/Rogelio V. Solis)
Read more:
https://apnews.com/article/jackson-mississippi-weather-storms-d7b8d43ee08f5edf6c90442280fb4b52
8 replies, 846 views
Replies to this discussion thread
| | | | |
| --- | --- | --- | --- |
| 8 replies | Author | Time | Post |
| Water crisis continues in Mississippi, weeks after cold snap (Original post) | Omaha Steve | Mar 3 | OP |
| | BoomaofBandM | Mar 3 | #1 |
| | C Moon | Mar 4 | #5 |
| | SheltieLover | Mar 3 | #2 |
| | Deuxcents | Mar 3 | #3 |
| | BumRushDaShow | Mar 4 | #4 |
| | BigmanPigman | Mar 4 | #6 |
| | Throckmorton | Mar 4 | #7 |
| | BigmanPigman | Mar 4 | #8 |
---
Response to Omaha Steve (Original post)
Wed Mar 3, 2021, 09:51 PM
BoomaofBandM (1,329 posts)
1. Well, at least they don't have to wear masks anymore. Priorities.
---
Response to BoomaofBandM (Reply #1)
Thu Mar 4, 2021, 03:14 AM
C Moon (9,421 posts)
5. I know! What is it with the two states that suffered the most, going maskless.
Are the governors trying to improve their popularity numbers at the risk of human lives?
---
Response to Omaha Steve (Original post)
Wed Mar 3, 2021, 09:54 PM
SheltieLover (20,346 posts)
2. K&R!
---
Response to Omaha Steve (Original post)
Wed Mar 3, 2021, 10:07 PM
Deuxcents (1,615 posts)
3. This pains me
I am a child of the south n yet.. the elected keeps their constituents.. all over the south.. lowest n education..lowest in infrastructure, lower in getting just basic broadband to help educate their kids. And yet..we all know why these elected keep getting elected. Will we ever get this part of our country into the 21st century?
---
Response to Omaha Steve (Original post)
Thu Mar 4, 2021, 12:03 AM
BumRushDaShow (79,329 posts)
4. A resident of Jackson, MS called Joe Madison's SiriusXM show this morning to talk about this
and they wondered why it wasn't national news... especially since there was the nonsense from their governor about ditching the mask mandate yet ignoring the water crises.
---
Response to Omaha Steve (Original post)
Thu Mar 4, 2021, 03:24 AM
BigmanPigman (41,498 posts)
6. MSNBC said that clams and mussels were clogging the drainage system.
Clams and mussels in Mississippi?
---
Response to BigmanPigman (Reply #6)
Thu Mar 4, 2021, 08:02 AM
Throckmorton (3,554 posts)
7. Yes, Asiatic Clams, an invasive fresh water clam.
Love pipes with moderate flow rates, but lack of flow kills them, as do low temperatures (< 15°C). Death due to low oxygen levels in the surrounding water is often a cause of mass die off. They can live for several days in anaerobic environments, then died an mass. When flow is restored, their dead shells are flushed off of the pipe walls. The shells then plug down-stream piping. Mature clams are about 22cm in diameter, making them very troublesome for small bore piping (less than 120mms in diameter).
---
Response to Throckmorton (Reply #7)
Thu Mar 4, 2021, 06:08 PM
BigmanPigman (41,498 posts)
8. Too bad they can't turn this into
clam or mussel farming. 22 cm is a nice size. Cooks would have some local seafood to work with.