Sun Feb 28, 2021, 12:02 AM
Omaha Steve (79,337 posts)
Scores arrested as Myanmar police disperse anti-coup rally
Source:
AP
YANGON, Myanmar (AP) — Police fired tear gas and water cannons and there were reports of gunfire Sunday in Myanmar's largest city where another anti-coup protest was underway with scores of students and other demonstrators hauled away in police trucks.
The violence erupted early morning when medical students were marching in Yangon's streets near the Hledan Center intersection, which has become the gathering point for protesters who then fan out to other parts of the city.
Footage showed protesters running away from police as they charged at them, and residents setting up makeshift roadblocks to slow their advance. Nearby, residents were pleading with police to release those they picked up from the street and shoved into police trucks to be taken away.
There was no immediate word on casualties. Sounds of gunfire could be heard and what appeared to be smoke grenades thrown into the crowds.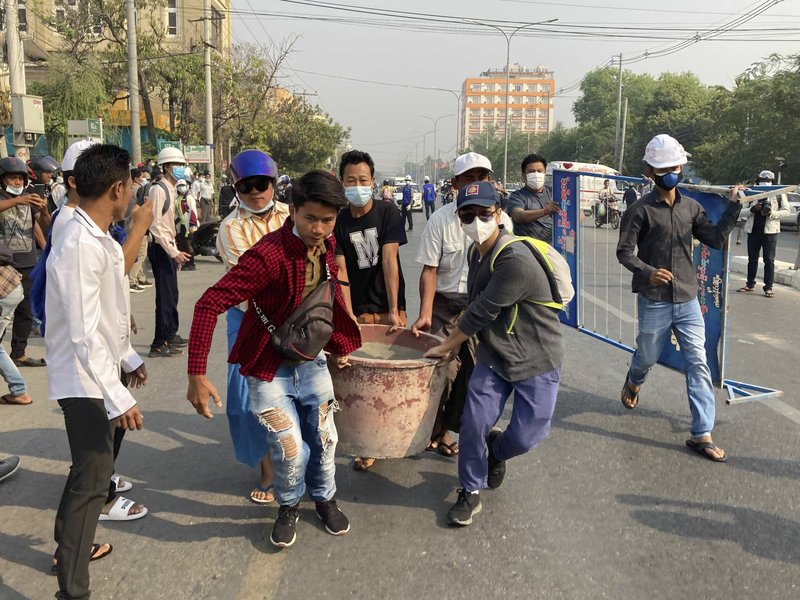 Protesters block a road during a protest against the military coup in Mandalay, Myanmar, Sunday, Feb. 28, 2021. Police in Myanmar escalated their crackdown on demonstrators against this month's military takeover, deploying early and in force on Saturday as protesters sought to assemble in the country's two biggest cities and elsewhere. (AP Photo)
Read more:
https://apnews.com/article/arrests-yangon-myanmar-asia-pacific-f6538173ae8df3a7707966a3cb4cb503
3 replies, 644 views
Replies to this discussion thread
| | | | |
| --- | --- | --- | --- |
| 3 replies | Author | Time | Post |
| Scores arrested as Myanmar police disperse anti-coup rally (Original post) | Omaha Steve | Feb 28 | OP |
| | OAITW r.2.0 | Feb 28 | #1 |
| | ck4829 | Feb 28 | #2 |
| | muriel_volestrangler | Feb 28 | #3 |
---
Response to Omaha Steve (Original post)
Sun Feb 28, 2021, 12:07 AM
OAITW r.2.0 (8,673 posts)
1. This is what the CPAC crowd wants?
Their attitude seems to be a big "Fuck You" to the American experiement.
---
Response to OAITW r.2.0 (Reply #1)
Sun Feb 28, 2021, 08:37 AM
ck4829 (29,763 posts)
2. Yep, every word of this article, I can see the right wing here cheering it on here
---
Response to Omaha Steve (Original post)
Sun Feb 28, 2021, 11:43 AM
muriel_volestrangler (95,601 posts)
3. 'Myanmar is like a battlefield': UN says at least 18 dead as security forces fire on protesters
At least 18 people are believed to have been killed, and 30 injured, according to the UN human rights office, which strongly condemned the escalating violence against peaceful protesters.
The deaths reportedly occurred as a result of live ammunition fired into crowds in Yangon, Dawei, Mandalay, Myeik, Bago and Pokokku, it said.
...
"The police approached and got their guns ready. We didn't think that they would actually shoot," said Ye Swan Htet, the man's cousin, also 23, told the Guardian. The protest had been peaceful, he said, with crowds singing songs and clapping. "That's all we did. And then they started shooting."
...
It is not clear how many were detained on Sunday, though dozens of medics are believed to have been taken. Social media footage showed doctors and nurses in white lab coats fleeing as the police threw stun grenades outside a medical school in Yangon.
https://www.theguardian.com/world/2021/feb/28/myanmar-protesters-clash-police-grenades-democracy-junta-fires-outspoken-un-envoy