Fri Feb 26, 2021, 08:54 AM
Omaha Steve (79,368 posts)
Monarch butterflies down 26% in Mexico wintering grounds
Source:
AP
By MARK STEVENSON
MEXICO CITY (AP) — The number of monarch butterflies that showed up at their winter resting grounds in central Mexico decreased by about 26% this year, and four times as many trees were lost to illegal logging, drought and other causes, making 2020 a bad year for the butterflies.
The government commission for natural protected areas said the butterflies' population covered only 2.1 hectares (5.2 acres) in 2020, compared to 2.8 hectares (6.9 acres) the previous year and about one-third of the 6.05 hectares (14.95 acres) detected in 2018.
Because the monarchs cluster so densely in pine and fir trees, it is easier to count them by area rather than by individuals.
Gloria Tavera, the regional director of Mexico's Commission for National Protected Areas, blamed the drop on "extreme climate conditions," the loss of milkweed habitat in the United States and Canada on which butterflies depend, and deforestation in the butterflies' wintering grounds in Mexico.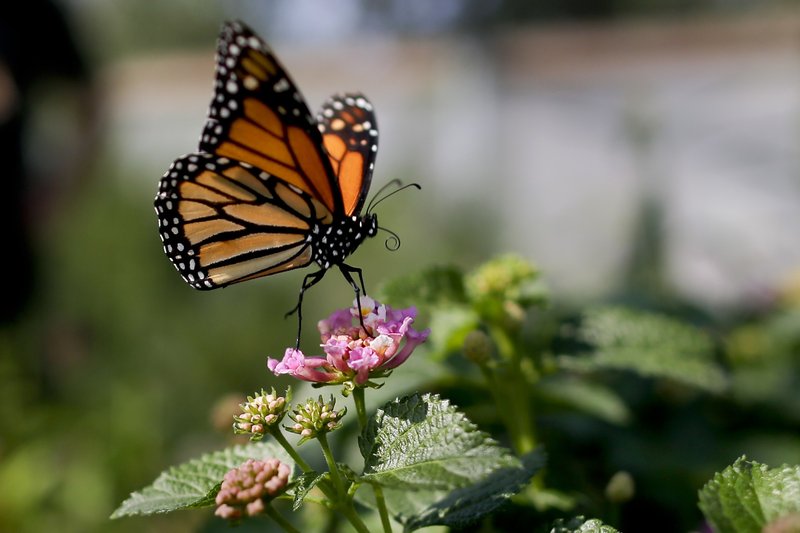 FILE - This Aug. 19, 2015, file photo, shows a monarch butterfly in Vista, Calif. The number of western monarch butterflies wintering along the California coast has plummeted to a new record low, putting the orange-and-black insects closer to extinction, researchers announced Tuesday, Jan. 19, 2021. A recent count by the Xerces Society recorded fewer than 2,000 butterflies, a massive decline from the millions of monarchs that in 1980s clustered in trees from Marin County to San Diego County. (AP Photo/Gregory Bull, File)
Read more:
https://apnews.com/article/monarch-butterflies-down-mexico-9eb0e1e1b09e289428e55f78b3236c4b
5 replies, 1056 views
Replies to this discussion thread
| | | | |
| --- | --- | --- | --- |
| 5 replies | Author | Time | Post |
| Monarch butterflies down 26% in Mexico wintering grounds (Original post) | Omaha Steve | Feb 26 | OP |
| | twodogsbarking | Feb 26 | #1 |
| | ffr | Feb 26 | #2 |
| | Moostache | Feb 26 | #3 |
| | Bayard | Feb 26 | #4 |
| | Mrsfiddlegirl | Feb 26 | #5 |
---
Response to Omaha Steve (Original post)
Fri Feb 26, 2021, 10:20 AM
twodogsbarking (883 posts)
1. Insect population down worldwide
butterflies and moths hardest hit. I have noticed less insects the last few years. We should be concerned.
---
Response to Omaha Steve (Original post)
Fri Feb 26, 2021, 12:54 PM
ffr (20,002 posts)
2. I've not seen one in the past year. I have milkweed in my yard. Some have it in their front yards
Quite a few yellow swallowtails, but no Monarchs. Zero.

We take our loyal free pollinators for granted at our own peril.
---
Response to Omaha Steve (Original post)
Fri Feb 26, 2021, 01:02 PM
Moostache (8,654 posts)
3. Time to embrace the horror...
Insect biomass worldwide is in terminal decline.
The climate is spiraling out of control faster and faster, like an ice skater pulling their center of gravity in with their arms.
We live amid a global wave of anthropogenically driven biodiversity loss: species and population extirpations and, critically, declines in local species abundance. Particularly, human impacts on animal biodiversity are an under-recognized form of global environmental change. Among terrestrial vertebrates, 322 species have become extinct since 1500, and populations of the remaining species show 25% average decline in abundance. Invertebrate patterns are equally dire: 67% of monitored populations show 45% mean abundance decline. Such animal declines will cascade onto ecosystem functioning and human well-being. Much remains unknown about this "Anthropocene defaunation"; these knowledge gaps hinder our capacity to predict and limit defaunation impacts. Clearly, however, defaunation is both a pervasive component of the planet's sixth mass extinction and also a major driver of global ecological change.
That was from this piece:
https://science.sciencemag.org/content/345/6195/401
That was also 7 years ago. In the interim, things have only gotten exponentially worse and the outlook equally dire. There is no collective will to shove aside the monetary system that is killing us all in the end.
I just recently completed my 50th orbit of the sun. I used to think I would die before the worst of climate change grabbed humanity and beat us down. I no longer remain sure of that, and I KNOW that my children will lie through hell - if the species can even survive into the 22nd century remains a dubious proposition right now.
We are living in the midst of the latest mass extinction event in the planet's history - the Holocene extinction. We are the only living things to EVER be able to catalog, study and understand what is happening...yet, sadly, we remain functionally unable to do anything about it. Humanity had a good run. But in the end, we never learned to use money and resources to better everyone and in the end, that is our doom.
---
Response to Omaha Steve (Original post)
Fri Feb 26, 2021, 02:12 PM
Bayard (11,539 posts)
4. I saw more Monarchs in our garden this past summer
Than all of the past 5 years. They love the zinnias. But the milkweed in our pasture is all gone.
Its incredibly sad to remember them everywhere when I was a kid. Like so many species, we took them for granted.
---
Response to Omaha Steve (Original post)
Fri Feb 26, 2021, 02:41 PM
Mrsfiddlegirl (6 posts)
5. Another reason for decline of Monarchs
I live a short drive away from the winter grounds of the monarchs. This year two of the guardians of the grounds were murdered by those with logging interests. This is one of the dark and ugly facts behind the decline of these glorious creatures.