Mon Feb 22, 2021, 08:57 PM
Omaha Steve (78,731 posts)
NASA releases Mars landing video: 'Stuff of our dreams'
Source:
AP
By MARCIA DUNN
CAPE CANAVERAL, Fla. (AP) — NASA on Monday released the first high-quality video of a spacecraft landing on Mars, a three-minute trailer showing the enormous orange and white parachute hurtling open and the red dust kicking up as rocket engines lowered the rover to the surface.
The footage was so good — and the images so breathtaking — that members of the rover team said they felt like they were riding along.
"It gives me goose bumps every time I see it, just amazing," said Dave Gruel, head of the entry and descent camera team.
The Perseverance rover landed last Thursday near an ancient river delta in Jezero Crater to search for signs of ancient microscopic life. After spending the weekend binge-watching the descent and landing video, the team at Jet Propulsion Laboratory in Pasadena, California, shared the video at a news conference.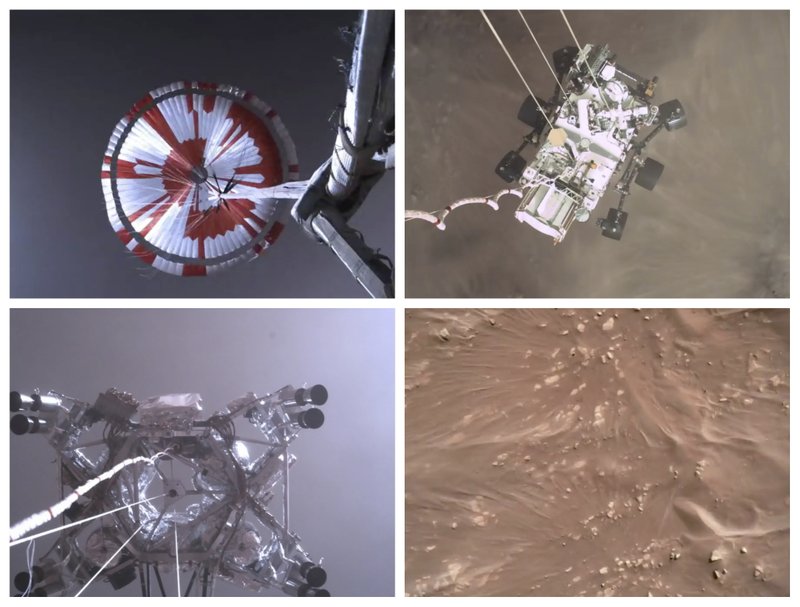 This combination of images from video made available by NASA shows steps in the descent of the Mars Perseverance rover as it approaches the surface of the planet on Thursday, Feb. 18, 2021. (NASA/JPL-Caltech via AP)
Read more:
https://apnews.com/article/nasa-mars-rover-landing-video-74a315f5d8412803aae89aa03fe91b80
9 replies, 1753 views
Replies to this discussion thread
| | | | |
| --- | --- | --- | --- |
| 9 replies | Author | Time | Post |
| NASA releases Mars landing video: 'Stuff of our dreams' (Original post) | Omaha Steve | Feb 22 | OP |
| | thx64536 | Feb 22 | #1 |
| | KY_EnviroGuy | Feb 22 | #2 |
| | wryter2000 | Feb 23 | #8 |
| | jtb653 | Feb 22 | #3 |
| | rictofen | Feb 22 | #4 |
| | Layzeebeaver | Feb 23 | #5 |
| | Tommymac | Feb 23 | #6 |
| | Maxheader | Feb 23 | #7 |
| | tonekat | Feb 24 | #9 |
---
Response to Omaha Steve (Original post)
Mon Feb 22, 2021, 09:47 PM
thx64536 (26 posts)
1. Rocket scientists
Those rocket scientists are pretty smart!
---
Response to Omaha Steve (Original post)
Mon Feb 22, 2021, 11:26 PM
KY_EnviroGuy (12,561 posts)
2. Thanks, Steve. Here's the referenced video....
Perseverance Rover's Descent and Touchdown on Mars (Official NASA Video)
2,771,218 views
•Feb 22, 2021
NASA
Text:
NASA's Mars 2020 Perseverance mission captured thrilling footage of its rover landing in Mars' Jezero Crater on Feb. 18, 2021. The real footage in this video was captured by several cameras that are part of the rover's entry, descent, and landing suite. The views include a camera looking down from the spacecraft's descent stage (a kind of rocket-powered jet pack that helps fly the rover to its landing site), a camera on the rover looking up at the descent stage, a camera on the top of the aeroshell (a capsule protecting the rover) looking up at that parachute, and a camera on the bottom of the rover looking down at the Martian surface.
The audio embedded in the video comes from the mission control call-outs during entry, descent, and landing.
For more information about Perseverance, visit
https://mars.nasa.gov/perseverance​
Credit: NASA/JPL-Caltech
KY........
.........
---
Response to KY_EnviroGuy (Reply #2)
Tue Feb 23, 2021, 03:32 PM
wryter2000 (40,462 posts)
8. I still can't believe
I'm watching Mars on my computer. Amazing.
---
---
Response to Omaha Steve (Original post)
Mon Feb 22, 2021, 11:39 PM
rictofen (130 posts)
4. Incredible video
Such resolution, very frames per second. Wow!
---
Response to Omaha Steve (Original post)
Tue Feb 23, 2021, 05:16 AM
Layzeebeaver (468 posts)
5. The thing most people don't really understand yet...
...is that this new landing technology is quite a breakthrough. No more restrictions on landing zones. More accuracy regarding set down options and flexibility concerning science objectives. Also, when and if we ever get human assets on the surface it will be essential that this technology of terrain relative landing radar and site solution calculation will help insure replenishment and/or pre-positioning missions will be spot on target.
Too bad I don't have this in Kerbal Space Program yet.
---
Response to Layzeebeaver (Reply #5)
Tue Feb 23, 2021, 08:41 AM
Tommymac (3,991 posts)
6. Sir Arthur Clarke would be proud.
I never thought I'd see the day this type of landing would become reality.
This technology has opened the door to real exploration of our Solar System.
---
Response to Omaha Steve (Original post)
Tue Feb 23, 2021, 08:41 AM
Maxheader (3,871 posts)
7. Incredible pics..
Can't wait to ride along with rover, see the country...
---
Response to Omaha Steve (Original post)
Wed Feb 24, 2021, 05:39 PM
tonekat (1,213 posts)
9. This was awesome to see!
Thank you for posting it.