Mon Feb 22, 2021, 06:53 PM
Omaha Steve (78,731 posts)
Europe-bound migrants found amid broken glass, toxic ash
Source:
AP
By RENATA BRITO and ARITZ PARRA
MADRID (AP) ó Something seemed wrong to the guard inspecting sealed bags of toxic ash in the port of Melilla, one of Spainís two small territories in North Africa. So he pulled a knife, cut the bag open and found a motionless leg, confirming his suspicion that a person was inside.
He lifted and dropped the leg a few times, with no reaction. A few moments passed. Suddenly the leg pulled back, and a young man emerged from the ashes ó frightened and disoriented, but alive.
The disturbing scene from a video released Monday by Spainís Civil Guard highlighted the great lengths and risks that migrants and asylum seekers take in their desperate attempts to reach Europe.
The survivor was among 41 people found hiding amid cargo in Melillaís port area on Friday, attempting to sneak aboard a ship that would take them across the Mediterranean Sea to mainland Spain.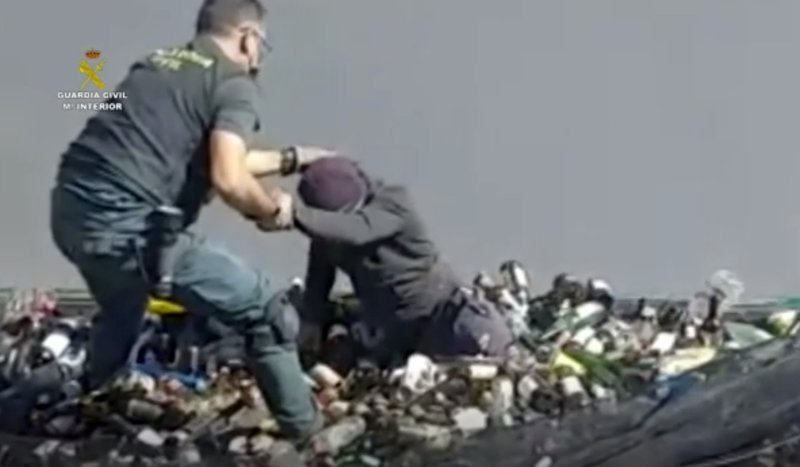 In this image taken from video made available by the Guardia Civil, an officer of the Guardia Civil helps a man out from under glass bottles in a container in Melilla, Spain, Friday Feb. 19, 2021. Spanish authorities say they have found and rescued 41 migrants who tried to reach continental Europe from North Africa in the past four days, some of them hiding inside a container of discarded glass bottles and a bag of toxic ash. (Guardia Civil via AP)
Read more:
https://apnews.com/article/spain-migrants-found-in-bags-toxic-ash-289fcecdcc200e22aeb63028a49fa846
3 replies, 2036 views
Replies to this discussion thread
| | | | |
| --- | --- | --- | --- |
| 3 replies | Author | Time | Post |
| Europe-bound migrants found amid broken glass, toxic ash (Original post) | Omaha Steve | Feb 22 | OP |
| | BlueMTexpat | Feb 23 | #1 |
| | sheilahi | Feb 23 | #2 |
| | intheflow | Feb 23 | #3 |
---
Response to Omaha Steve (Original post)
Tue Feb 23, 2021, 02:58 AM
BlueMTexpat (14,794 posts)
1. This is such a horrifying story
and illustrates the actions desperate people must take. I cry for all of humanity.
I know Melilla well. It is the Spanish enclave in North Africa closest to my Peace Corps posting in the 60s in northeastern Morocco. It is also where I took my first steps on Spanish territory on 1965.
If anyone has seen the Netflix series "La Reina del Sur," part of the first season is set in Melilla.
https://en.wikipedia.org/wiki/La_Reina_del_Sur_
(TV_series)
There is an English remake "Queen of the South," which is also good, IMO.
https://en.wikipedia.org/wiki/Queen_of_the_South_
(TV_series)
But I personally find "La Reina del Sur" to be more cosmopolitan.
---
Response to Omaha Steve (Original post)
Tue Feb 23, 2021, 09:08 AM
sheilahi (132 posts)
2. move on
Move on. Nothing to see here. It's just Ted Cruz trying to sneak into Mexico again.
---
Response to Omaha Steve (Original post)
Tue Feb 23, 2021, 12:35 PM
intheflow (26,000 posts)
3. Wait. Were the migrants rescued, or found?
IOW, will they now be deported? Because that's not necessarily a "rescue" scenario for the migrants trying to get to Europe.