Fri Nov 13, 2020, 08:15 PM
Judi Lynn (145,065 posts)
Nevada Governor Steve Sisolak tests positive for COVID-19
Source:
Associated Press
By SAM METZ
27 minutes ago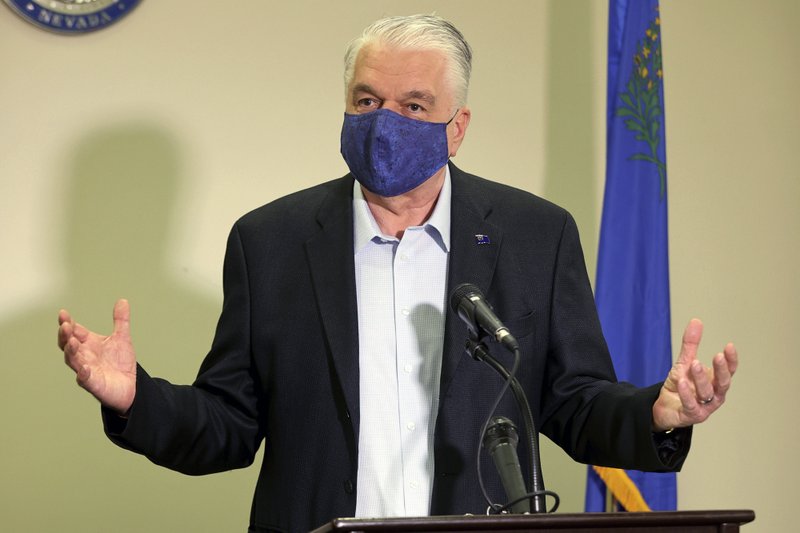 FILE - In this Friday, Oct. 2, 2020 file photo Nevada Gov. Steve Sisolak updates the state's COVID-19 response during a news conference at the Sawyer Building in Las Vegas. Nevada Gov. Steve Sisolak said that he had tested positive for COVID-19 on Friday, Nov. 13, 2020 as the virus surges to record levels in Nevada and throughout the United States.(K.M. Cannon/Las Vegas Review-Journal via AP, Pool, File)
CARSON CITY, Nev. (AP) — Nevada Gov. Steve Sisolak on Friday said he has tested positive for COVID-19 as the virus surges to record levels in the state and across the U.S.
The 66-year-old Democrat is the fifth governor to report testing positive for the coronavirus this year. Three governors, two Republicans in Missouri and Oklahoma, and one Democrat in Virginia contracted COVID-19 this year. Ohio's Republican Gov. Mike DeWine tested positive in August but received a negative test a few hours later. DeWine tested positive using a rapid test before testing negative later that day after using a more sensitive laboratory-developed test.
Sisolak said on a call with reporters he was not experiencing any symptoms and was swabbed for a rapid test on Friday morning as a matter of routine. After it yielded a positive result, he also underwent molecular testing and his sample is still being processed.
"I'm a little tired, but I've been tired since March when we started fighting COVID," Sisolak said. "I think this just puts a spotlight on the fact that you can take all the precautions that are possible and you can still contract the virus. I don't know how I got it, but we're going to quarantine and get through it."
Read more:
https://apnews.com/article/politics-nevada-coronavirus-pandemic-mike-dewine-carson-city-eeb4b2965393013402111957ea88825f
8 replies, 1388 views
Replies to this discussion thread
| | | | |
| --- | --- | --- | --- |
| 8 replies | Author | Time | Post |
| Nevada Governor Steve Sisolak tests positive for COVID-19 (Original post) | Judi Lynn | Nov 13 | OP |
| | Enterstageleft | Nov 13 | #1 |
| | Eliot Rosewater | Nov 13 | #2 |
| | regnaD kciN | Nov 13 | #3 |
| | WinstonSmith4740 | Nov 14 | #6 |
| | CabalPowered | Nov 14 | #7 |
| | BumRushDaShow | Nov 14 | #4 |
| | EllieBC | Nov 14 | #5 |
| | radius777 | Nov 15 | #8 |
---
Response to Judi Lynn (Original post)
Fri Nov 13, 2020, 08:18 PM
Enterstageleft (1,164 posts)
1. Please get better...we need and admire you.
---
Response to Judi Lynn (Original post)
Fri Nov 13, 2020, 08:23 PM
Eliot Rosewater (26,828 posts)
2. Get better, America needs patriots
---
Response to Judi Lynn (Original post)
Fri Nov 13, 2020, 09:43 PM
regnaD kciN (23,987 posts)
3. F***!!!
I know a bunch of people in Las Vegas who are probably celebrating; they blame him for "destroying Vegas" by not lifting the gaming system shutdown sooner. Of course, the fact that his caution was proven right by subsequent events means nothing to them; he should have stood back and let herd immunity solve things.
---
Response to regnaD kciN (Reply #3)
Sat Nov 14, 2020, 12:51 PM
WinstonSmith4740 (2,459 posts)
6. I now live in Vegas.
But I just moved here after 21 years in "rural" Nevada, and trust me, that bright red streak that defines rural will still show up here. One of the big problems is we're a one industry town, and that industry depends on tourists who have enough money to throw away. We all know that a huge part of this mess could have been avoided if that idiot didn't insist that it was a plot against him. Sisolak has pissed me off a couple of times since he's taken office, but I know that he will do the right thing to try and get this thing under control as much as possible here.
---
Response to WinstonSmith4740 (Reply #6)
Sat Nov 14, 2020, 12:57 PM
CabalPowered (12,606 posts)
7. I've been watching real estate in Vegas
And I'm a little surprised how resilient prices have been. I was half expecting housing to take a hit but I guess Californians are picking up the slack?
---
Response to Judi Lynn (Original post)
Sat Nov 14, 2020, 11:52 AM
BumRushDaShow (74,329 posts)
4. IMHO anyone like him who is in elective public office
who MUST be "out in public" continually (unfortunately part of their job description) needs to wear N95s. Period.
---
Response to BumRushDaShow (Reply #4)
Sat Nov 14, 2020, 12:03 PM
EllieBC (2,508 posts)
5. Agree!
I get it. They don't protect others like other masks. But our politicians need to be protected.
---
Response to BumRushDaShow (Reply #4)
Sun Nov 15, 2020, 03:32 AM
radius777 (2,670 posts)
8. N95 or the surgical blue ones
are the best, in addition to eye protection are what is needed for those in constant contact with the public.

The cloth masks are not good enough protection.