Fri Nov 13, 2020, 02:03 PM
greatbaldeagle (127 posts)
Men charged with murder in death of Ahmaud Arbery are denied bond
Source:
Washington Post
Breaking: A judge on Friday denied bond for Gregory and Travis McMichael as they await trial for the murder of Ahmaud Arbery. The McMichaels chased down and fatally shot the 25-year-old Black man after he was spotted jogging in their Brunswick, Ga., neighborhood.
Months before he fatally shot Ahmaud Arbery, an unarmed 25-year-old Black jogger, Travis McMichael sent texts and published social media posts that were explicitly racist, prosecutors said at a multi-day hearing that started Thursday.
The 34-year-old White man used racist slurs while referring to a "crackhead" in one text, prosecutors said, and mocked Asians with racist terms in a Facebook post. Prosecutors used the messages to argue that McMichael and his father, Gregory McMichael, 64, who is also charged with murder in Arbery's death, shouldn't be released on bond.
The revelations add to allegations that the McMichaels' racism contributed to the fatal shooting of Arbery. A third defendant in the case, William "Roddie" Bryan Jr., 51, who allegedly filmed the shooting on his phone, told investigators that Travis used the n-word after shooting Arbery three times, the Atlanta Journal-Constitution reported.
Read more:
https://www.washingtonpost.com/nation/2020/11/13/ahmaud-arbery-mcmichael-racist-messages/
---
Good for the judge. These lowlifes deserve to die in prison.
10 replies, 974 views
Replies to this discussion thread
| | | | |
| --- | --- | --- | --- |
| 10 replies | Author | Time | Post |
| Men charged with murder in death of Ahmaud Arbery are denied bond (Original post) | greatbaldeagle | Nov 13 | OP |
| | napi21 | Nov 13 | #1 |
| | Miigwech | Nov 13 | #7 |
| | cp | Nov 13 | #2 |
| | Solly Mack | Nov 13 | #3 |
| | Sneederbunk | Nov 13 | #4 |
| | Bayard | Nov 13 | #5 |
| | lunasun | Nov 13 | #6 |
| | soryang | Nov 13 | #8 |
| | Judi Lynn | Nov 14 | #9 |
| | soryang | Nov 14 | #10 |
---
Response to greatbaldeagle (Original post)
Fri Nov 13, 2020, 02:07 PM
napi21 (45,278 posts)
1. About time someone recognized how these two think! Given bond, they could take the law into their
---
Response to napi21 (Reply #1)
Fri Nov 13, 2020, 06:03 PM
Miigwech (3,674 posts)
7. Make on example out of them in the process, so be it.
---
Response to greatbaldeagle (Original post)
Fri Nov 13, 2020, 02:10 PM
cp (3,093 posts)
2. Very good.
---
Response to greatbaldeagle (Original post)
Fri Nov 13, 2020, 02:10 PM
Solly Mack (81,385 posts)
3. K&R
---
Response to greatbaldeagle (Original post)
Fri Nov 13, 2020, 02:14 PM
Sneederbunk (8,113 posts)
4. Time for them to enjoy the holidays, jail food and the exercise yard.
---
Response to Sneederbunk (Reply #4)
Fri Nov 13, 2020, 02:53 PM
Bayard (10,766 posts)
5. And Covid!
---
Response to greatbaldeagle (Original post)
Fri Nov 13, 2020, 04:24 PM
lunasun (20,709 posts)
6. Good and hopefully they do not come back out
---
Response to greatbaldeagle (Original post)
Fri Nov 13, 2020, 06:09 PM
soryang (2,630 posts)
8. Unfortunately
I am familiar with this area of southern georgia. foul play in this part of georgia is not unusual. I thought I recognized the neighborhood where this shooting took place right away when I saw it on tv. went inside a pawn shop once not too far away from Brunswick and there were Nazi posters on the wall, and the proprietor was talking crazily about the coming "race war." This happened years ago.

Jails in the area still dress inmates in striped outfits.
---
Response to soryang (Reply #8)
Sat Nov 14, 2020, 02:39 PM
Judi Lynn (145,028 posts)
9. Totally believe you! It's a spiritual disease that afflicts them all, as in brainwashing, I think.
Here's a photo of father and son in court, followed by a photo of the elder's wife, mother of the "kid" :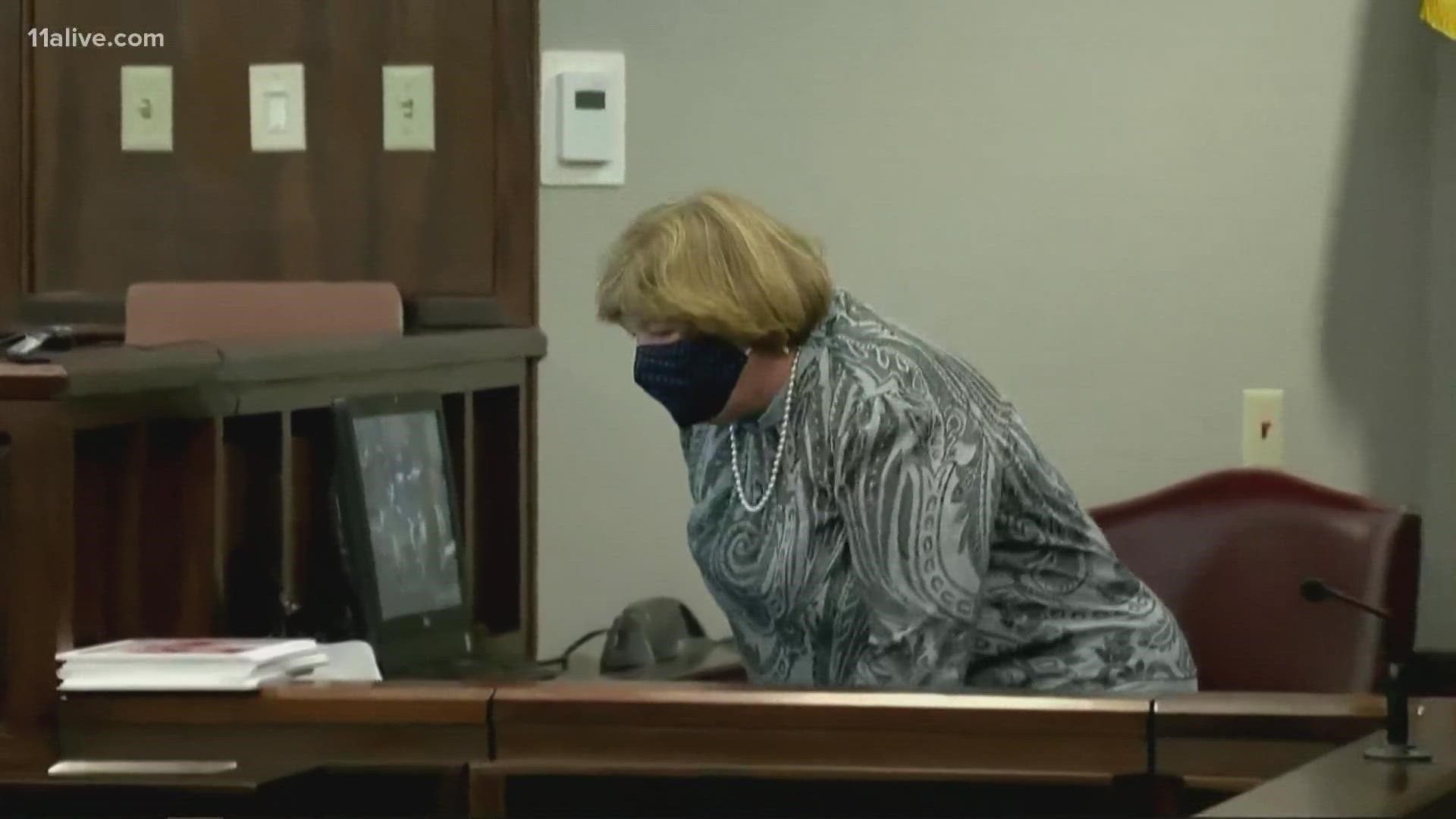 They all share the same narrowed, squinty eyes, lowered, aggressive faces. I would feel safe in imagining this facial expression is more or less standard around there!
It sounds like hell around there!
I'd guess it's a safe bet they still use "chain gangs" there, too.
---
Response to Judi Lynn (Reply #9)
Sat Nov 14, 2020, 03:33 PM
soryang (2,630 posts)
10. Hi Judi Lynn! this region is plagued by social problems one expects in a major urban area
...yet it is pretty much out in the weeds. Drugs, racial tension, violence, poorly trained police, etc. I could tell stories about it, but it's better they remain untold. Many of the people there live desperate lives in poverty. I do know good people who live in the area but they are better places to live elsewhere in Georgia. I traveled through Georgia as a driver hundreds if not thousands of times, and I prefer the greater Atlanta metro area. It isn't perfect either, but I didn't feel like an extra in the heat of the night when I stopped over. I have other personal connections to this southern GA area. The counties near and around Brunswick vote 80 percent republican as far as I know. It's ironic that the police there are so dangerous, the Federal Law Enforcement Training Center is there, yet none of the professionalism seems to rub off.

I don't think i saw chains on the jail inmates working the roadside details. I have seen prison road crews supervised by armed police with rifles, working major state roads elsewhere in rural Georgia.

these are just my personal observations, if they offend anyone I apologize in advance.