Sun Sep 20, 2020, 07:16 AM
Omaha Steve (76,040 posts)
Tropical Storm Beta spurs hurricane worries for Texas
Source:
AP
By KEN MILLER
OKLAHOMA CITY (AP) ó An exceptionally busy Atlantic hurricane season was churning along Saturday as the Texas coast prepared for a tropical storm that could strengthen into a hurricane before breaching its shores in the week ahead.
Both the city of Galveston and Galveston County on Saturday issued voluntary evacuation orders ahead of Tropical Storm Beta, as did the city of Seabrook to the north of Galveston.
Mayor Pro Tem Craig Brown said in a statement that high tides and up to 10 inches (25 centimeters) of expected rainfall would leave roads impassable, especially along the cityís west end and low-lying areas.
County Judge Mark Henry said during a Saturday news conference that his concern is also based on rising waters creating a storm surge and that a mandatory evacuation is not expected.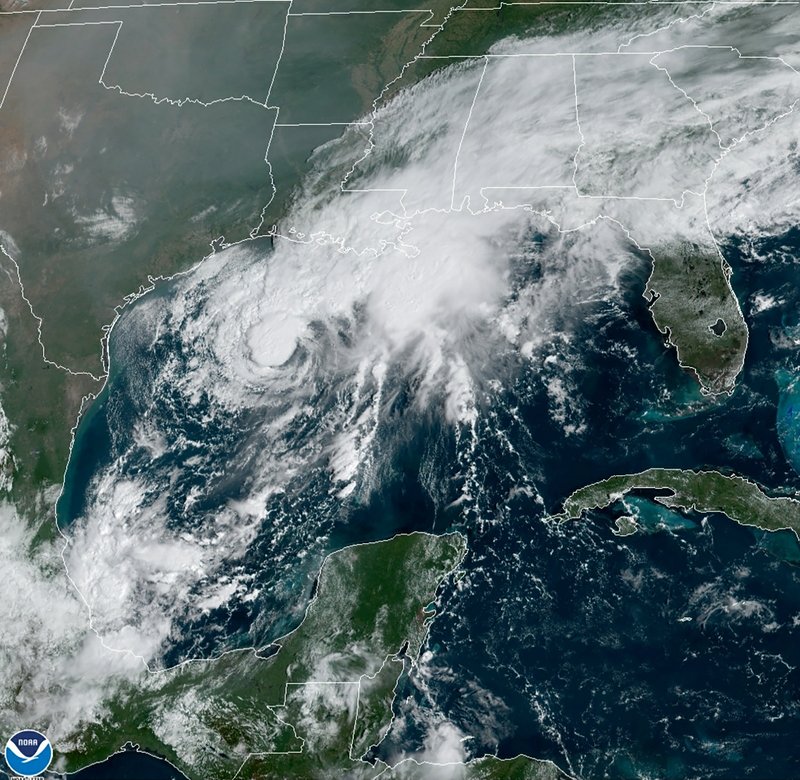 This GOES-16 GeoColor satellite image taken Saturday, Sept. 19, 2020, and provided by NOAA, shows Tropical Storm Beta, center, in the Gulf of Mexico. A hurricane watch is in effect Saturday for coastal Texas as Tropical Storm Beta gains strength. A storm surge watch and a tropical storm watch are also in effect for the area during an exceptionally busy Atlantic hurricane season. (NOAA via AP)
Read more:
https://apnews.com/e89d46c40da14e095e5b63a59f4a7fa5
6 replies, 1274 views
Replies to this discussion thread
| | | | |
| --- | --- | --- | --- |
| 6 replies | Author | Time | Post |
| Tropical Storm Beta spurs hurricane worries for Texas (Original post) | Omaha Steve | Sep 20 | OP |
| | Sherman A1 | Sep 20 | #1 |
| | Gothmog | Sep 20 | #2 |
| | texasfiddler | Sep 20 | #3 |
| | jonahblah | Sep 22 | #4 |
| | Kali | Sep 22 | #5 |
| | xfreedom2020 | Sep 22 | #6 |
---
Response to Omaha Steve (Original post)
Sun Sep 20, 2020, 07:18 AM
Sherman A1 (32,866 posts)
1. It will likely dump a whole lot of rain
In areas that really donít need it this week.
---
Response to Omaha Steve (Original post)
Sun Sep 20, 2020, 08:42 AM
Gothmog (88,505 posts)
2. Watch out Texas DUers
---
Response to Omaha Steve (Original post)
Sun Sep 20, 2020, 12:48 PM
texasfiddler (852 posts)
3. The eye of Harvey went over our house with 100 MPH Winds. This one is close too
Hopefully it will remain a Tropical Storm, but my generator is ready and the fridge is stocked with essentials (& beer).
---
Response to Omaha Steve (Original post)
Tue Sep 22, 2020, 12:48 AM
jonahblah (6 posts)
4. Generator to Survive This Storm
Hey fellow democrats, I am thinking about buying a new generator to survive this storm and I was wondering about wattage requirements.
Will something around 4000 watts be enough to power basic things like fridge, TV, heating and some kind of pump? I was Googling and found this article here:
https://generatorist.com/faq-what-will-a-4000-watt-generator-run-in-a-house
but I am kinda confused (I cant seem figure out if its enough power) and I dont know whether I should go for generator or inverter.
Thanks guys!
---
Response to jonahblah (Reply #4)
Tue Sep 22, 2020, 01:20 AM
Kali (50,296 posts)
5. welcome to DU
---