Sat Aug 29, 2020, 03:10 AM
alp227 (30,628 posts)
Trump Hotel in Vancouver closes as company files for bankruptcy
Source:
CBC
The company that owns Vancouver's Trump International Hotel has filed for bankruptcy, according to documents from the Office of the Superintendent of Bankruptcy Canada.
Staff who answered the hotel phone Friday morning said the hotel has closed permanently.
Hotel operator TA Hotel Management Partnership Ltd. filed for bankruptcy on Thursday. TA Hotel Management Limited Partnership is a subsidiary of TA Global Berhad.
TA Global Berhad's website says it is based in Kuala Lumpur, Malaysia, and involved in property development and investment, with luxury highrises in key locations worldwide.
Read more:
https://www.cbc.ca/news/canada/british-columbia/vancouver-trump-hotel-closure-covid-19-shut-2017-1.5703721
7 replies, 2063 views
Replies to this discussion thread
| | | | |
| --- | --- | --- | --- |
| 7 replies | Author | Time | Post |
| Trump Hotel in Vancouver closes as company files for bankruptcy (Original post) | alp227 | Aug 29 | OP |
| | Captain Zero | Aug 29 | #1 |
| | SergeStorms | Aug 29 | #2 |
| | no_hypocrisy | Aug 29 | #3 |
| | dawn5651 | Aug 29 | #4 |
| | Sherman A1 | Aug 29 | #5 |
| | LiberalLovinLug | Aug 29 | #6 |
| | SaintLouisBlues | Aug 29 | #7 |
---
Response to alp227 (Original post)
Sat Aug 29, 2020, 04:41 AM
Captain Zero (1,937 posts)
1. GOOD.
---
Response to alp227 (Original post)
Sat Aug 29, 2020, 05:06 AM
SergeStorms (8,865 posts)
2. I guess the Trump "brand"....
isn't worth a turtle's turd anymore.
It's the little things in life that make it bearable some times. and this is certainly one of those times. Trump has valued his "brand", meaning his name, to be worth $30 billion.
I think bankruptcy number six is right around the corner for the orange anus. He won't have his campaign cash to pay his legal fees after we kick his ass out of the White House, and something tells me republicans are going to forget all about him in short order. To see Trump swinging in the wind would be priceless. People would find out how little he's really worth, and the embarrassment would kill him.
---
Response to alp227 (Original post)
Sat Aug 29, 2020, 06:11 AM
no_hypocrisy (36,636 posts)
3. "Trump" in name only.
Someone else financed it. Someone else built it. Someone else manages(d) it. Someone else lost money. Trump only sold its name for use.
---
Response to alp227 (Original post)
Sat Aug 29, 2020, 06:13 AM
dawn5651 (177 posts)
4. sad the people that work there are permanently out of work but hopefully they find other jobs.
---
Response to dawn5651 (Reply #4)
Sat Aug 29, 2020, 06:46 AM
Sherman A1 (30,689 posts)
5. Agreed
Maybe they can get the name off of the place and eventually restart.
---
Response to alp227 (Original post)
Sat Aug 29, 2020, 03:34 PM
LiberalLovinLug (11,441 posts)
6. I live there and those letters lording over Georgia Street are gut wrenching
Right in the heart of downtown Vancouver.

While I feel some sympathy for the workers out of a job, (even though I wonder at their initial desire to work under that banner). I for one, do not feel sorry at all for TA Hotel Management. They opened this in 2017 and proudly used his name after all the crazy birther talk. After "grab em by the p****". After all the other crap he pulled during the primaries and election campaign.

I will be glad just to not have to walk under those huge letters and the dark shadow they have thrown over that street.
---
Response to alp227 (Original post)
Sat Aug 29, 2020, 11:07 PM
SaintLouisBlues (1,107 posts)
7. So it wasn't the Trump family whorehouse that closed?
Trudeau Trolls Trump with Photo of Grampa's Canadian "Hotel".
Trudeau presented Trump with a photo of his grandfather's whorehouse in Canada. Troll level: Grand Master!
Great moment between @JustinTrudeau and @POTUS when he gave him picture of the Presidentís grandfatherís hotel in Canada.
It was a brothel.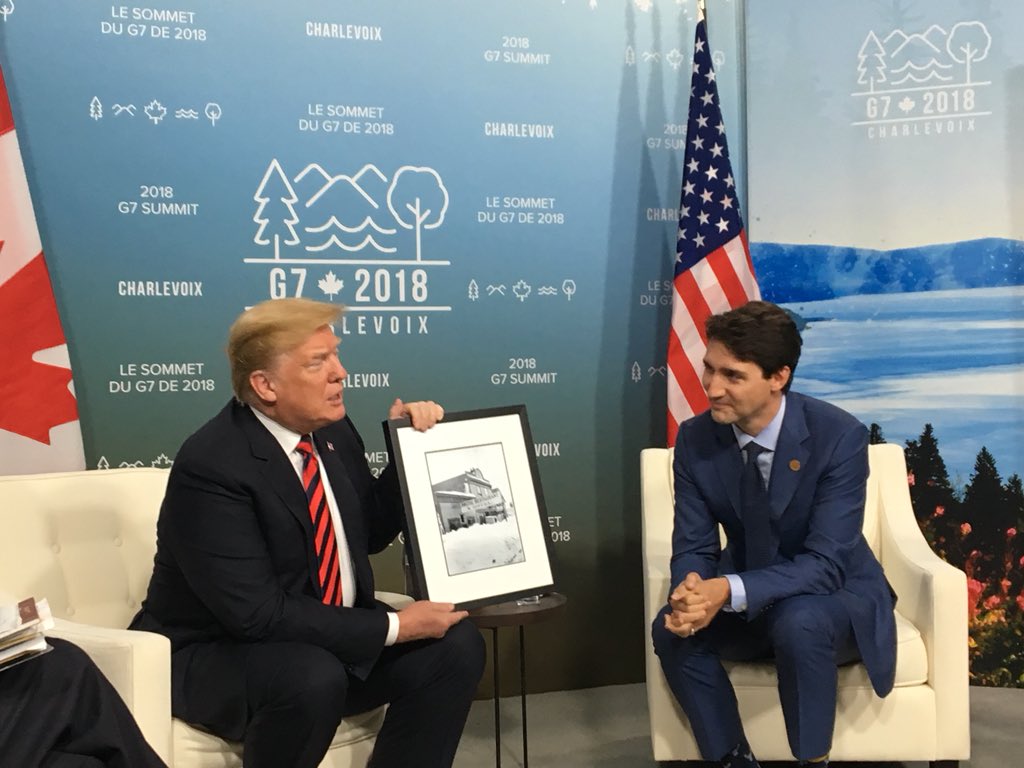 https://upload.democraticunderground.com/100210713056