Sun Sep 30, 2012, 04:59 AM
dipsydoodle (42,239 posts)
String of Iraq car bomb blasts kill at least 17
Source:
Reuters
(Reuters) - A string of car bomb blasts targeting mainly police checkpoints killed at least 17 people across Iraq on Sunday, police and hospital sources said.
No one has claimed responsibility for the attacks.
Violence in Iraq has eased since its height in 2006-2007 when sectarian fighting killed thousands of people, but Sunni Islamists and an al Qaeda affiliate still launch regular attacks, seeking to undermine the Shi'ite-led government.
The most deadly explosion took place in Taji, 20 km (12 miles) north of the capital Baghdad, where bombs in three parked cars went off separately, killing eight people and wounding 22.
Read more:
http://uk.reuters.com/article/2012/09/30/uk-iraq-securityviolence-idUKBRE88T03620120930
7 replies, 2564 views
Replies to this discussion thread
| | | | |
| --- | --- | --- | --- |
| 7 replies | Author | Time | Post |
| String of Iraq car bomb blasts kill at least 17 (Original post) | dipsydoodle | Sep 2012 | OP |
| | xchrom | Sep 2012 | #1 |
| | Botany | Sep 2012 | #2 |
| | lunatica | Sep 2012 | #3 |
| | Botany | Sep 2012 | #5 |
| | Martin Eden | Sep 2012 | #4 |
| | Victor_c3 | Sep 2012 | #6 |
| | marble falls | Sep 2012 | #7 |
---
Response to dipsydoodle (Original post)
Sun Sep 30, 2012, 05:03 AM
xchrom (108,903 posts)
1. du rec. Nt
---
Response to dipsydoodle (Original post)
Sun Sep 30, 2012, 07:17 AM
Botany (45,382 posts)
2. thanx W you were such a big help in spreading freedom
---
Response to Botany (Reply #2)
Sun Sep 30, 2012, 07:24 AM
lunatica (34,644 posts)
3. Yeah. He gave them Democracy at the point of a gun.
And Rumsfeld says Democracy is messy.

The very idea that Democracy can be forced on people is ludicrous. We just made Iraq another Al Qaeda field of harvest. Al Qaeda isn't interested in Democracy. It wants chaos and death because that's how it survives.
---
Response to lunatica (Reply #3)
Sun Sep 30, 2012, 09:10 AM
Botany (45,382 posts)
5. And just like the CIA's coup that overthrew the legally elected leader of Iran ..
.... Mosaddegh, in 1953 bush/Cheney/Rummy/PNAC's "Operation Iraq Freedom"
will have blowback that will last for years. Say you were a young man and your
house was blown up and your family was killed by an American bomb you would
be a perfect recruit for al Qaeda to wear a suicide vest and walk into an American
owned factory some place in the world. If their is a really a just God in heaven
the people behind getting us into a war in Iraq should be placed on trial in an international
court in the Hague.
BTW to any freepers or right wing peepers please go look up yourself what is posted in
this thread.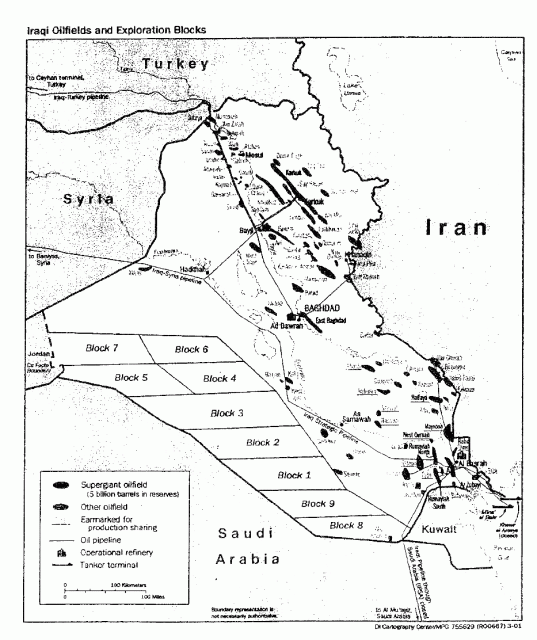 the map that was on Dick Cheney's desk in March of 2001
---
Response to dipsydoodle (Original post)
Sun Sep 30, 2012, 08:09 AM
Martin Eden (8,053 posts)
4. What; Again?
and Again and Again and Again and Again
But don't fret; it's all part of the Project for the New American Century
---
Response to dipsydoodle (Original post)
Sun Sep 30, 2012, 09:22 AM
Victor_c3 (2,088 posts)
6. I don't know when that is going to stop
I was leading a patrol through Baqubah (about 20-30 miles north of Baghdad) and we got a call over the radio that there was going to be some artillery rounds landing a few miles from where I was. A few seconds later, I saw through the trees a huge explosion and my platoon sergeant radiod to me "Damn sir, that was close". Not thinking anything else of it, we continued on our patrol and drove to a town a few miles south of Baqubah (my platoon's sector). The rest of the patrol continued without incident. Later that night, when I was back on our base and I was sitting at our daily update brief (my boss would give us our missions for the next day and give us our intel brief) we found out that a car bomb blew up right where we were and killed a crap-load of people waiting in line to enlist in the Iraqi Army.

Unfortunately, as you guys are well aware, car bombing and loads of dead people is the norm for Iraq. It's a shame what we did to those people and their country.
---
Response to dipsydoodle (Original post)
Sun Sep 30, 2012, 09:41 AM
marble falls (11,161 posts)
7. "Mission accomplished!"