Wed Feb 19, 2020, 12:34 PM
Omaha Steve (72,448 posts)
Passengers begin leaving after ship's virus quarantine ends
Source:
AP
By MARI YAMAGUCHI and FOSTER KLUG
YOKOHAMA, Japan (AP) — About 500 passengers left the cruise ship Diamond Princess on Wednesday at the end of a much-criticized two-week quarantine aboard the vessel, docked in Japan, that failed to stop the spread of the new virus among passengers and crew.
The quarantine's flop was underlined as authorities announced 79 more cases, bringing the total on the ship to 621. Results were still pending for some other passengers and crew among the original 3,711 people on board.
Japan's government has been questioned over its decision to keep people on the ship, which some experts have called a perfect virus incubator. The Diamond Princess is the site of the most infections outside of China, where the illness named COVID-19 emerged late last year.
Many foreign governments say they won't let passengers from the ship return unless they go through another quarantine period, so it was striking to see passengers disembark, get into taxis and disappear into Yokohama, where the ship is docked.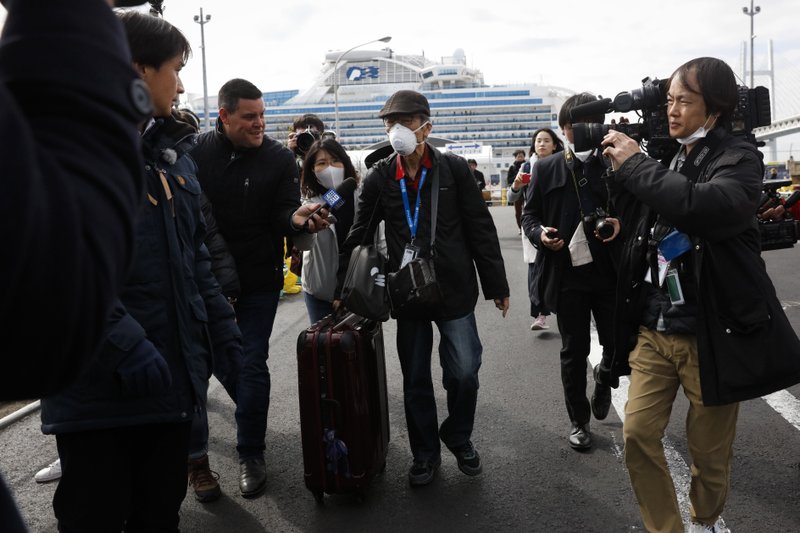 An unidentified passenger is surrounded by the media after he disembarked from the quarantined Diamond Princess cruise ship Wednesday, Feb. 19, 2020, in Yokohama, near Tokyo. Passengers tested negative for COVID-19 started disembarking Wednesday. (AP Photo/Jae C. Hong)
Read more:
https://apnews.com/c831631e03c18f84f3c9392f13ea1b80
2 replies, 575 views
Replies to this discussion thread
| | | | |
| --- | --- | --- | --- |
| 2 replies | Author | Time | Post |
| Passengers begin leaving after ship's virus quarantine ends (Original post) | Omaha Steve | Feb 19 | OP |
| | LonePirate | Feb 19 | #1 |
| | soryang | Feb 19 | #2 |
---
Response to Omaha Steve (Original post)
Wed Feb 19, 2020, 12:45 PM
LonePirate (10,476 posts)
1. Quarantines are to protect those not quarantined. It was never to protect the passengers and crew.
The passengers and crew were all likely to contract the virus given how highly contagious it is, especially in confined places such as a cruise ship's crew quarters.
---
Response to Omaha Steve (Original post)
Wed Feb 19, 2020, 04:26 PM
soryang (2,148 posts)
2. NY Times- Japan Lets Cruise Passengers Walk Free. Is That Safe?
Japan Lets Cruise Passengers Walk Free. Is That Safe?
By Motoko Rich and Eimi Yamamitsu
Feb. 19, 2020
Updated 2:26 p.m. ET
...The United States government came to a similar conclusion about the infection control measures when, in an apparent reversal of its early advice to passengers that they should stay isolated in their cabins to minimize the risk of infection, it decided to evacuate hundreds of its citizens on Monday.

In a letter to American passengers on Sunday, the U.S. Embassy in Tokyo wrote that because of mounting infections on the Diamond Princess, "the Department of Health and Human Services made an assessment that passengers and crew members on board are at high risk of exposure."...

...Japanese officials defended their decisions. In remarks to reporters on Wednesday, Yoshihide Suga, the chief cabinet secretary to Prime Minister Shinzo Abe, said the country's authorities had "made the maximum consideration to secure the health of passengers and crew."
https://www.nytimes.com/2020/02/19/world/asia/japan-cruise-ship-coronavirus.html
good article recommend the reading the entire thing.