Sat Feb 15, 2020, 01:51 AM
Judi Lynn (137,168 posts)
Fifteen children have died in Haiti after a fire swept through an orphanage on the outskirts of the
Source:
BBC
6:00 pm today
Fifteen children have died in Haiti after a fire swept through an orphanage on the outskirts of the capital.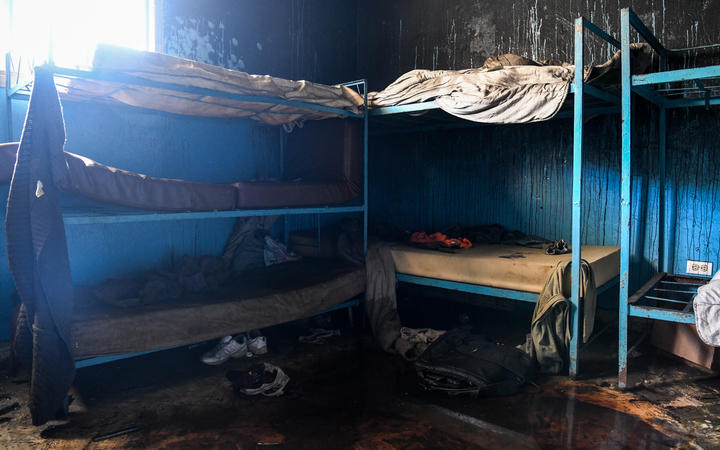 The Orphanage of the Church of Bible Understanding in Haiti where a fire killed 15 children. Photo: AFP
The cause of the fire was being investigated, but reports citing staff and children said candles were being used instead of electricity.
The orphanage, run by a US-based Christian group, was one of hundreds in Haiti operating without official authorisation.
Authorities are now working to support and re-house the surviving children.
Arielle Jeanty Villedrouin, director of the Institute for Social Welfare, said that, at the time of the fire, about 60 children were living in the unlicensed orphanage, operated by the Pennsylvania-based Church of Bible Understanding.
Read more:
https://www.rnz.co.nz/news/world/409611/haiti-15-children-killed-in-fire-at-unlicensed-orphanage
---
3 replies, 632 views
Replies to this discussion thread
| | | | |
| --- | --- | --- | --- |
| 3 replies | Author | Time | Post |
| Fifteen children have died in Haiti after a fire swept through an orphanage on the outskirts of the (Original post) | Judi Lynn | Saturday | OP |
| | Judi Lynn | Saturday | #1 |
| | Demovictory9 | Saturday | #2 |
| | Kid Berwyn | Saturday | #3 |
---
Response to Judi Lynn (Original post)
Sat Feb 15, 2020, 01:52 AM
Judi Lynn (137,168 posts)
1. 13 children die in fire at Haitian orphanage run by controversial Pennsylvania nonprofit
FEBRUARY 14, 2020
The disaster occurred at a group home run by The Church of Bible Understanding, an often-scrutinized organization based in Scranton
Allie Miller HeadshotBY ALLIE MILLER
PhillyVoice Staff
A Pennsylvania nonprofit group's orphanage in Haiti caught fire, killing 13 children who lived there on Thursday night.
Child care workers and employees at the orphanage told the Associated Press on Friday the fire had started the night before at the facility in Kenscoff, a mountainous region south of the Haitian capital of Port-au-Prince. Prior to the fire, they said, the orphanage had been using candles inside for light.
There were varying reports about ages of the children who died. One orphanage employee said about half of the children were ages 10 or 11, and the rest were toddlers or infants. A doctor at the hospital where the children were transported described the victims as between 3 and 18 years old, the AP reported.
The 13 children were carried out of the building, but the rescue workers arrived lacked the resources to save them or take them to a hospital in time. Two other bodies are believed to remain in the building.
The home was operated by Scranton-based nonprofit The Church of Bible Understanding, which runs two orphanages in Haiti that house nearly 200 children. Since 1977, the group has had a presence in the Caribbean country, often calling their charity operations "Christian training programs."
. . .
The Church of Bible Understanding funds its orphanages with revenue from high-end antique stores in New York and Los Angeles.
More:
https://www.phillyvoice.com/orphanage-fire-haiti-church-of-bible-understanding-children-killed-kenscoff-scranton/
~ ~ ~
THURSDAY, 1 NOVEMBER 2012
Top Five Christian Cults
Within religious circles, one man's cult seems to be another man's mainstream religion, but a few things seem to characterise modern 'New Age Religion' cults, apart from mysticism and rituals:
Autocratic rule. Often claimed by 'divine right'. Usually dominated by one charismatic man regarded as the font of all 'wisdom' and frequently claiming direct divine guidance and instructions.
Women play a subordinate role. Women are expected to be at the disposal of the senior men.
Many cults are apocalyptic, believing some great disaster is about to befall the world, or the Second Coming of Jesus is imminent, and their leader is a prophet sent to prepare the world for it or to provide an elite who are to survive the apocalypse.
Fundraising is a major preoccupation, with members either required to raise money by begging or selling the cult's produce, or to donate a large proportion, even all, of their income.
Extremely rich leaders.
. . .
Elijah
!. Church of Bible Understanding.
This cult was started in New York in 1971 as 'The Forever Family' by a fundamentalist Pentecostal Christian and vacuum cleaner repair man, Stewart Traill, who had been expelled from the Pentecostal Church. He claims to be a reincarnation of Elijah, to know the exact date of the 'Second Coming' and to possess a unique ability to understand the true meaning of the word of God. Members were required to live in a commune and donate 90% of their earnings to the cult. All aspects of members lives are carefully controlled by a process of harsh criticism and public humiliation.
The cult branched out into the carpet cleaning business, with "Christian Brothers Carpet Cleaning", and used van sales.
As part of President Bush's 'Faith Based Initiatives' the cult is reported to receive US Federal Government funding for a 'mission' in Haiti where it indoctrinates Haitian children in return for food and clothing.
Stewart Traill is reputed to have amassed a considerable fortune.
More:
http://rosarubicondior.blogspot.com/2012/11/top-five-christian-cults.html
---
Response to Judi Lynn (Original post)
Sat Feb 15, 2020, 02:03 AM
Demovictory9 (10,070 posts)
2. kick for exposure
---
Response to Judi Lynn (Original post)
Sat Feb 15, 2020, 09:45 AM
Kid Berwyn (2,393 posts)
3. Unlicensed Orphanage
Haiti has so long suffered at the hands of kleptocrats, there is near-nothing for its most vulnerable children.

"In Haiti, one percent own 99 percent of the property." — Jean Bertrand Aristide