Fri Feb 14, 2020, 08:44 PM
Omaha Steve (71,697 posts)
Jimmy Hoffa associate who was suspect in disappearance dies
Source:
AP
BOCA RATON, Fla. (AP) — Charles "Chuckie" O'Brien, a longtime associate of Teamsters boss Jimmy Hoffa who became a leading suspect in the labor leader's disappearance and later was portrayed in the Martin Scorsese film "The Irishman," has died.
O'Brien's stepson, Harvard Law School professor Jack Goldsmith, said in a blog post that O'Brien died Thursday in Boca Raton, Florida, from what appeared to be a heart attack. He was 86.
O'Brien was a constant companion to Hoffa in the decades when the labor leader developed the Teamsters into one of the largest and most powerful unions in the nation in the from the late 1950s to the early 1970s. After Hoffa's still-unsolved disappearance in 1975, O'Brien became a leading suspect when the federal government publicly accused him of picking up Hoffa and driving him to his death.
Goldsmith called the accusation untrue. "But practically everyone believed it," he said.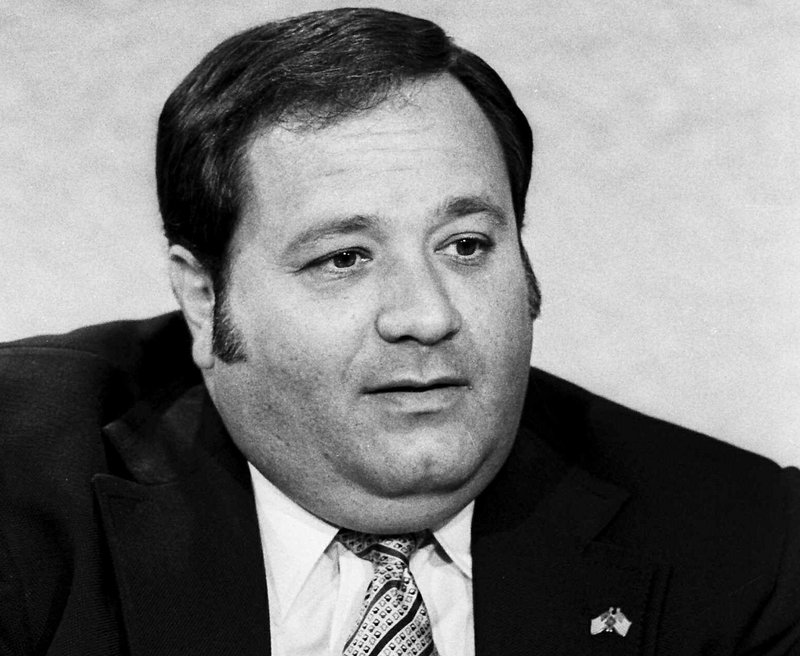 FILE - In this Oct. 3, 1978 file photo, Charles"Chuckie" O'Brien, Jimmy Hoffa's adopted son is shown during an appearance on NBC's Today Show in New York. O'Brien, a longtime associate of the late Jimmy Hoffa who became a leading suspect in the Teamsters boss' disappearance, has died. O'Brien's stepson, Harvard Law School professor Jack Goldsmith, said in a blog post that O'Brien died Thursday, Feb. 13m 2020 in Boca Raton, Fla., from what appeared to be a heart attack. (AP Photo/David Pickoff, File)
Read more:
https://apnews.com/1673463e5dd7eff87d2dc53e06ec9c24
7 replies, 1356 views
Replies to this discussion thread
| | | | |
| --- | --- | --- | --- |
| 7 replies | Author | Time | Post |
| Jimmy Hoffa associate who was suspect in disappearance dies (Original post) | Omaha Steve | Friday | OP |
| | marble falls | Friday | #1 |
| | Corgigal | Saturday | #2 |
| | hack89 | Saturday | #3 |
| | dalton99a | Saturday | #4 |
| | hack89 | Saturday | #5 |
| | Brother Buzz | Saturday | #6 |
| | moniss | Saturday | #7 |
---
Response to Omaha Steve (Original post)
Fri Feb 14, 2020, 08:51 PM
marble falls (28,084 posts)
1. Took it it wit him to the grave.
---
Response to Omaha Steve (Original post)
Sat Feb 15, 2020, 01:17 AM
Corgigal (7,214 posts)
2. Draw him with glasses,
he could be running the DOJ today.
---
Response to Omaha Steve (Original post)
Sat Feb 15, 2020, 11:47 AM
hack89 (38,310 posts)
3. Saw The Irishman last night
---
Response to hack89 (Reply #3)
Sat Feb 15, 2020, 11:56 AM
dalton99a (44,887 posts)
4. It is one helluva movie, but probably very likely too good to be true
Only if you had been paying close attention to the exploits of the South Philadelphia mafia back in its glory days (the second half of the 20th century) might you have noticed Sheeran's existence. Even there he was a second-stringer—a local Teamsters union official, meaning he was completely crooked, who hung around with mobsters, especially Russell Bufalino, a boss from backwater Scranton, Pennsylvania. Sheeran was Irish, which limited any Cosa Nostra career ambitions he might have had, and so he seemed to be just a 6-foot-4, 250-pound gorilla with a dream. He died in obscurity, in a nursing home, in 2003.

Then, six months later, a small publishing house in Hanover, New Hampshire, unleashed a shocker titled I Heard You Paint Houses. It was written by Charles Brandt, a medical malpractice lawyer who had helped Sheeran win early parole from prison, due to poor health, at age 71. Starting not long after that, Brandt wrote, Sheeran, nearing the end of his life, began confessing incredible secrets he had kept for decades, revealing that—far from being a bit player—he was actually the unseen figure behind some of the biggest mafia murders of all time.

Frank Sheeran said he killed Jimmy Hoffa.

He said he killed Joey Gallo, too.

And he said he did some other really bad things nearly as incredible.

Most amazingly, Sheeran did all that without ever being arrested, charged, or even suspected of those crimes by any law enforcement agency, even though officials were presumably watching him for most of his adult life. To call him the Forrest Gump of organized crime scarcely does him justice. In all the history of the mafia in America or anywhere else, really, nobody even comes close.
https://slate.com/culture/2019/08/the-irishman-scorsese-netflix-movie-true-story-lies.html
---
Response to dalton99a (Reply #4)
Sat Feb 15, 2020, 03:07 PM
hack89 (38,310 posts)
5. I never assumed it was a true story
It was just great storytelling.
---
Response to Omaha Steve (Original post)
Sat Feb 15, 2020, 03:38 PM
Brother Buzz (25,344 posts)
6. Chuckie later remembered it was a forty pound frozen salmon
---
Response to Omaha Steve (Original post)
Sat Feb 15, 2020, 06:34 PM
moniss (89 posts)
7. Jack Goldsmith
the former assistant US Attorney General and the stepson of Chuckie wrote a recent book about all of this. I highly suggest that before people jump to conclusions that Chuckie was involved that they read the book and realize just how many of the former investigators also believe that they were wrong. The book is highly researched and heavily footnoted. The timeline the day of Hoffa's disappearance makes it all but impossible for Chuckie to have been the one to be at the restaurant driving the car. Especially if you know the Detroit metro area and what traffic was like around that time of day and in those years. The question you should ask is who gained by getting rid of Hoffa? The membership hated Fitzimmons and would have loved to have Hoffa back. The Nixon/GOP crooks who were still around would gain tremendously by getting rid of Hoffa because he would no longer be able to spill the beans that he was the source of the hush money cash for the Watergate burglars. Mitchell and Nixon arranged the pardon around that but demanded he never could resume anything to do with the Teamsters. If he did the extreme amount of attention would have people investigating all over again and the folks who escaped Watergate scrutiny didn't want that. Of course the New York Mafia would benefit because by that time they had made Fitz nothing but a lapdog and had nothing in their way as far as getting at Teamster pension money for illicit "loans". Hoffa made them pay loans back. Fitz did not. Last of all let me remind everyone that the government said, and I believe correctly so, that Hoffa was super careful about who he would get into a car with. That's why they felt that someone he was so close to, like Chuckie, would have to be the one driving. But that lets everybody walk past something very obvious. He also would have gotten in the car if he saw it was his son James who is now the head of the Teamsters for many years. So was it the son or someone made up to look like the son? Assuming the real son had an alibi I would point out that his look is not so distinctive that it would have been difficult for a Hollywood make-up artist to do their thing and make someone look just like the real thing. Especially because he would only have to be visible basically from the chest up and mostly through the car windows or a slightly darkened car interior through rolled down windows. It is verified by witnesses that Hoffa was already agitated at being kept waiting in the parking lot a long time. Quickly thinking his son was at the wheel or in the car combined with his famous impatience may have been enough for him to accept the situation as safe. So who did it? The Sheeran guy is a known buffoon. But it wasn't Chuckie unless they somehow had flying cars back in 1975. Ask yourself why the DOJ got cold feet many years later after promising Chuckie that if he came in voluntarily for an interview and it went well that they would offer him a lie detector test and then issue a report clearing him if he passed? He did the interview and they all said he did fine but then they backed out. The reason why is obvious to anybody who thinks for a bit about how these "investigations" go. They had invested years damning Chuckie and placing it all on him as the culprit. Look at what the public still largely believes to this day. If they issued a report clearing Chuckie then they have to start digging all over again and they look really bad for their mistakes. So if they just let things go along with their current narrative then sleeping dogs aren't disturbed and at the highest levels do you really think anybody really cares who killed Hoffa? They're just glad someone did. Once again I apologize for having no earthly idea how to do paragraphs.