Thu Jan 30, 2020, 04:08 PM
Omaha Steve (71,697 posts)
Europe evacuates citizens from China, Russia shuts border
Source:
AP
By BARRY HATTON
LISBON, Portugal (AP) — European countries stepped up efforts Thursday to contain the virus sweeping through central China, sending a chartered airliner there to evacuate hundreds of European citizens, scrapping more commercial flights to Chinese destinations and keeping some 7,000 people on a cruise ship while one possibly infected passenger got tested.
Signaling intensifying international concern, the World Health Organization in Gen declared the viral outbreak that has sickened more than 7,800 people and caused 170 deaths in China as a global emergency, while Russia closed its long border with the Asian giant.
Russian Prime Minister Mikhail Mishustin issued a decree ordering the temporary closure of the border, which extends for 4,200 kilometers (2,600 miles). In addition, all train traffic between Russia and China was halted except for one train connecting Moscow and Beijing.
A passenger airliner enlisted for the evacuation took off Thursday morning from a former Portuguese military airport southeast of Lisbon carrying only the pilots and crew.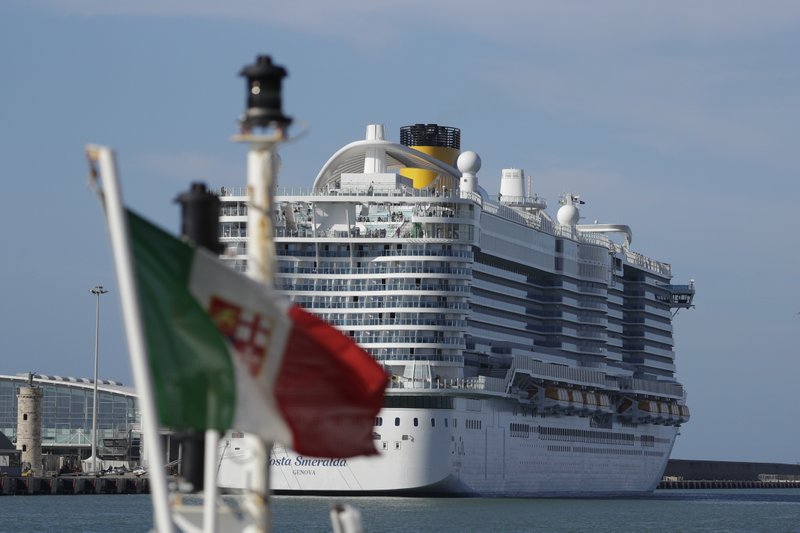 The Costa Smeralda cruise ship is docked in the Civitavecchia port near Rome, Thursday, Jan. 30, 2020. Italian health authorities are screening passengers aboard after a passenger from Macao came down with flu-like symptoms amid the global scare about a new virus. Passengers are being kept on board pending check to determine the type of virus. (AP Photo/Andrew Medichini)
Read more:
https://apnews.com/9e2536bf7c7a3cd03b80688e476ed822
9 replies, 1046 views
Replies to this discussion thread
| | | | |
| --- | --- | --- | --- |
| 9 replies | Author | Time | Post |
| Europe evacuates citizens from China, Russia shuts border (Original post) | Omaha Steve | Jan 30 | OP |
| | Sherman A1 | Jan 30 | #1 |
| | Leghorn21 | Jan 30 | #2 |
| | Igel | Jan 30 | #3 |
| | Rainbow Droid | Jan 30 | #4 |
| | dewsgirl | Jan 31 | #5 |
| | Sapient Donkey | Jan 31 | #6 |
| | dalton99a | Jan 31 | #7 |
| | Withywindle | Feb 1 | #8 |
| | Baclava | Feb 1 | #9 |
---
Response to Omaha Steve (Original post)
Thu Jan 30, 2020, 04:12 PM
Sherman A1 (27,589 posts)
1. Getting real serious
and I expect it to get much worse.
---
Response to Omaha Steve (Original post)
Thu Jan 30, 2020, 04:23 PM
Leghorn21 (9,916 posts)
2. I think that right at this moment, we'll remember what life was like "before" Coronavirus and
soon will be "after"...what exactly "after" will be like, I don't have the imagination to conjure. Just simple things like going to the grocery store might get...weird.

I wish all the best for everybody...
---
Response to Leghorn21 (Reply #2)
Thu Jan 30, 2020, 05:10 PM
Igel (29,378 posts)
3. I'm only marginally concerned at this point.
But the first case at a US high school or major college will certainly cause some deep worry.
---
Response to Igel (Reply #3)
Thu Jan 30, 2020, 05:47 PM
Rainbow Droid (511 posts)
4. Even 10 cases at 10 schools won't lead to anything that kills more than gun violence does every year
---
Response to Omaha Steve (Original post)
Fri Jan 31, 2020, 06:33 AM
dewsgirl (11,141 posts)
5. I'm pretty sure I saw Moscow diagnosed their first case, yesterday.
I don't know if that is official.
---
Response to Omaha Steve (Original post)
Fri Jan 31, 2020, 10:54 AM
Sapient Donkey (616 posts)
6. On twitter I've been seeing people arguing that stopping flights is xenophobic/racist
I understand there is debate about whether it does any good (WHO seems to think it doesn't), but I don't understand why it's considered xenophobic/racist rather than just ineffective. So instead of people discussing whether it's effective or not, people end up fighting over the definition of xenophobia.
---
Response to Omaha Steve (Original post)
Fri Jan 31, 2020, 11:55 AM
dalton99a (44,887 posts)
7. Current numbers:
◆ Forty-three more deaths in China were announced, bringing the toll to 213.

◆ Nearly 2,000 new cases were recorded in the country in the past 24 hours, raising the worldwide total to nearly 9,800, according to Chinese and World Health Organization data. The vast majority of the cases are inside China; about 100 cases have been confirmed in 19 other countries.

◆ Tibet has reported its first confirmed case. This means that all of China's provinces and territories have now been touched by the outbreak.

◆ Countries and territories that have confirmed cases: Thailand, Japan, Hong Kong, Singapore, Taiwan, Australia, Malaysia, Macau, Russia, France, the United States, South Korea, Germany, the United Arab Emirates, Canada, Britain, Vietnam, Italy, India, the Philippines, Nepal, Cambodia, Sri Lanka and Finland.

◆ Cases recorded in Thailand, Taiwan, Germany, Vietnam, Japan, France and the United States involved patients who had not been to China. No deaths have been reported outside China.

---
Response to Omaha Steve (Original post)
Sat Feb 1, 2020, 01:54 AM
Withywindle (8,570 posts)
8. I might be missing something here
But isn't evacuating your country's citizens out of a known "hot zone" and bringing them home just MORE likely to bring the virus to your country?
---
Response to Withywindle (Reply #8)
Sat Feb 1, 2020, 10:27 AM
Baclava (7,385 posts)
9. The passengers on flights coming out are being screened and tested and quarantined, not just let go
Hell yeah, if I was stuck over there I'd be worried, lots of stories of people from many countries holed up, looking for a way out, happy their country came to help them