Mon Jan 27, 2020, 11:00 AM
Omaha Steve (71,879 posts)
Alabama fire chief confirms deaths as fire destroys 35 boats
Source:
AP
SCOTTSBORO, Ala. (AP) — Boaters leaped into the water to escape an explosive fire that consumed at least 35 vessels docked along the Tennessee River early Monday. Authorities said there were fatalities as seven people were sent to hospitals and seven others were initially reported missing.
The blaze was reported shortly after midnight as people living in the boats were sleeping, and consumed the wooden dock and an aluminum roof that covered many of the vessels, cutting off escape routes and raining debris into the water.
"There were numerous people rescued from the water who had escaped by going into the water," Jackson County Chief Sheriff's Deputy Rocky Harnen told The Associated Press shortly after dawn. "We're trying to get divers down here to search for possible victims in the water."
The fire destroyed the B dock, about 50 yards (46 meters) from the A dock where the boat of Mandy Durham and her boyfriend is moored.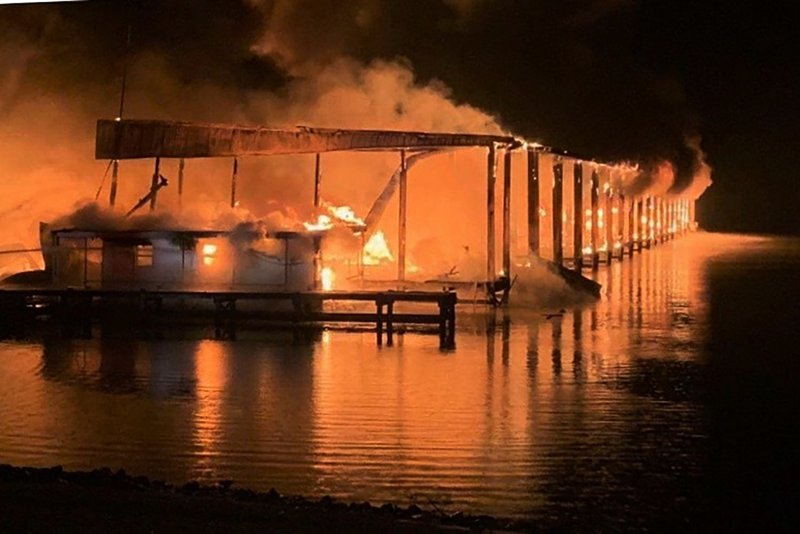 A fire burns on a dock where at least 35 vessels, many of them houseboats, were destroyed by fire early Monday, Jan. 27, 2020, in Scottsboro, Ala. Scottsboro Fire Chief Gene Necklaus is confirming fatalities in a massive fire at a boat dock. (DeWayne Patterson/Jackson County Sentinel via AP)
Read more:
https://apnews.com/ac62e1ab530b578093a4a96ebc709af2
9 replies, 1609 views
Replies to this discussion thread
| | | | |
| --- | --- | --- | --- |
| 9 replies | Author | Time | Post |
| Alabama fire chief confirms deaths as fire destroys 35 boats (Original post) | Omaha Steve | Jan 27 | OP |
| | Dennis Donovan | Jan 27 | #1 |
| | getagrip_already | Jan 27 | #2 |
| | cstanleytech | Jan 27 | #3 |
| | Dennis Donovan | Jan 27 | #7 |
| | usaf-vet | Jan 27 | #5 |
| | matt819 | Jan 27 | #4 |
| | SCVDem | Jan 27 | #6 |
| | KY_EnviroGuy | Jan 27 | #8 |
| | GulfCoast66 | Jan 27 | #9 |
---
Response to Omaha Steve (Original post)
Mon Jan 27, 2020, 11:06 AM
Dennis Donovan (15,313 posts)
1. Absolutely terrifying
One of my biggest fears is being trapped in my boat during a fire. Fortunately, my aft cabin has a hatch that opens into the cockpit, so I could get out if needed (unless the cockpit's also on fire, then I'm toast, literally). But, with all the plastic, fiberglass, chems, etc, I think smoke inhalation would kill you in under 30 seconds.
for the victims.
On edit, the victims were likely snowbirds that retired to a boat - I know several as they come from the south every spring, up the ICW and into the lake where I keep my boat (Cayuga Lake), and head back every fall.
---
Response to Omaha Steve (Original post)
Mon Jan 27, 2020, 11:06 AM
getagrip_already (4,164 posts)
2. that sounds suspicious....
It very much sounds like arson. Boat fires can start quickly, and burn ferociously, but they don't spread so quickly people can't get away at a dock. Usually it's fuel explosions that get people.

That sounds like someone splashed some fuel around and lit it up.

I've been around boats my whole life. I own one right now. This just doesn't seem right.
---
Response to getagrip_already (Reply #2)
Mon Jan 27, 2020, 11:11 AM
cstanleytech (19,794 posts)
3. The dock was on fire though as for spreading it could be
a case of someone foolishly storing fuel on or near the dock.
---
Response to cstanleytech (Reply #3)
Mon Jan 27, 2020, 11:39 AM
Dennis Donovan (15,313 posts)
7. It looks to be a floating dock structure w/ gas pumps on the end
...circled in red:
On edit: it looks like the southern-most dock went up in flames as well, given the pic in the OP (and the placement of what looks to be a houseboat in the foreground?).
---
Response to getagrip_already (Reply #2)
Mon Jan 27, 2020, 11:33 AM
usaf-vet (2,033 posts)
5. Accelerant? Has to be right?
---
Response to Omaha Steve (Original post)
Mon Jan 27, 2020, 11:22 AM
matt819 (8,115 posts)
4. Well that's awful
I follow a variety of boating sites on Instagram and every so often you see video of a boat in flames. Big boats, small boats, etc. It's awful. Then there was that incident in California where almost every one on the boat was killed. As another poster observed, it could be arson. Sure, it could be. Or it could be just a horrific accident where one fire on one boat got out of control quickly, and with a wooden dock and maybe wooden boats, or certainly flammable boats, it spread quickly. Either way, it's awful. I don't know anything about the boats at this marina, but it seems that some of these boats were people's homes, and maybe they were their way of making a living.
---
Response to matt819 (Reply #4)
Mon Jan 27, 2020, 11:35 AM
SCVDem (5,103 posts)
6. The Conception dive boat disaster
Is focusing on charging Lithium batteries catching fire.

All boaters need a fire box to charge these safely.
---
Response to Omaha Steve (Original post)
Mon Jan 27, 2020, 02:17 PM
KY_EnviroGuy (7,692 posts)
8. More on this incident at AL.COM with photos......
Alabama boat dock fire: 8 dead, 7 rescued at Scottsboro marina
Updated 12:26 PM; Today 6:39 AM
Link:
https://www.al.com/news/2020/01/7-injured-7-missing-in-north-alabama-boat-dock-fire.html
(snips)
Eight people are confirmed dead after an overnight fire destroyed dozens of boats docked at Jackson County Park in Scottsboro, the authorities said.

Seven people were rescued from the water and taken to a hospital for treatment. Scottsboro Fire Chief Gene Necklaus said they weren't seriously injured. Most were suffering symptoms of hypothermia because of the cold water conditions.
+++
"We woke up hearing screams and popping noises," Mandy Durham, who was with her boyfriend in a nearby boat, told The Associated Press. "When we woke up, we could see red through the window."

"Within 15 to 20 minutes, the whole dock was in flames," she added. "All these boats have propane tanks and gas tanks, and that's a lot of fire."
+++
Authorities said they believe 35 boats were destroyed. Multiple boats sunk, and crews are still working to pull them from the water. It could take several days to complete the cleanup, Necklaus said. As crews remove debris from the water, they will check for additional victims, the chief said.

The cause of the fire is unknown. Necklaus said his department and local police will work with the State Fire Marshal's Office to investigate the cause.
It appears this was a disaster waiting to happen. People living on the boats with propane tanks for heat and cooking, plus gasoline for the boat engines. It's likely there are no frequent inspections by a fire martial out in the country.
RIP to the deceased and speedy recovery to those injured.........
---
Response to Omaha Steve (Original post)
Mon Jan 27, 2020, 10:19 PM
GulfCoast66 (7,933 posts)
9. How sad for their families. I have a 22 foot bay boat. No cabin.
I've told the wife if she looks back and sees fire in the battery compartment she she holler a warning, grab her life vest, jump overboard and swim like hell. I will be right behind her! The rubber fuel line runs next to the battery compartment. Which leads to an 80 gallon gas tank!

I am thinking of moving the batteries to the center console, well away from the fuel line.

Many boats are a potential bombs. They burn fast.

This is super sad. Boating and the boating culture can be so rewarding. This is heartbreaking.