Thu Jan 23, 2020, 09:01 PM
Omaha Steve (71,707 posts)
Vatican women's magazine blames drop in nuns on abuses
Source:
AP
By NICOLE WINFIELD
VATICAN CITY (AP) — The Vatican women's magazine is blaming the drastic drop in the number of nuns worldwide in part on their wretched working conditions and the sexual abuse and abuses of power they suffer at the hands of priests and their own superiors.
"Women Church World" dedicated its February issue to the burnout, trauma and exploitation experienced by religious sisters and how the church is realizing it must change its ways if it wants to attract new vocations.
The magazine published Thursday revealed that Pope Francis had authorized the creation of a special home in Rome for nuns who were kicked out of their orders and all but left on the street, some forced into prostitution to survive.
"There are some really tough cases, in which the superiors withheld the identity documents of the sisters who wanted to leave the convent, or who were kicked out," the head of the Vatican's religious orders congregation, Cardinal Joao Braz di Aviz, told the magazine.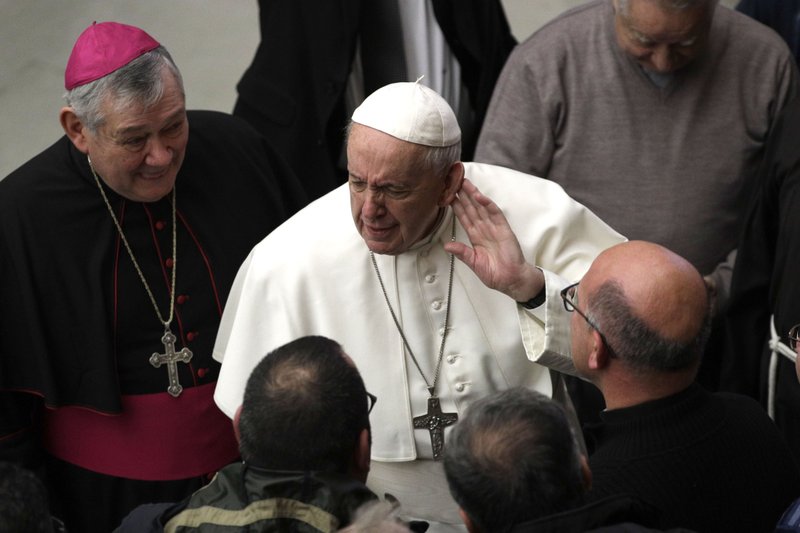 Pope Francis touches his ear as he meets faithful in the Paul VI Hall at the Vatican during his weekly general audience, Wednesday Jan. 22, 2020. (AP Photo/Gregorio Borgia)
Read more:
https://apnews.com/965ab278f03e30fafd7bd22acf9e044d
4 replies, 875 views
Replies to this discussion thread
| | | | |
| --- | --- | --- | --- |
| 4 replies | Author | Time | Post |
| Vatican women's magazine blames drop in nuns on abuses (Original post) | Omaha Steve | Jan 23 | OP |
| | 58Sunliner | Jan 23 | #1 |
| | Skittles | Jan 23 | #2 |
| | dflprincess | Jan 23 | #3 |
| | IronLionZion | Jan 24 | #4 |
---
Response to Omaha Steve (Original post)
Thu Jan 23, 2020, 09:16 PM
58Sunliner (1,567 posts)
1. I'm surprised the Vatican published it.
---
Response to Omaha Steve (Original post)
Thu Jan 23, 2020, 09:25 PM
Skittles (126,219 posts)
2. or maybe younger women are catching on to the scam
not as easy to hide this garbage now as it used to be
---
Response to Skittles (Reply #2)
Thu Jan 23, 2020, 10:30 PM
dflprincess (24,616 posts)
3. I'm sure that's closer to the reason
Once upon a time the only "respectable" way for a Catholic girl to avoid marriage was to enter the convent. Or, if she wanted an education, some of orders were very big on educating their members & that were practically the only way a young woman could get an advanced education, though usually as a teacher or a nurse.

Thankfully, we all have more options now.

---
Response to Omaha Steve (Original post)
Fri Jan 24, 2020, 11:06 AM
IronLionZion (27,815 posts)
4. Fewer families are pressuring their daughters to become nuns
this used to be a big problem back in the day in some areas. Families felt it was an obligation to force upon their least favorite girl relative. "But I don't hear the calling, I want an education, career, and some choices in life". "Too bad, you're going to go serve Jesus for the rest of your life."
The protestants might be on to something. They allow female and married pastors.