Mon Jan 20, 2020, 04:54 PM
Omaha Steve (71,879 posts)
Trump's lawyers urge dismissal of 'flimsy' impeachment case
Source:
AP
By ZEKE MILLER, ERIC TUCKER and LISA MASCARO
WASHINGTON (AP) — President Donald Trump's legal team asserted Monday he did "absolutely nothing wrong," urging the Senate to swiftly reject the "flimsy" impeachment case against him as rigged, while the Capitol braced for a contentious trial.
The brief from Trump's lawyers, filed as senators prepare to return to Washington for opening arguments, offers the most detailed look at the lines of defense they intend to use against Democratic efforts to convict the president and oust him from office over his dealings with Ukraine. It is meant as a counter to a filing two days ago from House Democrats that summarized weeks of testimony from more than a dozen witnesses in laying out the impeachment case.
"All of this is a dangerous perversion of the Constitution that the Senate should swiftly and roundly condemn," the lawyers wrote. "The articles should be rejected and the president should immediately be acquitted."
The 110-page brief from the White House, plus a scheduled House Democratic response, come as final preparations were underway at the Capitol for the Senate trial. With the trial taking place in an election year, some of the very senators running to replace Trump as president are sitting as jurors.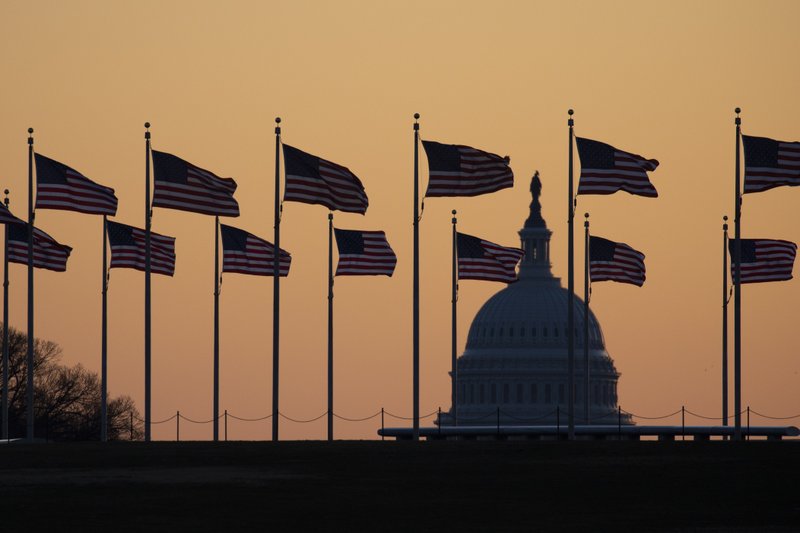 American flags blow in wind around the Washington Monument with the U.S. Capitol in the background at sunrise on Monday, Jan. 20, 2020, in Washington. The impeachment trial of President Donald Trump will resume in the U.S. Senate on Jan. 21. (AP Photo/Jon Elswick)
Read more:
https://apnews.com/2c79655e468cc949917f57c085d6bba7
6 replies, 814 views
Replies to this discussion thread
| | | | |
| --- | --- | --- | --- |
| 6 replies | Author | Time | Post |
| Trump's lawyers urge dismissal of 'flimsy' impeachment case (Original post) | Omaha Steve | Jan 20 | OP |
| | maxsolomon | Jan 20 | #1 |
| | Evolve Dammit | Jan 20 | #2 |
| | cstanleytech | Jan 20 | #4 |
| | Evolve Dammit | Jan 21 | #6 |
| | rickyhall | Jan 20 | #3 |
| | abqtommy | Jan 20 | #5 |
---
Response to Omaha Steve (Original post)
Mon Jan 20, 2020, 05:05 PM
maxsolomon (21,252 posts)
1. The Middle Finger Defense
"Oh yeah, what are you gonna do about it?"
---
Response to maxsolomon (Reply #1)
Mon Jan 20, 2020, 05:14 PM
Evolve Dammit (1,661 posts)
2. Yep. And very few of these Seantors heard any of the twelve witnesse's testimony in the House.
I suspect most consider it beneath them to have even been kept informed. Which means, the Dems have a huge uphill battle, with Moscow Mitch calling the shots with unknown and make it up as you go, (if I don't like how it's going) cause I've got the power to change them at anytime (the "Rules&quot
.
---
Response to Evolve Dammit (Reply #2)
Mon Jan 20, 2020, 05:57 PM
cstanleytech (19,794 posts)
4. Don't you mean Republican "Sinators"? As it seems they are commiting a number of sins.
---
Response to cstanleytech (Reply #4)
Tue Jan 21, 2020, 06:55 PM
Evolve Dammit (1,661 posts)
6. More apt. I need to start using spell-check!
---
Response to Omaha Steve (Original post)
Mon Jan 20, 2020, 05:57 PM
rickyhall (1,672 posts)
3. Fuck the goddamned Trumpublicans, lock 'em all up.
---
Response to Omaha Steve (Original post)
Mon Jan 20, 2020, 06:32 PM
abqtommy (3,071 posts)
5. "Flimsy" is not a word that describes Impeachment charges against tRUMP.
"Flimsy" does describe the nightie that Lindsey Graham wore at the last Senate Sleepover...