Sun Jan 19, 2020, 01:42 PM
Omaha Steve (71,851 posts)
Violence escalates in Beirut as anti-government anger rises
Source:
AP
By SARAH EL DEEB and ANDREA ROSA
BEIRUT (AP) — Lebanese security forces used tear gas, water cannons and rubber bullets in clashes with hundreds of anti-government protesters outside the country's Parliament on Sunday, as violence continued to escalate in a week of rioting in the capital.
Demonstrators used rocks and other projectiles, including shooting a stream of fire from ignited aerosol cans. Security forces responded by firing several rounds of tear gas canisters and water cannons, before turning to rubber bullets in an attempt to disperse the crowds. A few protesters tried to climb over the metal barriers separating them from the riot police. H undreds more, some chanting "revolution," gathered farther down the blocked street that leads to the Parliament.
The Red Cross said at least 70 people were injured in the first 90 minutes of the clashes, including 30 transported to hospitals for treatment. Reporters on the scene said most of the injured were from rubber bullets, some in the face and the upper body.
Security forces reinforced the metal barriers surrounding the Parliament building in central Beirut earlier on Sunday, after the worst night of violence since the unrest erupted several months ago.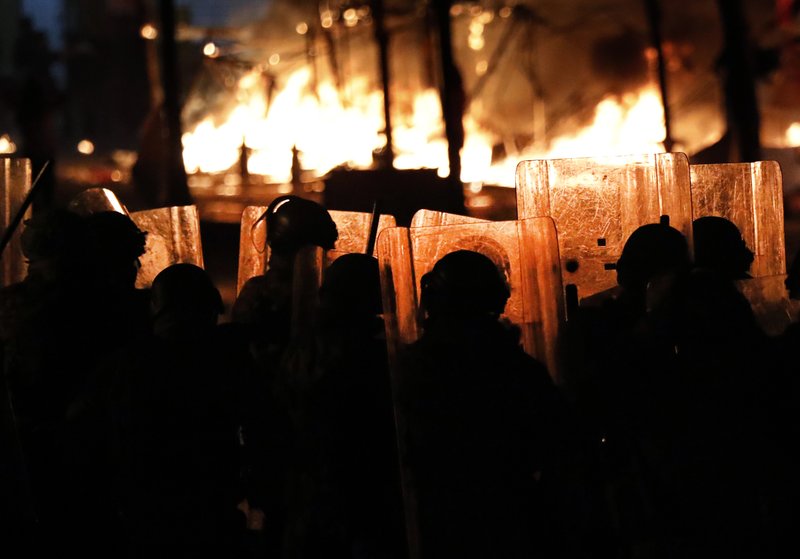 Riot policemen watch flames rise from the tents of anti-government protesters, which where set on fire by civilian men believed to be the private unit of the parliament guards, during ongoing protests against the political elites who have ruled the country for decades, in Beirut, Lebanon, Saturday, Jan. 18, 2020. Riot police fired tear gas and sprayed water cannon near parliament in Lebanon's capital Saturday to disperse thousands of protesters after riots broke out during a march against the ruling elite amid a severe economic crisis. (AP Photo/Hussein Malla)
Read more:
https://apnews.com/c4fe889e9588c83604a8f8defba6c7c0
0 replies, 483 views