Fri Jan 17, 2020, 09:15 PM
Dennis Donovan (15,191 posts)
Nunes aide communicated with Parnas about Ukraine campaign, messages show
Source:
WaPo
By Paul Sonne, Rosalind S. Helderman and Greg Miller
Jan. 17, 2020 at 9:02 p.m. EST
House Democrats released new documents Friday evening showing extensive contact between an associate of President Trump's personal attorney and an aide to the top Republican on the House Intelligence Committee regarding the effort to obtain material from Ukrainian prosecutors that would be damaging to former vice president Joe Biden.
The text messages between Lev Parnas, who functioned as Rudolph W. Giuliani's emissary to Ukrainian officials, and Derek Harvey, an aide to Rep. Devin Nunes, the ranking Republican on the House Intelligence Committee, indicate Nunes's office was aware of the operation at the heart of impeachment proceedings against the president — and sought to use the information Parnas was gathering.
The newly released texts show that Parnas was working last spring to set up calls for Harvey with the Ukrainian prosecutors who were feeding Giuliani information about Biden.
"Also do you want to interview the general prosecutor who got [ditched] by Biden ? Also the anti corruption prosecutor ? Let me know," Parnas wrote on April 19.
"Does tomorrow work?" Harvey responded.
Read more:
https://www.washingtonpost.com/national-security/nunes-aide-communicated-with-parnas-about-ukraine-campaign-messages-show/2020/01/17/398ea1f6-3984-11ea-a01d-b7cc8ec1a85d_story.html
---
Milk Dud's going to have a bad weekend!
5 replies, 1377 views
Replies to this discussion thread
| | | | |
| --- | --- | --- | --- |
| 5 replies | Author | Time | Post |
| Nunes aide communicated with Parnas about Ukraine campaign, messages show (Original post) | Dennis Donovan | Jan 17 | OP |
| | Leghorn21 | Jan 17 | #1 |
| | mercuryblues | Jan 17 | #2 |
| | MartyTheGreek | Jan 17 | #3 |
| | ffr | Jan 18 | #4 |
| | GeorgiaPeanut | Jan 18 | #5 |
---
Response to Dennis Donovan (Original post)
Fri Jan 17, 2020, 09:29 PM
Leghorn21 (9,975 posts)
1. Holy cow, I figured an "aide" would be a 25-year-old preppy type--- WRONG
Derek J. Harvey is a retired US Army Colonel who currently serves on the staff of Congressman Devin Nunes, ranking member of the House Permanent Select Committee on Intelligence.[1][2][3] Harvey is a former National Security Council (NSC) staffer in President Donald Trump's administration and was the first Director of the Afghanistan-Pakistan Center of Excellence at U.S. Central Command (CENTCOM), having been selected by General David Petraeus in 2009 to lead the new organization.[4] Harvey was the previous senior analytical specialist for Iraq to Petraeus, then Commander, Multi-National Forces-Iraq.[5]
https://en.m.wikipedia.org/wiki/Derek_Harvey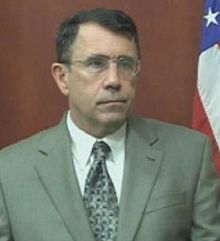 THIS IS AN ADULT MALE, not a punk kid
Anyway, sup, Derek
WOW
---
Response to Dennis Donovan (Original post)
Fri Jan 17, 2020, 09:47 PM
mercuryblues (8,086 posts)
2. What kind of bull shit
will Nunes spew to coverup his involvement. He's sure to make a laughing stock out of himself.
---
Response to Dennis Donovan (Original post)
Fri Jan 17, 2020, 10:49 PM
MartyTheGreek (281 posts)
3. And he shouldn't be wearing the green!
---
Response to Dennis Donovan (Original post)
Sat Jan 18, 2020, 03:04 AM
ffr (16,189 posts)
4. How is this ethically bankrupt consipirator against the United States still holding office?
Shouldn't there be an ethics investigation and conviction?
---
Response to Dennis Donovan (Original post)
Sat Jan 18, 2020, 04:35 AM
GeorgiaPeanut (19 posts)
5. He will sing and put Devin Nunes in the pokey
He will have no choice now