Fri Jan 17, 2020, 06:58 PM
Omaha Steve (71,821 posts)
US to screen airline passengers from China for new illness
Source:
AP
By MIKE STOBBE
NEW YORK (AP) — Three U.S. airports will screen passengers arriving from central China for a new virus that has sickened dozens, killed two and prompted worries about an international outbreak, health officials said Friday.
Centers for Disease Control and Prevention officials say they will begin taking temperatures and asking about symptoms of passengers at three U.S. airports who traveled from the outbreak city of Wuhan.
Officials estimate roughly 5,000 passengers will go through the process in the next couple of weeks at New York City's Kennedy airport and the Los Angeles and San Francisco airports. The first direct flight was expected Friday night at Kennedy, and the next expected Saturday morning in San Francisco.
Doctors began seeing a new type of viral pneumonia — fever, cough, difficulty breathing — in people who worked at or visited a food market in the suburbs of Wuhan late last month. More than 40 cases of the newly identified coronavirus have been confirmed in Asia, including two deaths — at least one involving a previous medical condition. Officials have said it probably spread from animals to people but haven't been able to rule out the possibility that it spreads from person to person.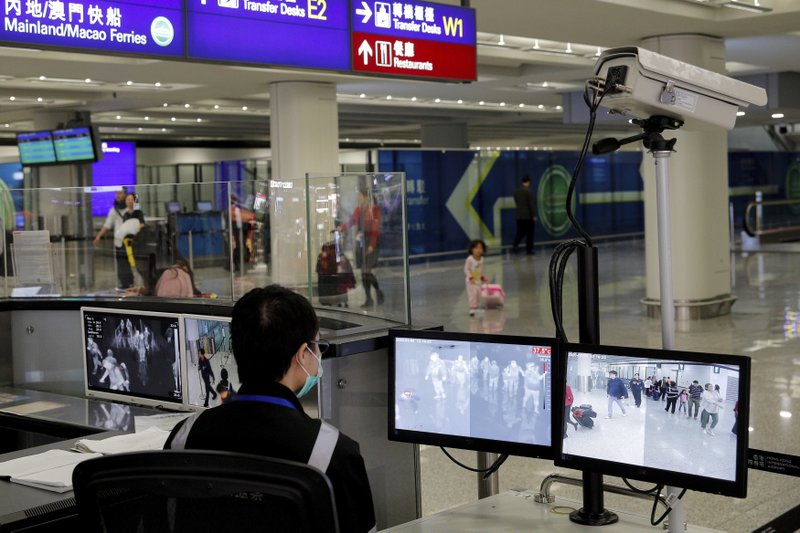 FILE - In this Jan. 4, 2020, file photo, a health surveillance officer monitors passengers arriving at the Hong Kong International airport in Hong Kong. On Friday, Jan. 17, 2020, the U.S. Centers for Disease Control and Prevention officials said they will begin screening airline passengers at three U.S. airports who traveled from Wuhan in central China, for a new illness that has prompted worries about a new international outbreak. (AP Photo/Andy Wong, File)
Read more:
https://apnews.com/5e42ddf6414d214a8d86a8ba153d82a1
4 replies, 550 views
Replies to this discussion thread
| | | | |
| --- | --- | --- | --- |
| 4 replies | Author | Time | Post |
| US to screen airline passengers from China for new illness (Original post) | Omaha Steve | Jan 17 | OP |
| | dhol82 | Jan 17 | #1 |
| | left-of-center2012 | Jan 17 | #2 |
| | bucolic_frolic | Jan 17 | #3 |
| | Warpy | Jan 18 | #4 |
---
Response to Omaha Steve (Original post)
Fri Jan 17, 2020, 07:01 PM
dhol82 (6,789 posts)
1. Good. I remember once docking at Kusadasi, Turkey and having to pass by a thermal screener
This was during the bird flu epidemic.
---
---
Response to Omaha Steve (Original post)
Fri Jan 17, 2020, 08:22 PM
bucolic_frolic (15,451 posts)
3. A Trumper told me disease is why they had to detain at the US-Mexico border
I said that's ridiculous. She said they always did it that way, from the time of Ellis Island. I said, yeah, because back then they had communicable diseases - typhus, diptheria. Now they hardly exist so there's no reason to detain immigrants.

I won the argument, but the victory went unacknowledged. Now this new disease, this is a reason to screen.
---
Response to Omaha Steve (Original post)
Sat Jan 18, 2020, 02:22 AM
Warpy (96,769 posts)
4. AFAIK, there is no rapid assay for coronavirus yet
so I suppose they'll quarantine anyone with the sniffles, not realizing that if anyone was on the plane and infectious, it's the non sniffling passengers that can spread an illness. As usual, the medically ignorant overreact and miss the real problem.

The more encouraging news is out of Japan, where the Chinese man who was ill with the virus has been released from the hospital and there is no sign of the illness among anyone who had contact with him, including his family.

For a relative of SARS to spread effectively, it will have to become more infectious and that generally means less lethal. In the meantime, the worst pandemic flus (with the possible exception of the 1918 flu) have all originated in southeast Asia, where crowding and proximity to both fowl and pigs make for a prime breeding ground for a fast mutator like influenza virus.