Mon Jan 13, 2020, 07:03 AM
Omaha Steve (71,302 posts)
Extensive collection of JFK memorabilia hits auction block
Source:
AP
By MARK PRATT
BOSTON (AP) — One of the most comprehensive private collections of John F. Kennedy memorabilia, one that chronicles his life from childhood to the White House, is for sale.
Hundreds of items associated with the former Democratic president are being offered as a single lot by Boston's RR Auction for a minimum of $1.5 million, although RR Executive Vice President Robert Livingston said it could get much more.
"This collection as a whole tells his life story," Livingston said, pointing out that Kennedy's diary from the summer of 1945 alone sold at auction for nearly $719,000 in 2017. "It's like a curated museum exhibit in one auction. The whole is greater than the sum of the parts."
The collection includes a handwritten draft of Kennedy's 1960 speech announcing his intention to run for president; hundreds of unpublished photos and negatives of Kennedy and his family; watercolors he painted; personal items including a necktie, back brace and golf balls; and even JFK and Jackie Kennedy Halloween masks.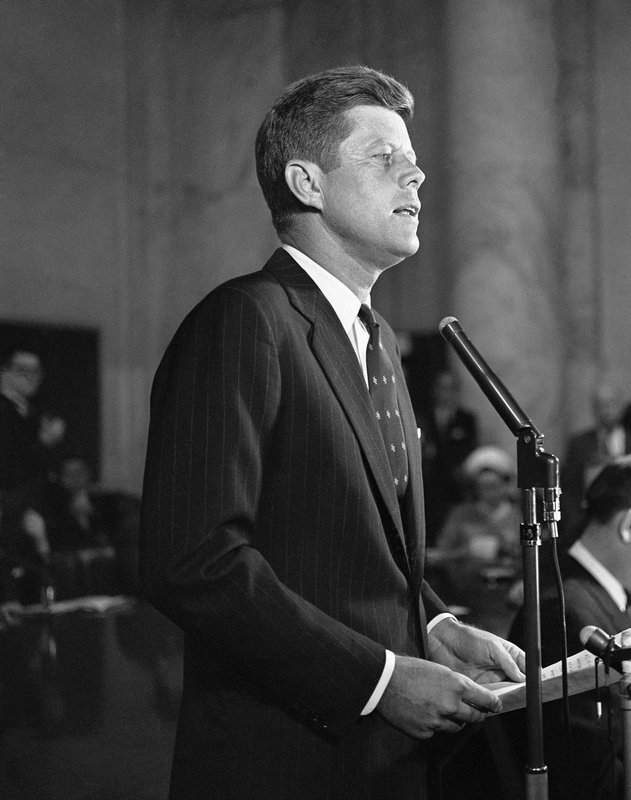 FILE - In this Jan. 2, 1960, file photo, Sen. John F. Kennedy, D-Mass., formally announces at a news conference in Washington that he is a candidate for the Democratic presidential nomination. A handwritten draft Kennedy's announcement speech is among hundreds of items associated with the late president to be auctioned in January 2020, by the Boston-based RR Auction. Online bidding for the collection put together by a California man opens Jan. 17. (AP Photo, File)
Read more:
https://apnews.com/8136a9f6b29fd6fd14f24b4741727d54
6 replies, 834 views
Replies to this discussion thread
| | | | |
| --- | --- | --- | --- |
| 6 replies | Author | Time | Post |
| Extensive collection of JFK memorabilia hits auction block (Original post) | Omaha Steve | Jan 13 | OP |
| | Vinca | Jan 13 | #1 |
| | Nitram | Jan 13 | #4 |
| | Hekate | Jan 13 | #5 |
| | no_hypocrisy | Jan 13 | #2 |
| | lastlib | Jan 13 | #3 |
| | Hekate | Jan 13 | #6 |
---
Response to Omaha Steve (Original post)
Mon Jan 13, 2020, 07:10 AM
Vinca (43,738 posts)
1. Too bad it's a single lot up for bid. Many of us would love to have a piece of JFK memorabilia,
but we haven't got millions of dollars to spend on it.
---
Response to Vinca (Reply #1)
Mon Jan 13, 2020, 03:24 PM
Nitram (14,051 posts)
4. That was my reaction. Even something very small and insignificant. That's my price range.
---
Response to Vinca (Reply #1)
Mon Jan 13, 2020, 04:33 PM
Hekate (58,787 posts)
5. Exactly so
---
Response to Omaha Steve (Original post)
Mon Jan 13, 2020, 07:17 AM
no_hypocrisy (34,631 posts)
2. The only two previews of auctions I've gone to have been Ruth Gordon and Katharine Hepburn.
I figured it was my only opportunity to see the non-public side of these two theatrical icons.

I wish I could have had a look at the JFK collection too.
---
Response to Omaha Steve (Original post)
Mon Jan 13, 2020, 08:13 AM
lastlib (13,720 posts)
3. Exhibit A in the "Some people don't pay enough taxes" file.........
---
Response to lastlib (Reply #3)
Mon Jan 13, 2020, 04:51 PM
Hekate (58,787 posts)
6. It's a private collection gathered a piece at a time over decades. Not sure how this ranks...
...in the unworthy rich category, but I am surprised the entire collection would go for what seems a paltry amount.

As noted above, a lot of us would lke a "small piece of JFK" memorabilia at a price affordable to an average person (how about less than season tickets to football or baseball series) plus the seller (an heir perhaps) could make more if it sold piece by piece.