Tue Dec 3, 2019, 12:58 PM
appalachiablue (22,246 posts)
UN: 2010s The Hottest Decade On Record
Last edited Tue Dec 3, 2019, 05:23 PM - Edit history (1)
Source:
DW
Each of the previous four decades have been hotter than the last, and the past decade is set to continue that trend, according to a new UN report. 2019 could be the second-warmest year on record.
The World Meteorological Organization (WMO) on Tuesday warned that preliminary data suggests the period from 2010 to 2019 is "almost certain" to be the hottest decade on record. The report comes as delegates around the world meet at the COP25 climate summit in Madrid, Spain.
Report's findings: Average temperatures over the past five years (2015-2019) and 10 years (2010-2019) are "almost certain to be the warmest five-year period and decade on record."
Oceans are now at their highest recorded temperatures.
2019 is set to be the second- or third-warmest year since 1850.
Sea water is 26% more acidic than at the start of the industrial era.
Arctic sea ice approached record lows in September and October of this year.
Antarctica saw record-low ice several times this year.
'Climate-related risks hit hard.' WMO Secretary-General Petteri Taalas said that the higher temperatures could make heat waves, floods and tropical cyclones "more regular occurrences." -More...
Read more:
https://www.dw.com/en/un-2010s-the-hottest-decade-on-record/a-51508966
---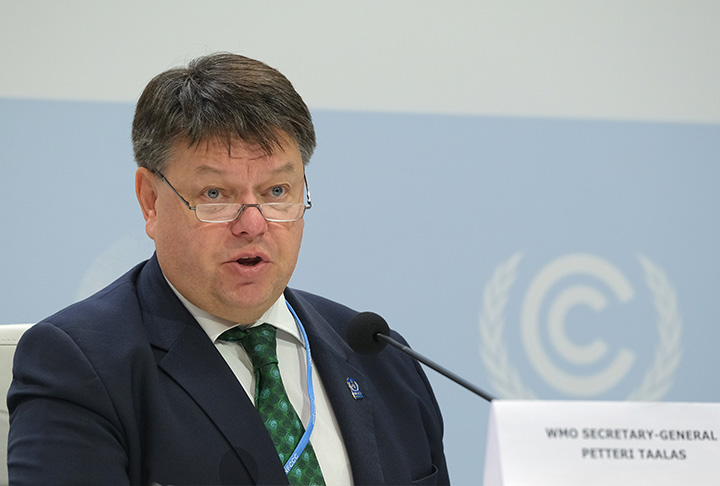 Petteri Taalas, WMO Secretary-General.
5 replies, 429 views
Replies to this discussion thread
| | | | |
| --- | --- | --- | --- |
| 5 replies | Author | Time | Post |
| UN: 2010s The Hottest Decade On Record (Original post) | appalachiablue | Tuesday | OP |
| | Uncle Joe | Tuesday | #1 |
| | Moostache | Tuesday | #2 |
| | Ingersollman | Tuesday | #4 |
| | quid amateur quo | Tuesday | #3 |
| | Stuart G | Tuesday | #5 |
---
Response to appalachiablue (Original post)
Tue Dec 3, 2019, 01:07 PM
Uncle Joe (48,255 posts)
1. Kicked and recommended.
Thanks for the thread appalachiablue.
---
Response to appalachiablue (Original post)
Tue Dec 3, 2019, 01:23 PM
Moostache (6,569 posts)
2. I am tired of this schtick...
The globe is fucking burning all around us.
The world is not "warming" it is on fucking fire.
It is boiling over and no one is thinking, "geez...maybe we should get the pot off the heating mantle..."
Instead of dousing the flames, we are tossing gasoline, methanol, jet fuel and dynamite on the blaze and acting astonished at the results, or in most cases just flat out ignoring them. Carbon emissions are UP again this year over last and projected to keep on rising in perpetuity.

By 2030 or before - approximately 10 years, 120 months, 3,650 days (how long is that in reality? Trump has been president for nearly 1/3rd of that amount of time today) - without MASSIVE, IMMEDIATE AND PERMANENT structural changes to the existing economy and economic paradigm, we will be past the point of no return. That is not a metaphor or a catchy hook for a rock song. THAT is our goddamn reality. We are running at a brick wall as fast as possible and instead of even slowing down, we are drinking energy drinks designed to speed us up into the oncoming impact.

I am sick of pretending that we have not been lied to for DECADES, that science was NOT ACTUALLY FAR MORE DIRE in its warming projections since the 1980's (or even back to the 60's in some cases). The general problem with burning fossil fuels on a global industrial scale was known to be a bad idea as far back as WWII...it was just easier. The same way our current politicians of all stripes are LYING about the inevitable collapse of this economy under its own weight very soon anyway.

Debt levels are unsustainable. Solutions that might have helped in the past have been de-fanged by economic malfeasance and tax cuts to the wealthy before they could even be used. Fiat currency is a hare's breath away from becoming as useful as post WWI era Deuchtemarks. Total economic collapse is entirely possible in the very near term; and a whole lot of people know about it the same way they have known for decades that our climate problems were going to be far worse, far faster than anyone was allowed to let on.

This whole thing is going to come down and come down hard. The problem is only made worse by the Trump-dominated fantasy world that 40-45% of the country is only too happy to embrace and pretend is 'real'.

The questions we should start asking very seriously are local...do we live in areas that will explode into violence and death as resources disappear? or do we live in areas where a living might be eked out off of the land and rivers and wildlife remaining nearby? The nihilistic question may also be "Do I wish to live in such a world at all?" For many, the answers are as terrifying as the truth - our human society is on a doomed glide path, if nothing drastic changes now, the end is nearly assured to be deaths measured in BILLIONS and near total loss of society for a very long time, if not forever.

Anyone who is seriously advocating for "economic growth" and not explaining how that is going to be achieved in concert with a total conversion of the existing order to a new, green energy and distribution model is worse than a liar, they are complicit in the ecological murder of human beings by the billions. Where are the fucking 'pro-life' hypocrites on this??? If they care so goddamn much about 'life', why are they totally silent on climate and its impact? Don't bother telling me, I already know - they never cared about 'life' in the first place - this just makes it more easily seen to others too.


---
Response to Moostache (Reply #2)
Tue Dec 3, 2019, 04:08 PM
Ingersollman (19 posts)
4. I'm
with you. I have come to the conclusion that the "local" questions that you were speaking of are the only ones I will devote all of my energy to. I will engage with the overall questions, and push for good solutions, and vote. But my main focus now has become the "local" one.
---
Response to appalachiablue (Original post)
Tue Dec 3, 2019, 04:06 PM
quid amateur quo (20 posts)
3. But, but there's a Funny Side!
Comedian Aparna Nancherla explores how global warming and climate change will directly affect our lives

27 Aug 2018


---
Response to appalachiablue (Original post)
Tue Dec 3, 2019, 05:07 PM
Stuart G (24,060 posts)
5. K and R