Wed Nov 20, 2019, 06:04 AM
BumRushDaShow (51,628 posts)
House Judiciary Committee wants McGahn testimony about Trump soon after Ukraine hearings end
Source:
CNN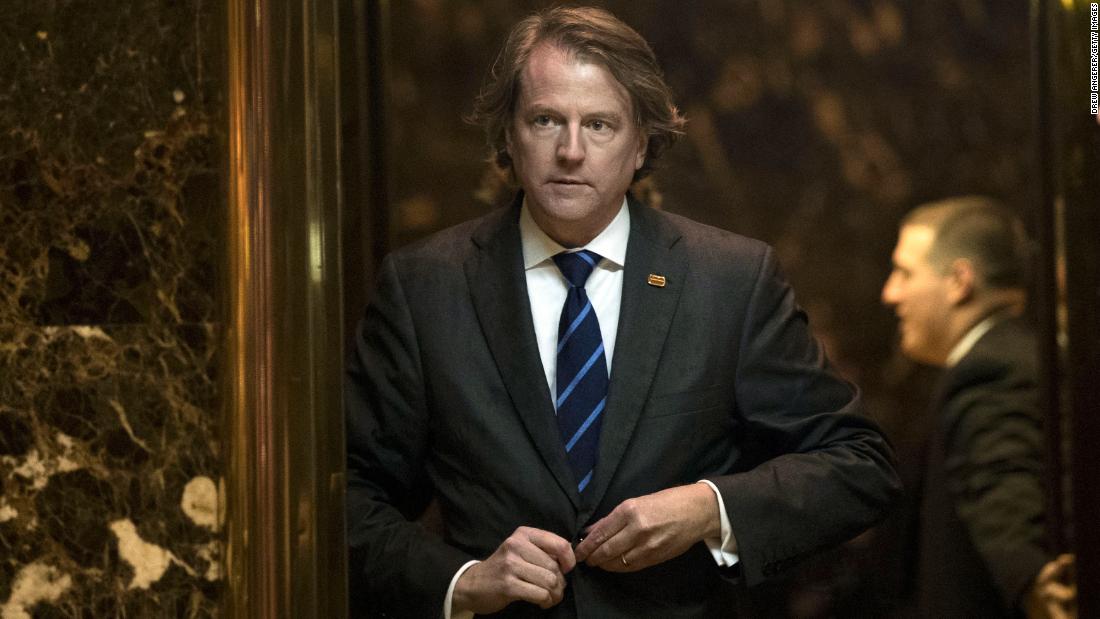 Washington (CNN)The House Judiciary Committee is planning to hold hearings on impeaching President Donald Trump that expand past the Ukraine investigation and wants former White House counsel Don McGahn to be forced to testify,
according to a new court filing
. The judiciary panel on Tuesday asked a federal judge to make a ruling quickly on whether McGahn must testify in the House impeachment inquiry, citing a "finite window of time" when he's needed.
A quick ruling siding with the House could yield major new impeachment witnesses about the Mueller investigation, Ukraine and obstruction of justice from people who worked in the White House and have thus far refused to testify. "The Judiciary Committee anticipates holding hearings after HPSCI's public hearings have concluded and would aim to obtain Mr. McGahn's testimony at that time," the committee wrote, referring to the impeachment inquiry hearings led by the House Intelligence Committee. "Thus, there is an urgent need for final resolution of the matter now pending before this Court."
The House's letter to federal Judge Ketanji Brown Jackson in Washington points out that it is considering impeaching Trump for obstruction of justice, for which McGahn would be a key witness since he spoke to special counsel Robert Mueller for the obstruction investigation, and for lying to Mueller, after testimony at Roger Stone's criminal trial raised questions about Trump's written answers to investigators about Russian interference in the 2016 election. Jackson said she will rule by the end of the day Monday. The House wrote it has an "urgent need for Defendant Donald McGahn's testimony for use in the House's impeachment inquiry and the mounting broader ramifications of a ruling in this case for that quickly progressing inquiry." Jackson already has heard arguments on McGahn's case.
The White House stopped McGahn from testifying last spring, citing "absolute immunity" over its high-level former officials. The question of whether Trump lied to Mueller, the House notes, has become more pressing since his former deputy campaign chairman testified in court last week that Trump expected information after speaking with Stone, who was pursuing details from WikiLeaks in 2016 that could help Trump's campaign. The House general counsel said before a federal appellate court Monday that the House is now investigating Trump for possibly lying. A lying or obstruction investigation by the Judiciary Committee would be separate from the current House Intelligence Committee-led investigation regarding Ukraine.
Read more:
https://www.cnn.com/2019/11/19/politics/house-hearing-don-mcgahn/index.html
---
Here is a copy of the House Judiciary Committee court filing (PDF) -
http://cdn.cnn.com/cnn/2019/images/11/19/04517514067.pdf
2 replies, 727 views
Replies to this discussion thread
| | | | |
| --- | --- | --- | --- |
| 2 replies | Author | Time | Post |
| House Judiciary Committee wants McGahn testimony about Trump soon after Ukraine hearings end (Original post) | BumRushDaShow | Nov 20 | OP |
| | Crazyleftie | Nov 20 | #1 |
| | BumRushDaShow | Nov 20 | #2 |
---
Response to BumRushDaShow (Original post)
Wed Nov 20, 2019, 08:09 AM
Crazyleftie (59 posts)
1. The impeachment inquiry must
expand beyond just the Ukraine issue....

-obstruction of justice
-subverting the constitution
-abuse of power (usurping the authority of congress)
-perjury

plus quite a few more
---
Response to Crazyleftie (Reply #1)
Wed Nov 20, 2019, 08:43 AM
BumRushDaShow (51,628 posts)
2. It already had
There are other Committees (I think 6) who have been having hearings related to the Impeachment Inquiry (e.g., Ways and Means was just in the news on Monday in a case related to obtaining Drumpf's NY state tax returns via the recently enacted NY state law that would authorize release of that to Congress -
https://www.democraticunderground.com/10142397359
).
In total - (the one currently active with "public" hearings) - House Intelligence, then House Foreign Affairs, House Ways and Means, House Financial Services, House Oversight, and the "main/final" one - House Judiciary.
The issue here however, was to compile all of this to find the incidents most likely to result in a solid impeachment charge or charges in as quick a manner as possible due to needing the courts to get some of the witnesses and underlying evidence compelled and compiled... and due to the upcoming election (where getting everything together to make an effective case might have gone beyond the 2020 election).
And as a note - all of the obstruction has been called out by Schiff and the House Intelligence Committee as being potential "additional" charges. The issue of perjury has only recently come to light once the testimony was released to the public and witnesses have testified the past couple weeks.