Fri Nov 15, 2019, 05:07 PM
appalachiablue (22,269 posts)
Greta Thunberg Sparks Surge In Sailboat Hitchhiking
Source:
The Guardian
Since climate campaigner's transatlantic adventures, more people are looking to travel by sail. Hitching a ride on a sailing boat across the Atlantic might sound like a far-fetched endeavour reserved for the famous and well-connected. But Greta Thunberg has now managed it twice in three months – and her antics appear to be inspiring a growing, if nascent, movement in sail-hitching.
Maritime hitchhiking has hitherto been reserved for sailors looking for experience on different routes and vessels. But after Thunberg's transatlantic adventures, numbers have boomed. Daniel Krause, a full-time "cruiser", helps to run the Sailboat Hitchhikers and Crew Connection Facebook group, which has sharply increased to nearly 21,000 members since Thunberg's voyage. "In the past couple of weeks it has skyrocketed," he said.
People use the site to find crew members for their boat, or to find a vessel to hitchhike on. "It's mutually beneficial," says Krause. "You get a mostly free ride and the owner gets someone who can do nightshifts or who can help out with docking, anchoring and boat manoeuvres." In most instances, hitchhikers just pay for transport to and from the boat, any visas they might need, and contribute to boat running costs like food.
However, Krause has found many of the group newbies don't have previous sailing experience. "Many people don't understand about the movement of a boat on the ocean which can overwhelm people with seasickness and make them feel trapped because it's a very small space and you could be out there for days if not weeks - and once you're out, it's almost always too late to turn back," he says....
Read more:
https://www.theguardian.com/world/2019/nov/15/greta-thunberg-sparks-surge-in-sailboat-hitchhiking
---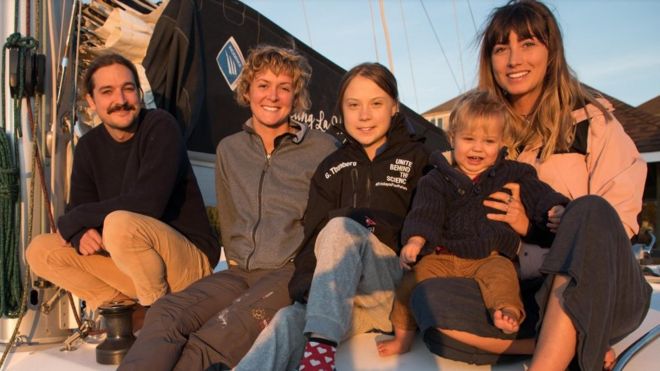 -- Greta 3 nights ago on 'La Vagabonde' with crew, Capt. Riley Whitlum, Nikki Henderson, Elayna Carausu & baby Lennon.
-- Greta in Hampton, Virginia last Wednesday morning boarding La Vagabonde, the 48' catamarand sailboat headed for Europe. Greta's dad Svante and Capt. Riley are in the lower left corner of the photo.
++++ TRACK La Vagabonde in real time, and Learn More about Riley & Elayna:
https://sailing-lavagabonde.com/
- Greta Thunberg Is Sailing To Madrid With A Family Of YouTubers, The Verge, Nov. 14, 2019,
https://www.democraticunderground.com/10142395398#post10
Watch and learn more about the alternative way of living of Capt. Riley, Elayna and Baby Lenny.
------------------
Disclaimer: I did not write this article, and I am not employed by the International Yacht Owner's Assn., the Australian Board of Tourism or any other affiliated enterprise. I'm just a huge fan of these wonderful, adventurous young people!
5 replies, 1017 views
Replies to this discussion thread
| | | | |
| --- | --- | --- | --- |
| 5 replies | Author | Time | Post |
| Greta Thunberg Sparks Surge In Sailboat Hitchhiking (Original post) | appalachiablue | Nov 15 | OP |
| | JudyM | Nov 15 | #1 |
| | appalachiablue | Nov 15 | #2 |
| | appalachiablue | Nov 15 | #3 |
| | flotsam | Nov 15 | #4 |
| | Sgent | Nov 16 | #5 |
---
Response to appalachiablue (Original post)
Fri Nov 15, 2019, 05:50 PM
JudyM (14,325 posts)
1. How fun is that!
Thanks for posting this, appalachiablue — many folks are getting curious about this. Interesting nearly self-sustaining way of life.
---
Response to JudyM (Reply #1)
Fri Nov 15, 2019, 06:08 PM
appalachiablue (22,269 posts)
2. A win win for all, the climate, cleaner transport & more. Greta is
a welcome light in these times, like a Joan of Arc, Amelia Earhart, a little Mother Jones.
---
Response to appalachiablue (Original post)
Fri Nov 15, 2019, 08:04 PM
appalachiablue (22,269 posts)
3. NEW: Greta Thunberg Sails To Europe W AU Sailboat Crew of La Vagabonde
---
Response to appalachiablue (Original post)
Fri Nov 15, 2019, 10:29 PM
flotsam (2,246 posts)
4. Time on the ocean is a bitch-kitty
Meaning it will show you 1000 faces and give you great joy and occasionally try to kill you. Just know that going in.
---
Response to appalachiablue (Original post)
Sat Nov 16, 2019, 02:55 AM
Sgent (4,976 posts)
5. Greta according to some
articles I read already has some sailing experience, personal equipment, etc. Personally, with a family member who spent years down island, this is a good way for someone to die.

Your first sailing trip should not be during winter in the North Atlantic, and real boats pay their crew (which would include anyone doing watch standing at night). If they can't afford crew, what else is deferred or don't they have?

Finally, a set of foul weather gear, life jacket and harness probably costs as much as a round trip plane ticket -- and isn't particularly environmentally friendly for a single use.