Tue Nov 12, 2019, 12:18 PM
appalachiablue (22,255 posts)
Macron Tells World Leaders Nationalism Is 'War' At Paris Summit
Source:
DW/Deutsche Welle
French President Emmanuel Macron is hosting a global peace forum, with the notable absence of members of Donald Trump's administration. The French leader warned of an "unprecedented crisis" on the international stage.
The world needs "new ways of cooperation, new alliances," French President Emmanuel Macron said at the Paris Peace Forum on Tuesday. "We are experiencing an unprecedented crisis in our international system," Macron said. The French leader lamented new inequalities between peoples and countries. These developments, according to Macron, prompted a rise of nationalism "even among those who are the last-resort guardians of this international system."
China present, US absent: Some 30 heads of state or government joined senior officials from other countries, leaders of 10 international organizations, hundreds of activists and entrepreneurs at the Paris summit, which is seeking ways to meet global challenges such as terrorism and climate change.
Chinese Vice President Wang Qishan also attended the event, in addition to Russian Foreign Minister Sergey Lavrov, German Foreign Minister Heiko Maas, the incoming president of the European Commission, Ursula von der Leyen, and heads of several African nations. The US did not send a government official to the event. - More & Videos...
Read more:
https://www.dw.com/en/macron-tells-world-leaders-nationalism-is-war-at-paris-summit/a-51210062
---
UN 'blocked': French President Macron also advocated for multilateralism and a "balanced cooperation" between the nations in his introduction. In an apparent reference to US President Donald Trump's policies, Macron said that the temptation of unilateralism is "very risky."
"We tried that option in the past: it leads to war," Macron said. "Nationalism is war." His statements in Paris match the polemic tone of his recent interview to The Economist, when he lamented the "brain death" of NATO.
----------------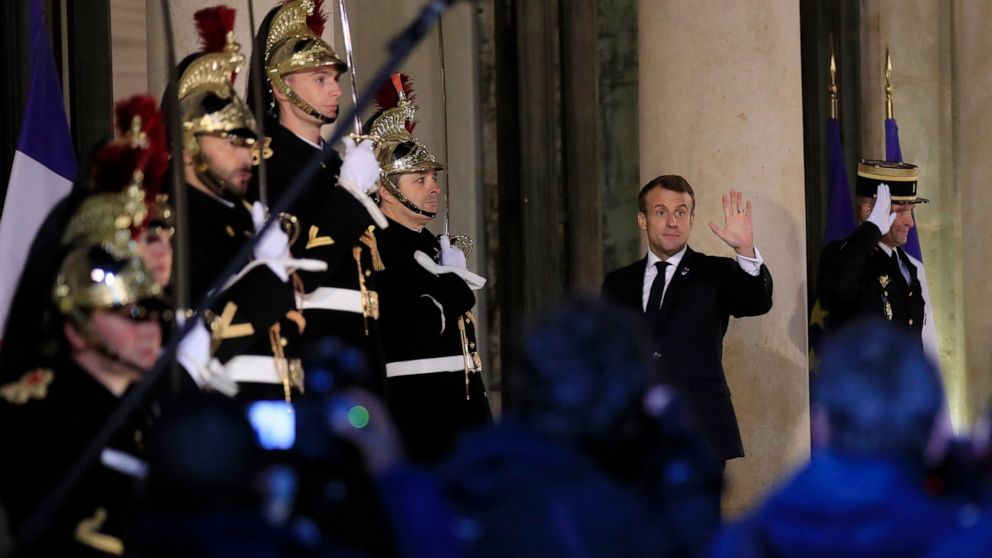 - French President Emmanuel Macron waves to the media as he walks in to the the Elysee Palace in Paris, Mon., Nov. 11, 2019, to host. Head of States & officials gathering in Paris for the Peace Forum which starts tomorrow Nov. 12, 2019.
-> Mon. PM, Nov. 11, 2019, ABC News/AP. Trump, Macron to meet after French president criticized NATO. French President Emmanuel Macron says he will meet with U.S. President Donald Trump ahead of the Dec. 3-4 NATO summit in London. Macron tweeted that he had an "excellent discussion" with Trump on Monday evening about Syria, Iran and the NATO military alliance. They evoked "lots of convergences," he said, without elaborating.
The phone call comes after Macron claimed last week that a lack of U.S. leadership is causing the "brain death" of NATO and said the European Union must step up and start acting as a strategic world power. Trump's preoccupation with defense spending has been a constant theme since he came to office in 2016 and is expected to feature at the Dec. 3-4 summit in London...
https://abcnews.go.com/International/wireStory/trump-macron-meet-french-president-criticized-nato-66931067
2 replies, 1238 views
Replies to this discussion thread
| | | | |
| --- | --- | --- | --- |
| 2 replies | Author | Time | Post |
| Macron Tells World Leaders Nationalism Is 'War' At Paris Summit (Original post) | appalachiablue | Nov 12 | OP |
| | roamer65 | Nov 12 | #1 |
| | appalachiablue | Nov 12 | #2 |
---
Response to appalachiablue (Original post)
Tue Nov 12, 2019, 07:43 PM
roamer65 (17,551 posts)
1. Within 10 years, it will be the Federal Republic of Europe.
---
Response to roamer65 (Reply #1)
Tue Nov 12, 2019, 07:55 PM
appalachiablue (22,255 posts)
2. Go for it Emmanuel; I like his syle