Thu Oct 31, 2019, 06:11 AM
Omaha Steve (71,297 posts)
'We will never forget it': Omaha D-Day vet, 96, receives France's highest military honor
Source:
Omaha World Herald
By Steve Liewer
Snip: Morrissette has outlived nearly everyone he served with in the 16th Infantry Regiment of the 1st Infantry Division — the Army's fabled "Big Red One."
And on Wednesday he was honored by the government of France, the longtime U.S. ally he helped liberate on D-Day. Guillaume Lacroix, French Consul General in Chicago, pinned him with the French Legion of Honor, the nation's highest military or civilian medal.
"Without America, the end of the war would have been completely different. We will never forget it," Lacroix said. "For all your actions, I want to say thank you."
Gov. Pete Ricketts was among about 75 friends, family and well-wishers to attend the ceremony at the Omaha Army Reserve Center in Elkhorn.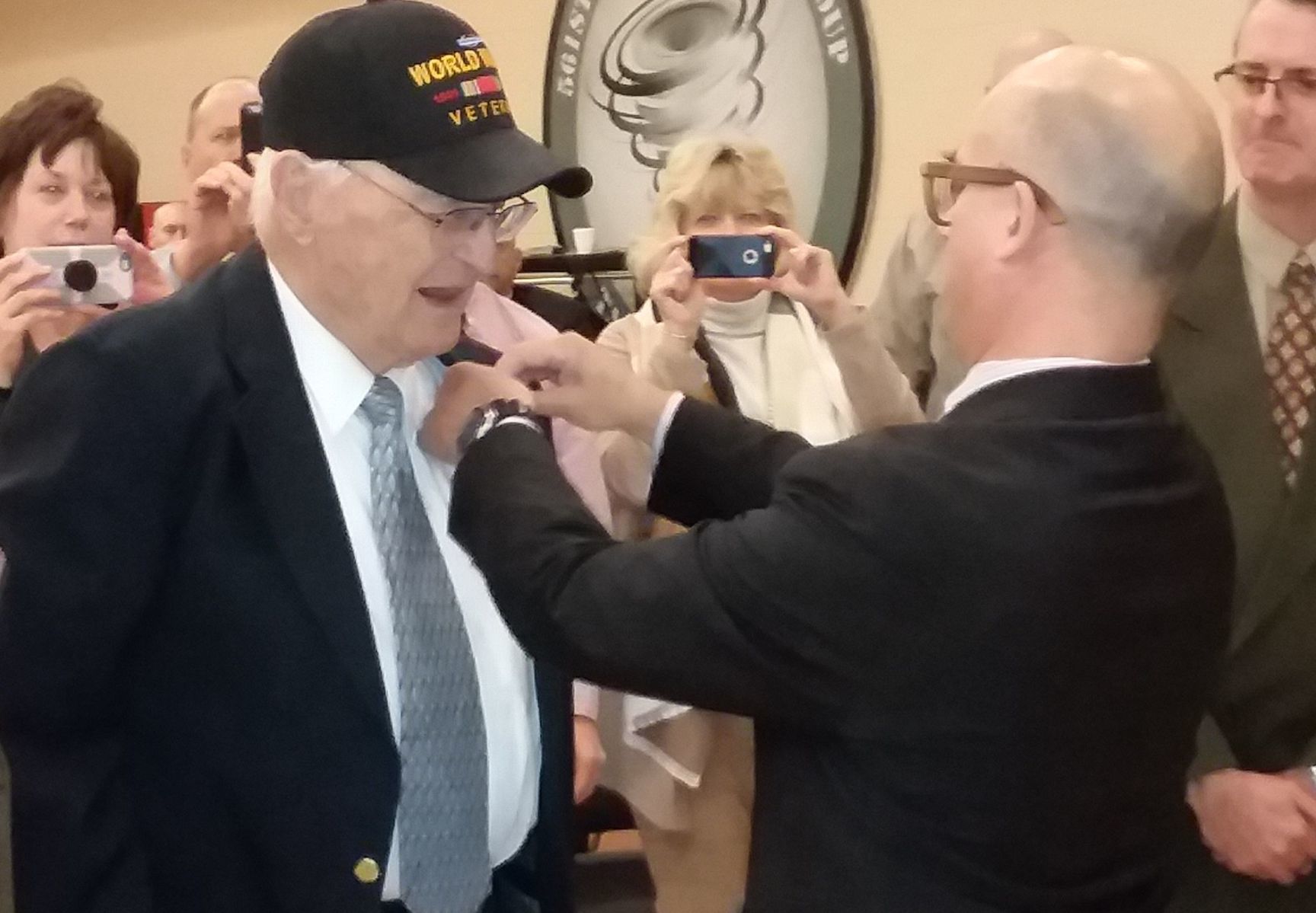 Read more:
https://www.omaha.com/news/military/we-will-never-forget-it-omaha-d-day-vet-receives/article_d799d75b-2f98-550f-a9aa-3f6ad459d042.html
5 replies, 965 views
Replies to this discussion thread
| | | | |
| --- | --- | --- | --- |
| 5 replies | Author | Time | Post |
| 'We will never forget it': Omaha D-Day vet, 96, receives France's highest military honor (Original post) | Omaha Steve | Oct 31 | OP |
| | bucolic_frolic | Oct 31 | #1 |
| | True Blue American | Oct 31 | #2 |
| | catbyte | Oct 31 | #3 |
| | riversedge | Oct 31 | #4 |
| | denvine | Oct 31 | #5 |
---
Response to Omaha Steve (Original post)
Thu Oct 31, 2019, 06:29 AM
bucolic_frolic (14,742 posts)
1. The people liberated the world from fascists
Mr. Morrissette - a BIG salute! How appropriate this vet of obvious French ancestry is awarded by the French Consul General.

Power derives from the people! That is the lesson of the American and French Revolutions, and something which must be factored into decisions made by governments ever since. The great Enlightenment political thinkers, Rousseau, Locke, Hobbes and others, gave us political theory based upon the Social Contract. People must agree to the collective forward movement of society. Trumpers cannot suppress the will of the people forever!
---
Response to Omaha Steve (Original post)
Thu Oct 31, 2019, 06:54 AM
True Blue American (8,792 posts)
2. My late Husband was right there with him on Omaha Beach.
---
Response to Omaha Steve (Original post)
Thu Oct 31, 2019, 07:18 AM
catbyte (16,388 posts)
3. And now that thing currently infesting the White House is trying to turn us into Germany, circa 1933
My uncle, an Air Force pilot, fought the Nazis in North Africa & my dad, a Marine Raider, 1st Marine Division, fought the Japanese in various Pacific hellholes. Now that thing is shredding everything all of those heroes fought and died for. We must prevail.
Thank you, sir.
---
Response to Omaha Steve (Original post)
Thu Oct 31, 2019, 07:44 AM
riversedge (53,327 posts)
4. Great honor for him and his family.
---
Response to Omaha Steve (Original post)
Thu Oct 31, 2019, 12:45 PM
denvine (624 posts)
5. Beautiful! Thank you Mr. Morissette!
It's wonderful seeing that our historical bond with one of allies is still there despite how hard the present occupant of the WH is trying to destroy it.