Tue Oct 8, 2019, 06:48 PM
Judi Lynn (134,748 posts)
Jury rules for Kansas clinic operator in stalking case
Source:
Associated Press
By THE ASSOCIATED PRESS
WICHITA, Kan. — Oct 8, 2019, 6:29 PM ET
A federal jury has sided with the operator of a Wichita abortion facility who contended she had reasonable grounds to seek a protection-from-stalking order against an abortion protester.
The verdict returned Tuesday follows a seven-day trial in the lawsuit filed by anti-abortion activist Mark Holick against clinic operator Julie Burkhart.
The lawsuit stems from anti-abortion protests in 2012 and 2013 in front of Burkhart's home and neighborhood. She got a temporary protection-from-stalking order against Holick that was dismissed two years later. He then sued her.
. . .
Burkhart says in a news release that she opened the clinic after Dr. George Tiller was killed for providing abortions. She says that's why she finds threats against her and her family "particularly chilling."
Read more:
https://abcnews.go.com/US/wireStory/jury-rules-kansas-clinic-operator-stalking-case-66147640
3 replies, 789 views
Replies to this discussion thread
| | | | |
| --- | --- | --- | --- |
| 3 replies | Author | Time | Post |
| Jury rules for Kansas clinic operator in stalking case (Original post) | Judi Lynn | Tuesday | OP |
| | MuseRider | Wednesday | #1 |
| | Judi Lynn | Wednesday | #2 |
| | MuseRider | Wednesday | #3 |
---
Response to Judi Lynn (Original post)
Wed Oct 9, 2019, 12:22 AM
MuseRider (29,124 posts)
1. Good.
I know her, or maybe more accurately I knew her, Wichita is a ways from the Topeka area but she was up here a lot during her lobbying days when Dr. Tiller was still alive. She has worked very hard in Wichita. I lost track of her after Dr. Tiller was killed. I am also sadly familiar with Mark Holick. Again, I do not know him even as well as I knew Julie but I sure had some contact with him up here at the state house.

Wichita is the center for all of this. I am happy this came out in the way it did. It has been really difficult since Dr. Tiller died. The docs come and go as they are threatened.
---
Response to Judi Lynn (Original post)
Wed Oct 9, 2019, 02:35 AM
Judi Lynn (134,748 posts)
2. Wichita "Pro-Life Memorial" Backers Specialize in Terrorizing Women and Physicians
Wichita "Pro-Life Memorial" Backers Specialize in Terrorizing Women and Physicians
Jul 1, 2012, 7:05pm Kari Ann Rinker
The planned memorial is the latest fleeting desperate attempt at notoriety for a couple of washed up anti-choice terrorists in a town with no one left to terrorize. And yet, it could serve as a terrorist training ground for spreading extremism.
Wichita Police arrest Mark Holick in Wichita, Kansas.
Wichita, Kansas is the place that many anti-choice terrorists call home. The location has spawned several far-right fringe terrorist leaders. Randall Terry and Troy Newman both have roots in Wichita and both men are well-known for their radical exploits. Anti-choice terrorists seem to be drawn to the city like moths to a flame. Cheryl Sullenger transplanted herself here after finding the state of California unwelcoming and Jennifer McCoy, convicted of committing arson upon two Virginia abortion clinics, both now make Wichita their home. Many of these local terrorists had ties to Scott Roeder, who assassinated Dr. George Tiller.
The men behind the "pro-life memorial" and "wailing wall" planned for Wichita also have a history and hand in the anti-choice terrorism that has plagued this community. According to one organizer, Mark Holick, the plans for this "memorial" have supposedly been in the works since the Summer of Mercy, which stands as a turning point for abortion politics and abortion terrorism in Kansas.
Mark Holick may not be a well-known name nationally, but Wichita is very familiar with his anti-choice fanaticism, harassment of gays and the Islamic community. Holick's hatred has even extended outside of the boundaries of Kansas. He was arrested in Wyoming for the distribution of graphic anti-choice materials at a Boy Scout fundraiser. Holick was so angered at the Jackson Hole community for their rejection of him and his fellow fanatics that he penned a lengthy diatribe to the local newspaper that included the defamation of several local churches, law enforcement, and other city officials. The following quote is derived from that letter…
. . .
Holick not only freely condemns other faiths that have proper respect for viewpoints that run counter to his dangerous worldview, but he also has no qualms about protesting in front of a church. He was protesting this particular church, because it was the site of a public forum that included Dr. Mila Means. In fact, Holick was the core organizer of protests that were launched against the physician at her home and at her office when it was discovered that she had bought some of Dr. Tiller's equipment and was training to provide abortions in Wichita. The following quote is from a news story about the terrorism…
More:
https://rewire.news/article/2012/07/01/pro-life-memorial-backers-have-history-terrorizing-women-others-in-wichita/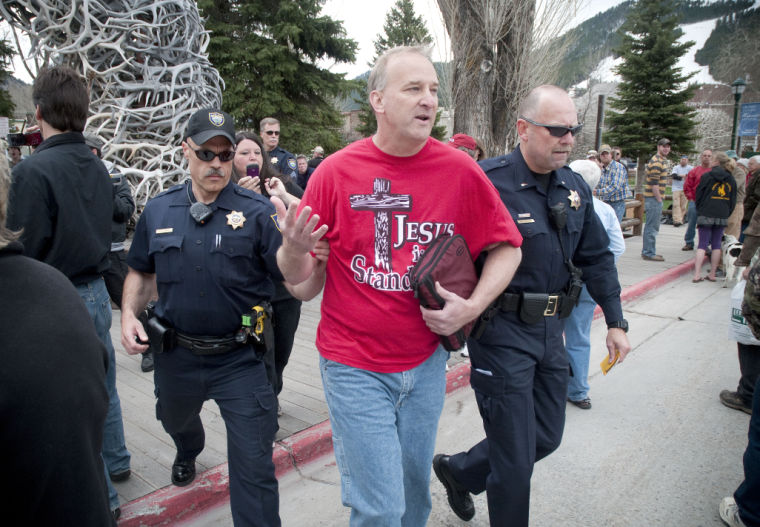 ---
Response to Judi Lynn (Reply #2)
Wed Oct 9, 2019, 11:52 AM
MuseRider (29,124 posts)
3. Now I remember Holick!
I could not be sure before, I have met all these characters in various ways but Holick was also always at Pride events in Wichita. He managed to get in to one of the venues and was hauled out by police for assault. I witnessed that joy.

I do not do Women's rights issues, I support them wholeheartedly but do not have the temperament to handle those issues. Way too much anger given my life experiences. I have done a lot of work in the past on LGBT issues. I used to be very involved. That is how I know all these characters. The LGBT issues come from a space of love from the loss of my brother to AIDS and now from the many wonderful people I love from the experience of being involved.

Kari Ann Rinker has worked on womens issues for years, also LGBT issues and has moved around a lot between important issues in Wichita and Kansas. She is an amazing woman, one of those people who inspire and has the ability to navigate around and get things done.

Holick is a jerk and a menace and a royal pain in the ass to anyone who does not buy his brand.

Thanks for posting this.