Wed Jun 26, 2019, 03:11 AM
appalachiablue (20,732 posts)
Stacy Abrams Urges Lawmakers To Restore Voting Rights Act
Source:
The Hill
Former Georgia gubernatorial candidate Stacey Abrams urged lawmakers to restore a key provision of the Voting Rights Act in testimony Tuesday before the House Judiciary Committee. Abrams, a Democrat, told lawmakers that since a Supreme Court ruling shutting down parts of the law states had set up new restrictions to voting, which she said disproportionately affected minority voters.
"Jurisdictions formerly covered under Section 5, joined now by states with changing demographics, have raced to reinstate or create new hurdles to voter registration, ballot access and ballot counting," Abrams said. "Among the states though Georgia has been the most aggressive in levering the lack of federal oversight to use both law and policy to target voters of color."
Abrams testimony came on the 6th anniversary of the Supreme Court decision in Shelby County v. Holder, in which the justices in a 5-4 ruling undid parts of the Voting Rights Act. The law required states with a history of racial discrimination to get federal approval before changing voting rights laws. The court, though, said the data used to determine which states and counties were covered by the law was outdated and unconstitutional.
Democrats and civil rights groups have long blasted the decision, which they say gutted the law and allowed states to disenfranchise voters, particularly African-Americans. House Democrats have said they intend to pass legislation to revive sections of the Voting Rights Act. -MORE...
Read more:
https://www.msn.com/en-us/news/politics/stacey-abrams-urges-lawmakers-to-restore-voting-rights-act/ar-AADqggW?ocid=HPCOMMDHP15
---
In 2018, Abrams lost the governor's race against Gov. Brian Kemp (R-Ga.), in a contest where the Republican was accused of voter suppression tactics and criticized for not stepping down as the state's head of elections. In her testimony Abrams criticized Kemp, "During his tenure, in a state with 6 million voters, the former Secretary of State removed over 1.4 million voters from the rolls."
Democrat Rep. Jamie Raskin of Md. worried that lengthy litigation over voting rights violations compounded the problem. He cited Texas and North Carolina both enacting voter ID laws after the Shelby decision. More...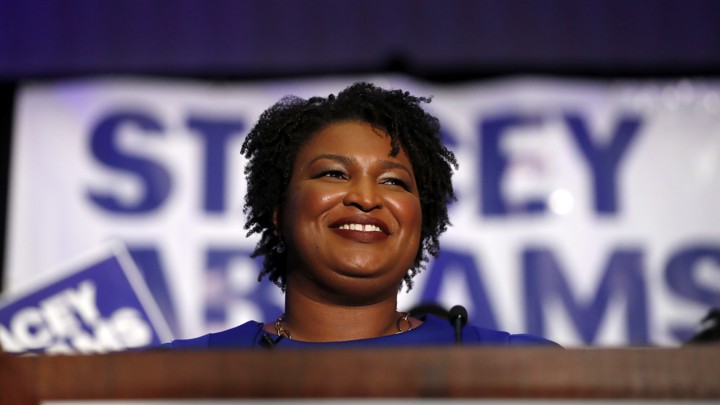 7 replies, 870 views
Replies to this discussion thread
| | | | |
| --- | --- | --- | --- |
| 7 replies | Author | Time | Post |
| Stacy Abrams Urges Lawmakers To Restore Voting Rights Act (Original post) | appalachiablue | Jun 26 | OP |
| | pnwmom | Jun 26 | #1 |
| | Rhiannon12866 | Jun 26 | #2 |
| | brer cat | Jun 26 | #3 |
| | beachbum bob | Jun 26 | #4 |
| | thesquanderer | Jun 27 | #5 |
| | Seeking Serenity | Jun 27 | #6 |
| | thesquanderer | Jun 27 | #7 |
---
Response to appalachiablue (Original post)
Wed Jun 26, 2019, 03:23 AM
pnwmom (99,216 posts)
1. Good for her! This is so important. n/t
---
Response to appalachiablue (Original post)
Wed Jun 26, 2019, 04:35 AM
Rhiannon12866 (103,870 posts)
2. K&R! Support her all the way - this needs to be done!
---
Response to appalachiablue (Original post)
Wed Jun 26, 2019, 07:46 AM
brer cat (11,323 posts)
3. K&R
---
Response to appalachiablue (Original post)
Wed Jun 26, 2019, 09:45 AM
beachbum bob (10,408 posts)
4. Will be no more than a symbolic vote as NO democratic bill from the House will see a vote in the
Senate

Its good to get people on the record in the house as we have a real chance to not only hold the house but add to the seats
---
Response to appalachiablue (Original post)
Thu Jun 27, 2019, 11:51 AM
thesquanderer (7,493 posts)
5. I'm not sure what the benefit of such a law would be if the court already essentially struck it down
Maybe it would be used an excuse to try to get the subject back before the court?
---
Response to thesquanderer (Reply #5)
Thu Jun 27, 2019, 12:32 PM
Seeking Serenity (2,489 posts)
6. The Court struck that particular section because the Congress wasn't doing its job
As I recall, certain states and counties or districts in other states were put on the "mandatory review" list, but the Congress had the duty to review and revise that list every so often. What the Court found was that the Congress wasn't reviewing and revising the list, with actual findings of fact, but was simply renewing the same list from 40+ years before without actually undertaking a review to determine if those jurisdictions on the list factually needed to remain or if other jurisdictions should be added.

Basically, the Court said the Congress couldn't just keep rubber-stamping the same old list, which is what it had been doing for decades.
---
Response to Seeking Serenity (Reply #6)
Thu Jun 27, 2019, 02:18 PM
thesquanderer (7,493 posts)
7. Interesting point, thanks. (n/t)